Saks awarded David Mahoney Prize for raising awareness about brain science, disorders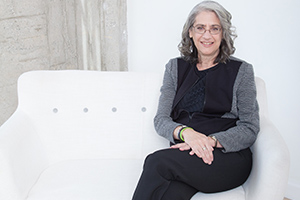 Professor Elyn Saks was recently honored with Harvard Medical School's Mahoney Neuroscience Institute – David Mahoney Prize, awarded in the past to a former American president, scientists, an actor and prominent journalists. The prize honors individuals who have significantly increased public awareness about brain science and disorders of the nervous system.
"I feel enormously honored and grateful," Saks said of the honor. "Totally unexpected — it came out of the blue — but it was a wonderful act of recognition and kindness."
The prize aligns with Saks' efforts to reduce the stigma of psychiatric disease, advocate for patients and families and improve policy and treatment for individuals with brain disease.
"I think it's honoring things I try to do. I told my story about my own struggles with schizophrenia," she said. "For me it was a relief that people know; it's so much better to be open and talk about how you're feeling and give and get support."
The prize was first presented in 1995 to Ronald and Nancy Reagan for their openness regarding the former President's fight against Alzheimer's disease. Others honored with the prize include journalists Mike Wallace and William Safire, actor Alan Alda, and leading scientists including Steven Hyman, former director of the National Institutes of Mental Health, Kay Redfield Jamison of Johns Hopkins University, and James Watson of Cold Spring Harbor Laboratory.
Saks recognizes she is in a more privileged position than others may be when it comes to being open about mental illness.
"I have a tenured position, but for others, coming forward may have a negative impact on work life and/or personal life," she said.
Saks is currently working on a sequel to her memoir, "The Center Cannot Hold: My Journey Through Madness."
"It's on coming out with mental health, including tips and challenges," she said.