Unique career path brings Robin Craig to USC Gould

USC Gould School of Law
Tuesday, September 14, 2021
USC presents perfect opportunity to study, teach ocean and coastal law
By Leslie Ridgeway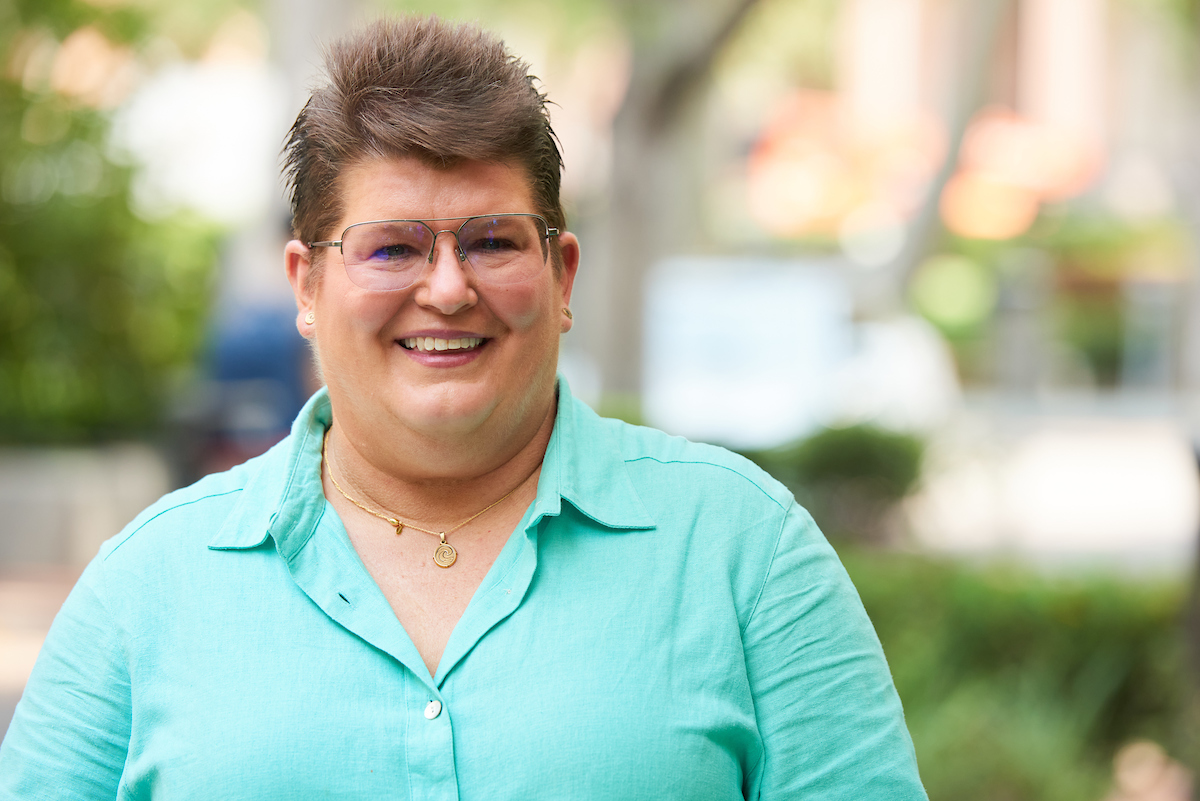 Professor Robin Craig (Photo by Chris Flynn)
Professor Robin Craig's advice to students comes from her own experience developing a career combining the humanities with environmental law. After earning a bachelor's degree in English/writing at Pomona College, a master's in Writing About Science at Johns Hopkins University and a PhD at University of California, Santa Barbara focusing on how the English Romantic poets used science to explain social change, Craig still felt she hadn't found the role that allowed her to, as she puts it, "think great thoughts but bring them back to the real world."
Her husband suggested law school, not too tempting after earning three degrees, but he helped her study for the LSAT and she earned a JD summa cum laude from Lewis and Clark School of Law in Oregon, famous for its environmental law program. When she landed a job at the Oregon Department of Justice in the General Counsel section, working with attorneys representing the state's environmental agencies, she realized she'd found the nexus she'd been looking for.
"It was wonderful training for a public lawyer and the perfect blend of my science and chemistry background," she says. "That's why I tell law students, take the opportunities that come along because whatever you think you want to do, you don't know enough. Experiment!"
Location, faculty, interdisciplinary focus make impressions
Craig, originally from Long Beach, Calif., comes to USC Gould from the University of Utah S.J. Quinney School of Law and is relishing opportunities to dig in to coastal and ocean law at USC, with its strong marine biology program and Sea Grant office at the USC Dornsife School. She's impressed with the interdisciplinary focus at USC, as well as the law school faculty and students enthusiastic about an environmental law professor joining the ranks.
"Southern California is a prime place to train people about environmental law," she says. "Water law will only get more important in how it interacts with equity and the environment. I've started learning about everything going on with the LA River, which is very different than when I left."
Craig's accomplishments include authoring, co-authoring or editing 12 books on environmental law and more than 100 law review articles, include one of first covering how the law should look at climate change, which has been cited across multiple disciplines. She's now working with a co-author on an article about how officials can govern a United States that is warmer by 4 degrees Celsius than the pre-industrial area. She's also chair of the Natural Resources Law Teachers Committee for the Rocky Mountain Mineral Law Foundation, where she has opportunities to mentor and network with up-and-coming scholars in environmental law and policy.
Craig will teach Water Law and Toxic Torts in the spring of 2022, preceded by Civil Procedure this fall. Water Law will introduce students to the different systems of allocating water in the U.S. Toxic Torts will be structured around four main issues, likely to include the COVID-19 vaccine and possibly the opioid crisis and water crises like the one in Flint, Mich. Civil Procedure will ground students with a broad understanding of how cases get filed and pre-trial motion practice. She particularly enjoys teaching first-year law students.
"It's great watching the comprehension come over their faces," she says. "They know what they're doing before they realize it. It's fun to see the light bulbs go on."
Read More
RECENT NEWS