Record-setting JD admissions trajectory continues with USC Gould Class of 2024

USC Gould School of Law
Monday, September 13, 2021
By Leslie Ridgeway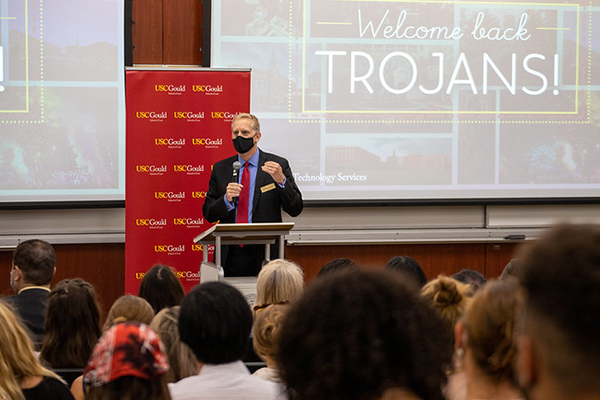 Dean Guzman addresses new 1L class. (Photo by Larissa Puro)
The USC Gould School of Law recently welcomed the JD Class of 2024 — an accomplished cohort which set new academic milestones and is one of the most diverse classes to date.
For the third year in a row, the incoming class has set the mark for the highest percentage of women in an entering 1L class, reaching a new high with 62%. With a median LSAT of 168 and GPA of 3.82, the class of 2024 has the strongest median LSAT at Gould, and the most robust combined numerical profile in the school's history. This year's class also represents the lowest acceptance rate ever at Gould at 13%.
"This is a unique, and perhaps extraordinary, time to be studying law… and a challenging one," said Dean
Andrew Guzman
at the 1L orientation. "But it's also a moment of great opportunity."
"I am optimistic because as big as our challenges are, we are producing lawyers who are capable to of solving them," he added.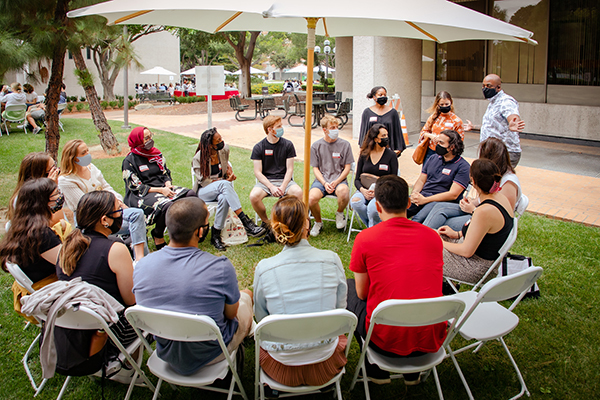 Gould's JD Class of 2024 includes students from more than 30 U.S. states and several countries around the world. (Photo by Larissa Puro)
Professional paths to Gould
Impressive backgrounds distinguish Gould's newest 212 JD students. Among this year's class is an actor who appeared on the television show Scandal and is a best-selling science-fiction author, a digital producer at NBC and Telemundo in Miami, and several with professional experience in the tech space including Google, Spotify and Survey Monkey.
Others worked in the areas of education reform or social entrepreneurship, including one who founded a nonprofit dedicated to tackling the global water crisis. In addition, social justice and public interest are strongly valued in this class, as one student gave back to the community via a Fulbright scholarship in Taiwan, while another interned for the UN International Tribunal in Tanzania.
Entrepreneurs are also represented among the incoming class, including one who founded a highly rated online fashion company and another who helped launch a sportswear company for Muslim women. Several come from exceptional sports backgrounds: one student is a 2018 national kickboxing champion, another completed the 2,000-plus-mile Pacific Cup sailing race from San Francisco to Hawaii, and another played tennis professionally.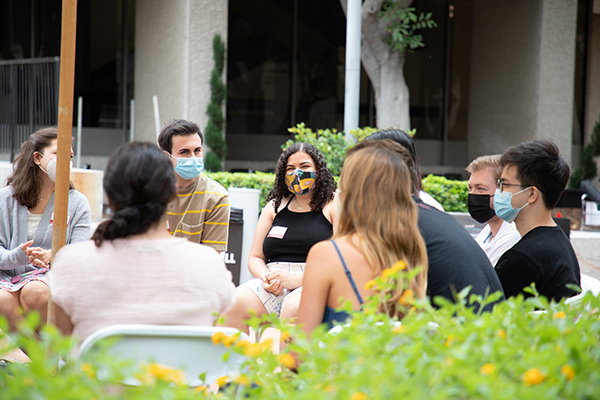 The new 1L class have professional backgraounds that span entertainment, tech, pro sports, education and entrepreneurship (Photo by Larissa Puro)
Wide-ranging backgrounds
This year's class is the law school's most diverse to date — 50% self-identity as a member of a minority group, 14% are members of the LGBTQ community, and 23% are first in their family to earn a college degree or pursue a graduate degree.
Members of the Class of 2024 arrive at Gould from come from all across the country – 43% are from outside California, totaling 31 states – and from around the world. It's also a multidisciplinary cohort, having majored in 40 different areas of study as undergraduates, with nearly 10% earning degrees in STEM fields.
During his welcome to the newest JD class, David Kirschner, associate dean for admissions and financial aid, underscored the importance of connections as the group embarks on their first year of law school, and after graduation.
"Many of you come to USC having heard of this vast, powerful Trojan alumni network" he said. "As you will soon learn, it's all true. USC graduates are proud of their experiences and their connection to the law school… These important connections begin today, with the people sitting around you."
Read More
RECENT NEWS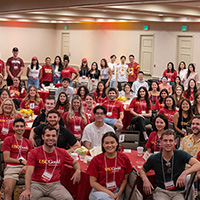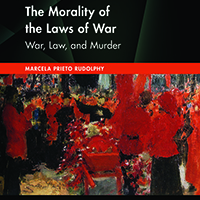 Facing the tragedy of war
September 13, 2023
Professor Marcela Prieto's new book, "The Morality of the Laws of War," argues for strengthening international law to el...