USC Gould's Graduate & International Programs celebrate record-setting Class of 2022

USC Gould School of Law
Wednesday, June 8, 2022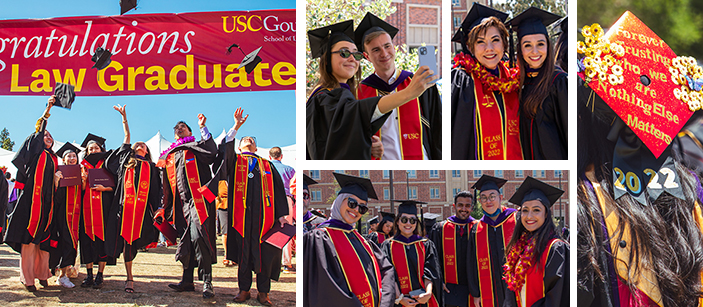 John Iino, chief diversity officer of Reed Smith LLP, delivers keynote address
By Melissa Masatani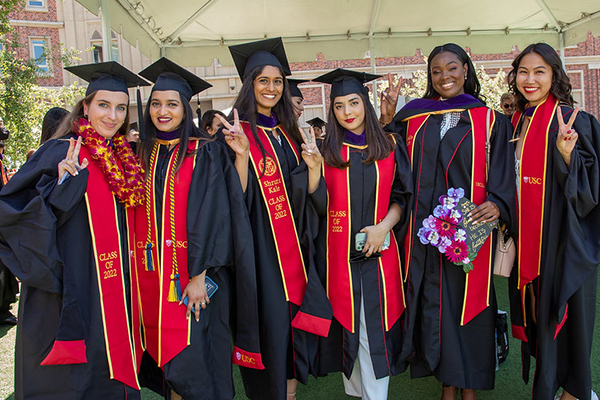 View more photos of the USC Gould 2022 G&IP commencement ceremony on Flickr
The USC Gould School of Law celebrated the commencement of its Graduate and International Programs (G&IP) Class of 2022 on May 13 at the University Village.
The class consisted of 653 students – the largest graduating G&IP class ever – spanning 41 countries across five continents.
The keynote speaker was John Iino, chief diversity officer of the global law firm Reed Smith LLP. Iino also serves as president of the USC Alumni Association Board of Governors and is a Gould alumnus from the JD Class of 1987.
"Find your motivation and you can change the world," Iino advised. "What is your motivation? To help others? To advance a cause you believe in? To make a lot of money? Let me just suggest — if your sole focus is to make a lot of money, you'll never find satisfaction … Changing the world, or changing the world around you, will bring you satisfaction and purpose."
In tribute to the diversity of the graduates, Professor and former Gould Dean
Bob Rasmussen
, who served as emcee of the ceremony, shared proverbs from across the world. Starting with an African proverb, he advised the students that, "If you want to go fast, go alone; but if you want to go far, go together." From Asia, he shared, "The scent of a rose stays on the hand of the giver." From South America, Rasmussen said, "A person who develops themselves is born twice." From Europe, the proverb stated, "A quiet conscience sleeps in thunder."
"This saying is meaningful to a law school community because the rule of law is the best antidote to chaos and disruption," said Rasmussen, who holds the J. Thomas McCarthy Trustee Chair in Law and Political Science. "At the end of the day, the goal for the law that we study is to provide a stable structure where ideas can flourish and where justice and peace can be achieved — sleep that survives thunder."
The graduates also heard from student speaker Chandra Montgomery, a graduate of the Master of Studies in Law program.
The ceremony recognized a number of academic programs at USC Gould, including the 20th class of Master of Laws graduates; the sixth class of Master of Studies in Law graduates; fifth class of LLM in Alternative Dispute Resolution and Master of Dispute Resolution graduates; third class of LLM in International Business and Economic Law graduates; second class of LLM in Privacy Law and Cybersecurity graduates; and the inaugural class of Master of International Trade Law and Economics graduates. The graduates also collectively earned 588 graduate certificates in addition to master's degrees.
Watch a full video of the USC Gould Graduate and International Programs Class of 2022 commencement ceremony
here
.
RECENT NEWS