Professor Alexander Capron recognized for excellence in teaching, research, public service by Phi Kappa Phi

USC Gould School of Law
Monday, June 13, 2022
By Melissa Masatani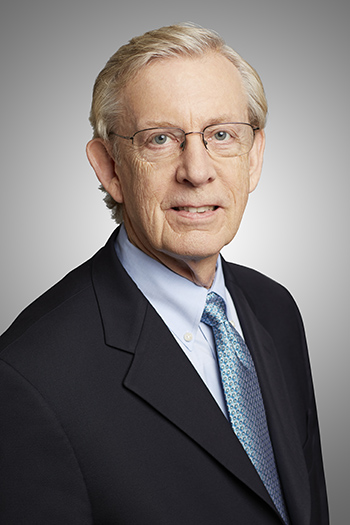 The national Honor Society of Phi Kappa Phi has named
Alexander Capron
, University Professor and Scott H. Bice Chair in Healthcare Law, Policy and Ethics at USC Gould School of Law, as the 2022-2024 Phi Kappa Phi Scholar. Presented every two years, the award recognizes excellence in teaching, research, and public service by a Phi Kappa Phi member whose lifelong activities, achievements, and scholarship reflect the ideals of the society. Awardees receive a citation, life membership, and a donation to a nonprofit of their choice.
"I am honored to have been named the Phi Kappa Phi Scholar for 2022-2024 because of the recognition it brings to USC's chapter, the programs we put on, and the awards we present each year for outstanding student and faculty scholarship," Capron said. "This award is intended to emphasize the meaning behind the Phi Kappa Phi motto, 'Let the love of learning rule humanity,' so I hope that my being chosen will remind faculty and students alike of the importance of conducting research and increasing knowledge that can improve individual lives, strengthen public policies, elevate our spirits, and inspire further enquiry."
When announcing Capron's selection, the society said it was honoring him for his expertise in teaching and research in bioethics, health policy and public health. In addition to his posts as University Professor and Scott H. Bice Chair in Healthcare Law, Policy and Ethics, he also is a Professor of Medicine and Law at the Keck School of Medicine of USC and co-directs USC's Pacific Center for Health Policy and Ethics, a campus-wide interdisciplinary research and education center. He was elected to membership in Phi Kappa Phi at USC in 2010 and later served as chapter president.
"Alex is not only one of my most distinguished USC colleagues, he is also a friend and an embodiment of a gentleman and a scholar par excellence," said Najmedin Meshkati, Phi Kappa Phi's USC chapter president and a professor of civil and environmental engineering, industrial systems engineering, and international relations. "He is literally a role model for many of us at USC because of his scholarly contributions and also his impact on a global scale. Also, because of his work in both law and medicine, he is considered a champion of interdisciplinary research."
In his nomination letter, which was unanimously endorsed by the USC Phi Kappa Phi Chapter board members and submitted by then-president Professor David Cruz, Meshkati wrote that Capron's publications, which include more than a dozen books and 300 articles and book chapters, have been cited more than 11,000 times by scholars and judges. Among law school faculty across the United States, he is ranked 19th in having his work cited in the most non-law publications, addressing ethical issues in medicine, research, health care and public health law and policy from local, state, national and global perspectives, according to Spring 2020 Journal of Legal Education report. His writings have been assigned to medical and law students across the United States and his casebook on the ethics of international biomedical research is used by research ethics committees around the world.
Over the years, Capron has translated his knowledge of law and bioethics into action through service in both local and international levels. President Bill Clinton appointed him to the National Bioethics Advisory Commission, and he has served on state, federal, and United Nations advisory bodies as well and testified before U.S. congressional committees. He also spent four years directing the Department of Ethics, Trade, Human Rights and Health Law at the World Health Organization in Geneva, Switzerland.
Capron has received numerous accolades and prizes, including the Rosenthal Foundation Award from the American College of Physicians for the work of the President's Commission for the Study of Ethical Problems in Medicine and Biomedical and Behavioral Research, which he directed, and the Henry Beecher Award from the Hastings Center, the nation's oldest bioethics research institution. In addition, he has the distinction of being an elected member of both the National Academy of Medicine and the American Law Institute, as well as an elected Fellow of the American Association for the Advancement of Science. His many honors and awards include the 2016 Walter Wolf Award for Defense of Academic Freedom and Faculty Rights given by USC's Academic Senate.
Phi Kappa Phi is one of the nation's oldest and largest honor societies. The USC chapter was established in 1924 and is the university's oldest all-discipline honor society. Now part of the USC Libraries, the USC chapter initiates members by invitation only and provides opportunities for undergraduates, graduate students, and faculty members to be recognized for their accomplishments.
RECENT NEWS