The Power of Connection

USC Gould School of Law
Monday, July 18, 2022
The Power of Connection
Dr. Nickey Woods, Gould assistant dean of DEI, forges opportunity for law students and student athletes
By Leslie Ridgeway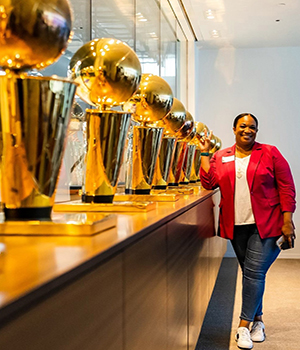 For Dr. Nickey Woods (here with the LA Lakers' 17 NBA championship trophies), connections that benefit students are gold.
Dr. Nickey Woods gestures at a photo tacked up on the cabinet at her desk when discussing her pride in USC Gould School of Law's recent involvement in USC Athletics' professional development programming – a partnership whose time came in large part because of her.
"This picture means so much to me," says USC Gould's assistant dean of diversity, equity and inclusion of the photo – herself with USC football players at the Los Angeles Lakers practice facility following a USC Athletics-hosted networking luncheon featuring Sean Kundu (JD 2007), vice president of corporate development for the San Francisco 49ers, who Woods suggested as the luncheon speaker. Kundu is one of several Gould alumni and local law professionals now participating in USC Athletics' professional development programming, thanks to an idea Woods came up with during a dinner conversation with her husband – and to the power of connection.
"To know [USC Athletics was] doing this speaks to the idea of collaborating with units outside your own on a college campus, and how there is often alignment with [programming] you want to do," says Woods, who these days also serves as Gould's interim dean of students. "Universities are so siloed, and to reach out, send an email, and say 'I have this idea, what do you think?' It's gratifying that this idea has come to fruition so quickly."
The spark was lit in March after Woods and her husband discussed life after college for student athletes – a topic close to home, since both Woods and her husband were student athletes, Woods at UCLA where she was an all-conference member of the women's basketball team. They discussed how most universities have pipelines of diverse students in athletics who are developing resiliency, mental toughness and leadership capacity – excellent qualities for business and law. But most student athletes didn't realize there was more to law school than a JD. For USC Gould law students interested in sports and entertainment law, they could benefit from the wisdom and experience of law professionals in their specialized field. The idea flamed up in earnest.
"I'm in a law school with alums who are doing great things in sports and entertainment – what if there was some way to bridge the divide between law school and athletics by exposing student athletes to opportunities in sports and entertainment?'" she recalls saying to herself. "With NIL (name, image and likeness) they're leaning into it, and pro athletes are already doing things with sports and entertainment."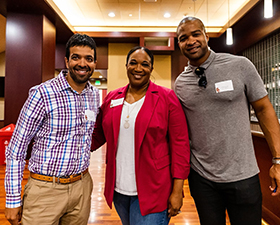 Dr. Nickey Woods with Sean Kundu (JD 2007) (left), VP of corporate development for the San Francisco 49ers, and Chris Carter, former NFL linebacker and currently director of player development for USC Athletics.
Building Bridges
Woods immediately drew up a prospectus and began outreach to see what was possible, starting with Associate Dean of Admissions and Financial Aid David Kirschner, who connected her with Gould alum Casey Schwab (JD 2013), CEO and founding partner of Altius Sports Partners, which works with university athletic departments to build NIL programs and athlete education. Schwab led Woods right back to USC Athletics and then-Chief of Staff Brandon Sosna, who got her in touch with USC Athletics Director of Academic Services and Admissions Dr. Denise Kwok, and Director of Athlete Career Transition Programs Dr. Monica Morita. That's when the stars really aligned.
"They said 'Your timing couldn't be better – we have a summer pro development institute for athletes and we're partnering with USC Annenberg and USC Marshall, and we wanted to partner with Gould but we had no way in,'" Woods says. "They asked if Gould would be willing to bring our programming into their existing structure.'" Woods then met with Dean Andrew Guzman, who quickly agreed.
Under Woods' leadership, USC student athletes are now learning the basics about law school as well as sports and entertainment law, and USC Gould law students are gaining knowledge and contacts. Woods has tapped several USC Gould alumni and local law professionals as speakers and mentors. Linda Hoos (JD 2001), associate vice president for USC's Office of Equity, Equal Opportunity and Title IX, led a session on Title IX; Doug Schaer (JD 1998), chief advisor, Baron Davis Enterprises, founded by former NBA star Baron Davis, spoke about advising professional athletes; Kenny Spencer, a litigator with Abrams Garfinkel Margolis Bergman LLP and mentor to former USC basketball standout and current NBA athlete Chimezie Metu, discussed his experience with entertainment law. A conversation with Spencer led Woods to Ben Meiselas, partner at Geragos & Geragos who represents Colin Kaepernick, who accepted Woods' invitation to talk with student athletes about representing athletes from a pro-social justice standpoint.
She also independently reached out to John Meigs, a partner in Beverly Hills-based Hansen Jacobsen Teller LLP, after learning of his impressive client list including Issa Rae, Kaley Cuoco and Trevor Noah. A conversation with Meigs, who has deep roots in South Los Angeles, revealed a link to USC - his cousin, Jay Morris, is an assistant basketball coach at the university. "How lucky did I get with that one?" Woods says with a smile.
Expanding the Reach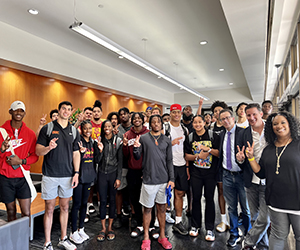 The photo from the post-networking luncheon that inspires Woods (far right) in her DEI work.
At the luncheon, which was followed by the visit to the Lakers practice facility, Woods met Dr. Julie Rousseau, USC assistant athletic director of DEI, who told her about the Black Student Athlete Summit, an annual event designed to address the unique Black student athlete experience and incentivize university staff to develop initiatives on their own campuses to support Black student athletes, among other goals. The summit will be hosted by USC in 2023. Woods was soon invited to join the summit planning committee.
For Woods, there are many more exciting prospects in the works that expand on the DEI work she's doing, and many more people to bring together.
"The root of DEI work is opportunity and exposure, making sure the doors are open for the broadest possible cross-section of our students," Woods says. "I see myself as a connector of people, connecting industry pros with student athletes and our law students."
Read More
RECENT NEWS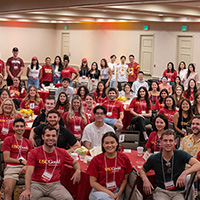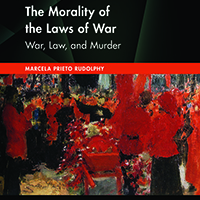 Facing the tragedy of war
September 13, 2023
Professor Marcela Prieto's new book, "The Morality of the Laws of War," argues for strengthening international law to el...