Khoa Nguyen (JD 2020) gains varied experience in federal, appellate courts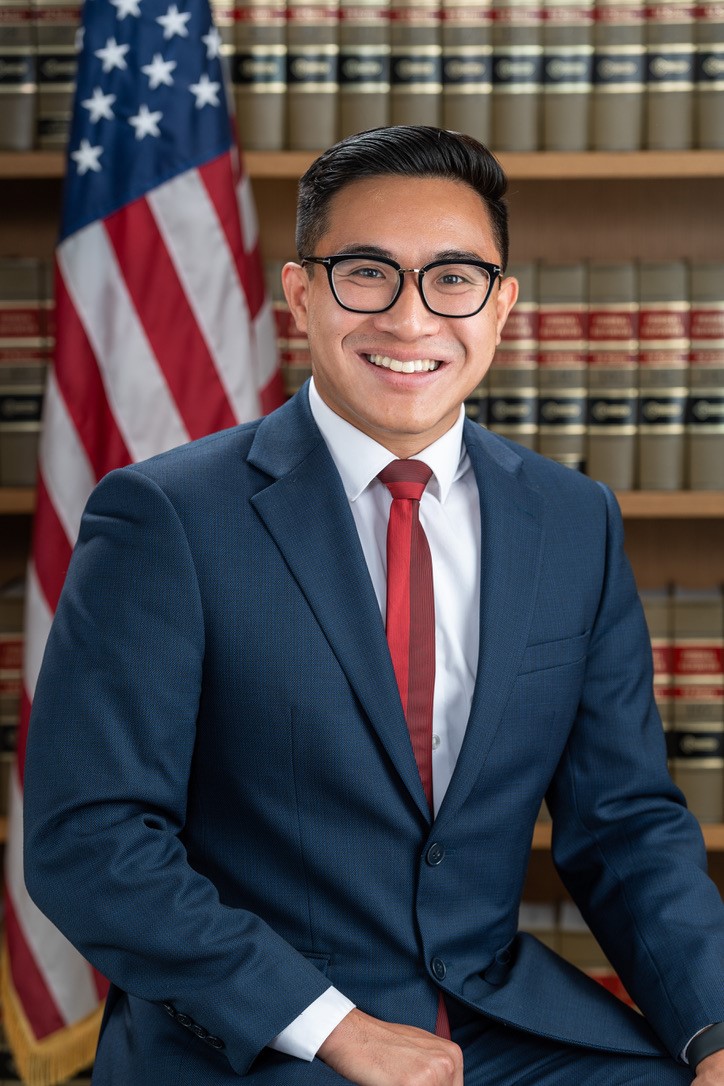 Khoa Nguyen's (JD 2020) clerkships were in both federal and appellate courts.
Mere weeks after taking the bar exam, Khoa Nguyen (JD 2020) was deep in a case that everyone in the Southern California legal community was talking about. The 2021 rulings by U.S. District Court Judge R. Gary Klausner in the FBI's controversial seizure of hundreds of Beverly Hills private vaults were shaped, in part, by bench memos Nguyen helped draft.
He also had a hand in Judge Klausner's eventual dismissal of high-profile lawsuits brought by cruise passengers in the early days of the COVID crisis, when health authorities prevented Carnival's Grand Princess from docking in San Francisco.
Fewer than two years out of law school, Nguyen has logged dozens of federal court experiences, more than some senior litigators in top law firms.
Nguyen is currently clerking for the Hon. Gregory Phillips on the Tenth Circuit Court of Appeals in Cheyenne, Wyoming.  In September, he starts as an associate with the litigation firm Hueston Hennigan LLP.
"[A clerkship] forever marks you as an elite lawyer," says Professor Sam Erman, who clerked for U.S. Supreme Court Justices Anthony Kennedy and John Paul Stevens and former U.S. Court of Appeals Judge Merrick Garland, now the U.S. Attorney General.
Bringing students and judges together to develop relationships
"If you ever want to be a litigator, there's no better opportunity than clerking for a federal judge," says Professor Rebecca Lonergan. "It gives you insight into how judges think, the way decisions are made, what actually happens in chambers. Having that knowledge makes you a better lawyer."
Lonergan, an assistant U.S. attorney for 15 years before joining USC Gould, chairs the Faculty Judiciary Committee (formerly the Faculty Clerkship Committee). She took over last year from Erman, who overhauled the committee's mission in 2016 to encourage every USC Gould student to make clerking a goal.
Because USC Gould admits so many first-generation students and students with no family connection to the legal profession, school leadership placed an emphasis on demystifying clerkships.
The school's Career Services Office works closely with clerkship candidates on their applications. It's a service few other law schools perform, Lonergan explains: "We do not leave students on their own, because, again, many of them aren't familiar with the process."
In 2016, with support from Dean Andrew Guzman, the committee initiated the Jurist-in-Residence program, bringing judges to campus for two-day residences. Lonergan hosts lunches and coffees where judges meet with clerkship candidates.
"We want those kind of relationships to develop. It's not just getting the students interested in clerking. It's also getting the judges interested in our students," says Lonergan, who regularly interacts with federal judges as faculty advisor of Gould's Hale Moot Court Honors Program.
Recent alumni who realize they want the benefit of clerkship experience are also encouraged to apply. "I write letters of recommendation all the time for former students who've done a couple years of practice," Lonergan says.
Many large firms are open to associates taking a leave of absence to work for a federal judge, even offering a "clerkship bonus" to help offset the lower government salary, according to Andrea Chen Ayvazian, assistant director, Career Services Office.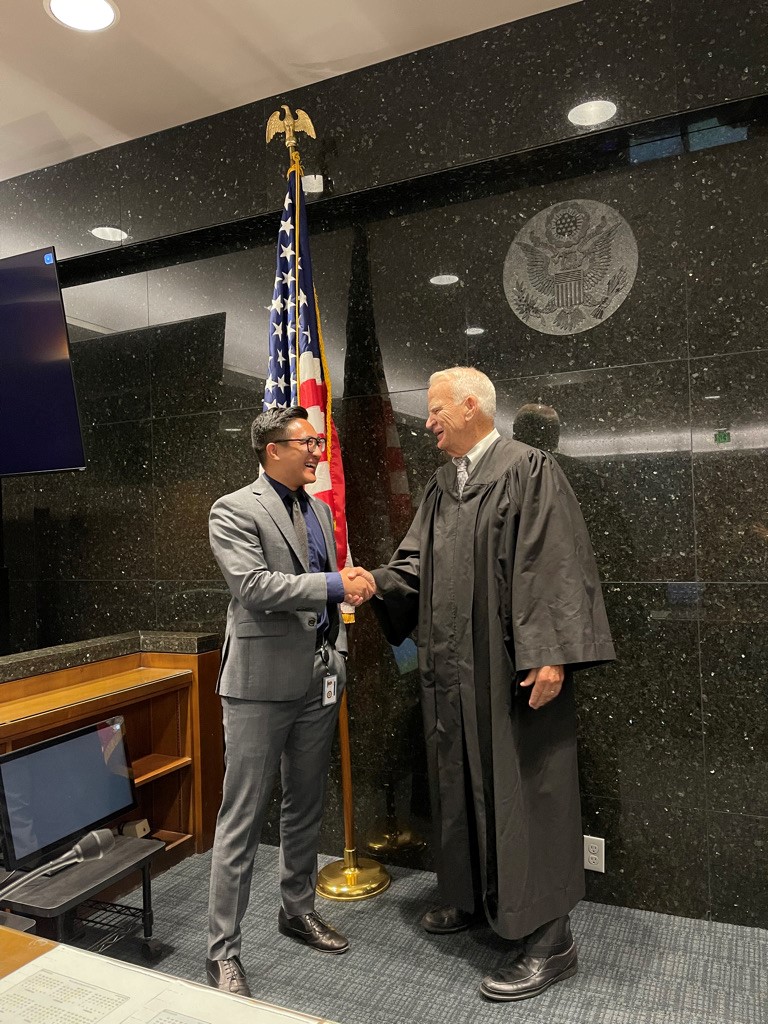 Nguyen with U.S. District Court Judge Hon. R. Gary Klausner, for whom Nguyen helped draft bench memos as part of a significant 2021 ruling.
Varied experience burnishes career goals
Nguyen values the different types of experience he gained in federal and appellate courts.
"In district court, something urgent comes up every day—which can be very scary but also very fun," he says. "The pace is much slower in an appellate clerkship. You get your set of cases, and that's all you're working on for the next two months. I wouldn't say one is better than the other."
An academic standout, Nguyen graduated in the top 10 percent of his USC Gould class and was named Order of the Coif with a 3.87 GPA. He was a teaching and research assistant to civil procedure Professor Daniel Klerman, senior submissions editor on Southern California Law Review and a legal writing fellow tutoring 1Ls and LLM students. He served as internal vice president with the Asian Pacific American Law Student Association and volunteered with the USC chapter of the International Refugee Assistance Program.
After a summer internship with the U.S. Attorney's office in Santa Ana, he set his sights on becoming an assistant U.S. attorney.  "Everyone always talks about how it's the best job you can have outside of clerking," he says.
Asked what he likes the most about clerking, Nguyen says, "the camaraderie. With Judge Klausner, every morning started in a casual meeting over coffee. We would just talk. Most of the time it wasn't even about work."
That kind of relationship never loses its luster, Lonergan says.
"There is no better reference to have than a federal judge. They are the most respected people out there. Their recommendation will carry a lot of weight."