Legal Gymnastics: Spotlight on Ron Barak ('64, JD '68)

USC Gould School of Law
Monday, December 12, 2022
Former Olympian, longtime real estate attorney and best-selling author Ron Barak sets a high bar for Trojan achievement.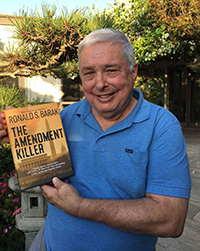 Alum and author Ron Barak (BS '64, JD '68)
By Diane Krieger
Books have been written about how fiendishly difficult the first year of law school can be. Now imagine doing it as head coach of the Trojan men's gymnastics team. Imagine—opting out of summer associate law jobs to coach the U.S. team to a silver medal at the 1967 World University Games in Tokyo.
That's just act one in the intriguing life of the multi-talented Ron Barak (BS '64, JD '68).
In act five, the 79-year-old USC Gould alum has reinvented himself as a successful writer of hardboiled fiction. His latest Amazon bestselling legal-political thriller, JK's Code, was released in 2021.
All the while, Barak has been a successful Los Angeles attorney specializing in real estate and commercial law—first with Paul Hastings LLP, later with Manatt, Phelps & Phillips LLP, and now in his solo practice, RSB Law.
"I never think of myself as being retired," says the gymnast-turned-lawyer-turned-novelist. "I sure don't have enough time in the day to take care of everything I seem to be involved in."
* * *
A second-generation Angeleno, Barak grew up in the West Los Angeles Pico Robertson neighborhood. He discovered a passion for gymnastics at 11, experimenting on outdoor equipment in his school sandbox and neighborhood parks. With no access to coaches or YouTube videos — this was back in the 1950s—Barak taught himself the rudiments of high bar, rings and pommel horse routines. When he was older, he rode the bus to Muscle Beach in Santa Monica and Lincoln High School in East Los Angeles, the hub of the city's burgeoning professional gym scene. Mentored by coaches and gymnasts he met there, Barak finished high school as an LA City Schools' champion and one of the nation's top college recruits.
He chose USC over Penn State and became an instant Heritage Hall legend. His freshman year, Barak competed on the U.S. gymnastics team at the Maccabiah Games in Israel, winning 10 medals, including eight golds. Prime Minister Golda Meir was so impressed she invited him for a private lunch in her office and tried coaxing him to come live in Tel Aviv. (Barak has extensive family ties in Israel, including second-cousin Ehud Barak, a former prime minister.)
As a sophomore, Barak led the Trojans to an NCAA title. In his senior year, he won three individual titles at the 1964 NCAA Men's Gymnastics Championship and was named USC Athlete of the Year (with star halfback Mike Garrett also on the candidate list). That summer, he competed in six events at the 1964 Tokyo Olympic Games and married childhood sweetheart Barbie, whom he's known since middle school.
After earning his BS degree (he graduated with honors in physics and math), Barak briefly worked in aerospace engineering and computer software coding. But not finding in himself the patience to go on for a Ph.D., he applied to law school instead.
Once again, he chose USC, where he was admitted on a full-ride academic scholarship. It was a "no-brainer," he notes. By then, Barak had been recruited to replace outgoing USC gymnastics coach Jack Beckner; Barbie also worked full-time in the Athletics Department. Their first child, Jennifer, was born while Barak was still in law school, and son Mark came along in 1969. They have four grandchildren.
* * *
At age 24, he coached the US team to second place at the 1967 World University Games in Tokyo, its then-highest international finish. Between family obligations¬ (he was overseeing his ailing father's real-estate business by then) and Trojan coaching responsibilities, Barak had little time for extracurriculars.
"I barely had time to go to my law classes," he recalls. "I remember being scared to death." He credits a study group —"we stuck together all through law school"—with getting him through it.
Nevertheless, as an associate editor of the Southern California Law Review, he managed to publish a note that attracted national attention. Barak weighed in on a simmering jurisdictional fight between the NCAA and AAU over who should control amateur sports. His article, which included proposed federal legislation, found its way to Vice President Hubert Humphrey's desk. Congressional debate on the matter prompted the parties to settle their long-standing dispute before regulators got involved.
Barak graduated Order of the Coif, specializing in real estate and commercial law. As a first-year associate at Paul Hastings, he researched and wrote a how-to book on foreign investment in U.S. real estate that was published by Harcourt Brace. Its Japanese translation made Barak a young rainmaker as Asian investors beat a path to his door.
His deep connections in collegiate athletics also brought in clients.
"I did a lot of sports law back then," Barak says. "Prominent athletes— including Bubba Smith, Ahmad Rashad—used to hang out at our house."
Sports law fell by the wayside, however, as the real estate practice took center stage. "The deals got bigger and grander," Barak says, after he became the lead lawyer for a developer of major high-rise complexes in Downtown Los Angeles.
Barak spent 23 years at Paul Hastings, rising to chairman of the real-estate group and co-managing partner. In 1991, he moved to Manatt, Phelps & Phillips. Since 2000, he has run his own firm based in Pacific Palisades. At 79, he accepts cases selectively, billing about 10 hours a week.
* * *
Yet Barak has never been busier. A dozen years ago, by serendipity, he emerged as a bestselling author.
His first novel was written in response to a friendly dare. An avid reader of hardboiled fiction, Barak had been casually critiquing the latest Michael Connelly thriller over lunch with some golf buddies.
"One of my friends started baiting me: 'Well, if you're so smart, why don't you get out of the backseat and show us what you can do?'" Barak silently accepted the challenge. Ten months later, he delivered manuscripts to everyone at that lunch. Feedback was so positive that Barak arranged to independently publish the book in 2010. A Season for Redemption was among Amazon's and Kindle's bestselling hardboiled mysteries. Barak hasn't stopped writing since, up to 16 hours a day when he's deep into a project.
The protagonists in Barak's novels are U.S. District Court judge Cyrus Brooks and homicide detective Frank Lotello. His reality-based plots take on contemporary themes—for The Amendment Killer, Barak drafted a formal 28th Amendment to the Constitution criminalizing the abuse of political power. While it was written "on a lark" to promote the book, he's been told his amendment "could pass legal muster." Next came The Puppet Master, a courtroom murder mystery, and Payback, about a disgruntled writer killing off literary celebrities at an international writers' conference. His most recent thriller, JK's Code, penned in the summer of 2020, anticipated events uncannily resembling the Jan. 6 riot. It shot to No. 1 on Amazon's hardboiled thriller list.
His next act might be on a Hollywood set. A couple of producers have approached Barak about turning his Brooks/Lotello stories into a streaming TV series.
"Not holding my breath," he says, with characteristic wise-cracking modesty, "but it would be nice to wander around the set and look like I knew what I was doing."
Read More
RECENT NEWS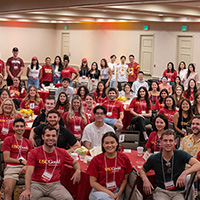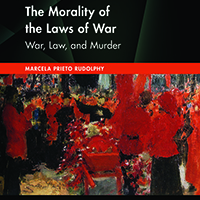 Facing the tragedy of war
September 13, 2023
Professor Marcela Prieto's new book, "The Morality of the Laws of War," argues for strengthening international law to el...