Their wide world of sports

USC Gould School of Law
Friday, January 6, 2023
Amanda Oliver (JD 2005), Casey Schwab (JD 2013) and John Slusher (JD 1994) take different paths to successful careers in sports
By Matthew Kredell
For Amanda Oliver (JD 2005), Casey Schwab (JD 2013) and John Slusher (JD 1994), ambition and focus — plus an education at USC Gould — landed them influential positions in sports fields of name, image and likeness (NIL), international sports and automobile racing.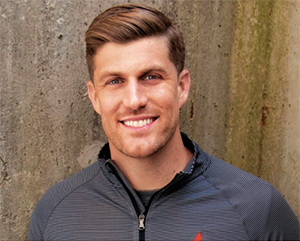 Schwab's law background provided the foundation to launch Altius Sports Partners, which helps universities navigate the new frontier of college athletes profiting from their name, image and likeness.
"The skills I learned being in-house counsel for almost a decade continue to be helpful in the subject matter of NIL and helping schools navigate laws, but also in starting a company," says Schwab, who is Altius' CEO. "It doesn't matter if you're selling NIL assistance to schools or selling hot dogs, it helps to have a law degree from USC."
A four-sport athlete in high school, USC Gould's reputation in sports law attracted Schwab. He was president of the Sports Law Society and landed his first job out of law school by connecting with a speaker in his sports law class.
The U.S. Supreme Court's 2021 ruling last year in National Collegiate Athletic Association v. Alston opened the door for NIL, changing college sports. Schwab, formerly head of business affairs for the NFL Players Association, was well positioned to provide NIL solutions directly to universities with Altius Sports Partners. The company helps athletic departments provide NIL education and compliance and develop commercial strategies. Today, Altius partners with half of the Power 5 conference athletic programs, including USC. Their approach: partner with schools instead of athletes.
"College athletes don't have the economic stability around them to hire people, so they turn to their school," Schwab says. "We want to provide education and infrastructure for the athletes first and foremost, but in order to do that we need to make sure the entire ecosystem is working."
'Second-Best Job in Sports'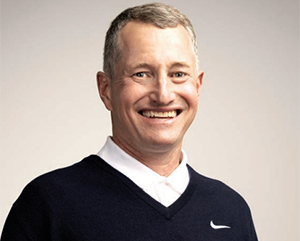 It's no wonder John Slusher developed an interest in the business side of sports after watching his father negotiate sports deals as an agent for professional athletes like San Diego Chargers quarterback Dan Fouts and Boston Celtics guard Paul Westphal.
As Nike's executive vice president of global sports marketing since 2007, Slusher oversees Nike's partnerships with athletes and teams around the world (about 8,000 athletes and 2,000 teams including USC Athletics). He has worked with sports stars including Michael Jordan, Kobe Bryant, LeBron James and Serena Williams.
"If I can't be quarterback in the NFL, I think this is probably the second-best job in sports," Slusher says. "I've been pretty fortunate to work with some of the greatest athletes, teams and leagues in the world, and at the same time help drive the incredible brand and business of a company like Nike."
Slusher started practicing law at O'Melveny & Myers LLP and sought roles where he could use his legal training in sports business. In 1998, that opportunity arose at Nike, where his father Howard ( JD 1972) worked for four decades for founder Phil Knight. Howard Slusher passed away in 2022.
"I would not have been hired at Nike without my USC law degree and experience practicing corporate law," Slusher says. "Three years of law school at USC prepares you incredibly well for a career in law, but it also prepares you for so much more."
Setting Sights on Plan A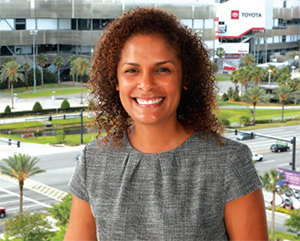 Amanda Oliver ( JD 2005) craved a career in sports law when she came to USC Gould. When a counselor warned her that the field was too competitive and suggested she prepare a plan B, Oliver ignored the advice and went after plan A. She hunkered down in the Asa V. Call Law Library searching for attorneys working in sports law at companies that appealed to her and cold-emailed them from her USC account.
It paid off.
One of many responses was from Tommy Warlick, then assistant general counsel at NASCAR, got her a summer internship that led to 17 years with the association. Last year Oliver was promoted to senior vice president and general counsel, overseeing NASCAR's legal department.
"I worked 20 hours a week for NASCAR through my third year of law school, took the summer off to take the bar, then moved to Daytona Beach [NASCAR's headquarters]," says Oliver. "I can't believe it has led me to be general counsel for a major sports organization." Oliver handles all areas of NASCAR's business including racetracks, media and licensing. A career highlight came in 2019 when she helped NASCAR partner with sports data company Genius Sports to deliver its first live betting platform to legal sportsbooks.
"There are more and more opportunities in the space because of gaming, social media and content production," Oliver says. "The 'general' part of general counsel means you never know what will need your attention and no day is ever the same."
Read More
RECENT NEWS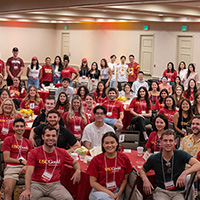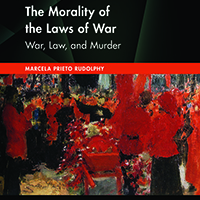 Facing the tragedy of war
September 13, 2023
Professor Marcela Prieto's new book, "The Morality of the Laws of War," argues for strengthening international law to el...