Change agent

USC Gould School of Law
Friday, February 3, 2023
April Yuan (JD 2013) co-launches Vital Artists Agency as catalyst for diversity
By Leslie Ridgeway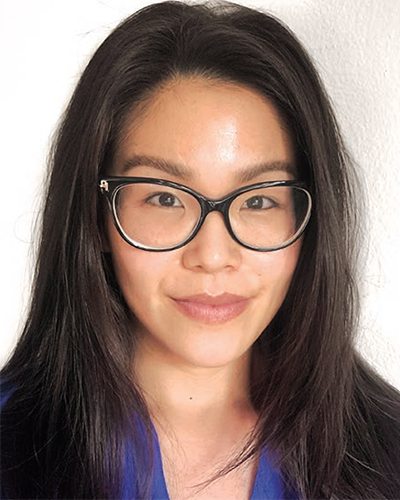 April Yuan (JD 2013) didn't even know what an agent was when she was in law school, but today she represents producers and directors for unscripted television and is leading the way to greater diversity and equity in the entertainment industry.
With clients like Asabi Lee (executive producer, HBOMax's Project Greenlight with Issa Rae's HooRae Media), Cherelle Hinds (executive producer, OWN's The Belle Collective) Carolina Saavedra (executive producer/ showrunner on NBC News Studios' John Leguizamo Project (working title) and Teresa Hsu (executive producer/ showrunner on Paramount+'s My Dream Quinceañera), Yuan is positioned as a champion of storytellers who are people of color and women.
"When I started as an agent seven years ago, I focused on women, because it was obvious women were being underpaid and under-credited to a disturbing degree," says Yuan, who launched Vital Artists Agency in December 2020 with colleagues from Rebel Entertainment Partners who are as committed to diversity and equity as she is. "After [the killing of] George Floyd, diversity became very important in the industry. It gave people of color more opportunities than before and it's not just a trend."
VAA started during the pandemic as productions temporarily shut down, and Yuan's boss, Richard Lawrence, chief of Rebel Entertainment, announced his early retirement. Suddenly preliminary conversations Yuan and her partners Cal Boyington and Phil Irven were having about forming their own agency came into focus.
"Richard said 'You should do your own thing,' and we said, 'Such a great idea!'" Yuan says. "We took all our clients, contacts, systems and it was seamless. We had the financial launching pad to do what we needed to do, so about the time production resumed, we were ready." Today VAA also includes agents Bill Thompson and Nicole Zien.
Yuan became an agent after her resume landed on Irven's desk, he noticed her law school experience and assumed she understood contracts. Yuan earned an entertainment law certificate as part of her JD but didn't see herself practicing law as a career. Her legal knowledge comes in handy during negotiations.
As television struggles for relevance with the advent of streaming and short-form storytelling like TikTok, Yuan says broadening the perspective at top levels in entertainment will make the difference. "Buyers now realize diversity behind the camera makes better shows and targets a bigger audience," she says.
Another challenge is preparing people of color and women to thrive in leadership positions, where they lack experience due to exclusion. Networks and production companies need to take risks if they're serious about diversity, Yuan says. "You can't just say you want 10 years of experience after 10 years of pushing [women and people of color] down."
The best part of Yuan's job is witnessing the success of clients she went to the mat for.
"I've had clients with me since beginning of my career who started as a supervising producer and now they're an executive producer, making twice as much money and producing content they want to produce," Yuan says. "Seeing the results of their hard work on TV is exhilarating."
Read More
RECENT NEWS