USC Gould team earns impressive win at U.S. Patent and Technology Office competition

USC Gould School of Law
Friday, May 5, 2023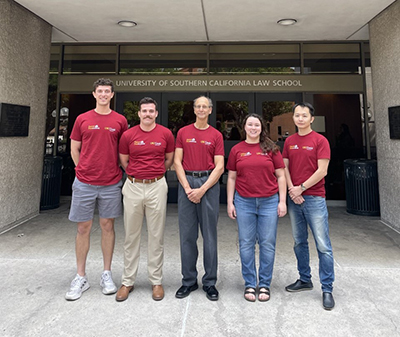 Professor Marc E. Brown (center) with student team Michael Salamy, Dalton Couch, Sophia Zahn and Chen-Yun "Larry" Weng
A team of four USC Gould School of Law JD and LLM students earned a stellar second-place finish among 55 law schools from across the country in the U.S. Patent and Trademark Office's 2023 National Patent Application Drafting Competition, which took place mid-April at the USPTO headquarters in Alexandria, Va.
Team members, coached by Professor Marc E. Brown, include 2L Dalton Couch, 2L Michael Salamy, LLM student Chen-Yun "Larry" Weng, and 3L Sophia Zahn. The team first won place in the Silicon Valley regional competition against nine other law schools in March, and then advanced to the national round, facing off against the winning teams from the four other regional competitions including George Washington University (first place), University of Detroit, University of Missouri-Kansas City and University of Wisconsin.
"The team is incredibly proud of our second-place win," said team captain Zahn, who begins work in the fall at Knobbe Martens LLP in San Diego, focusing on patent prosecution in the areas of chemical and medical devices. "We could not have done this without Professor Brown. He was passionate about the competition, met with us weekly over the six months while we were preparing, and is a great mentor."
As part of the competition, the teams researched which aspects of a bicycle rack invention might be patentable, prepared a complete patent application targeting these aspects with supporting essays, and presented their application and strategies to a panel of judges. The teams also had a chance to network with leaders in the intellectual property community.
"The team worked very well together and dedicated themselves to the competition during a period when they had many other commitments as law students," said Brown. "I'm very proud of each of them."
"This is only the second year a USC Gould team has competed, so it is an impressive finish," Barnett said.
Read More
RECENT NEWS