Hannah Garry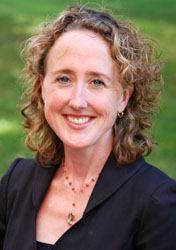 Clinical Professor of Law and Director, International Human Rights Clinic
Email:
hgarry@law.usc.edu
Telephone

:
(213) 740-9154
699 Exposition Blvd.

Los Angeles

, CA

90089-0074

USA
Room:
442
Office Hours:
By Appointment
Last Updated: January 28, 2020
---
Hannah Garry is founding director of USC Gould's International Human Rights Clinic. Her areas of teaching and research include international criminal law, international human rights law, international humanitarian law and international refugee law. In 2015, Garry was the recipient of the USC Mellon Award for Faculty Mentoring Graduate Students. In 2016, Garry was invited to join the Faculty Advisory Council for the USC Shoah Foundation Center for Advanced Genocide Research.
Prior to joining USC Law, Garry was visiting faculty at the University of Colorado School of Law where she taught public international law, international criminal law and international human rights law. She also taught an experiential learning course supervising students on cases involving Guantanamo detainee representation as well as Alien Tort Statute litigation.
Garry has been a research consultant with Oxford University, U.K., and Makerere University, Uganda, implementing a multi-year socio-legal research project on protection of refugee rights under international law in Uganda and Kenya. She has also been a visiting lecturer teaching European human rights law at Peking University Law School in Beijing, and a visiting scholar at the European Court of Human Rights in Strasbourg, France, where she published a study on the court's use of interim measures to stay deportation of refugees from Europe. In September 2008, Garry was invited to be a lecturer at the 4th Thematic Course on Refugee Law and Human Rights, at the International Institute of Humanitarian Law in San Remo, Italy. From 2009-2010, she was named an American Society of International Law Presidential Fellow.
In terms of practice experience, Garry has been counsel to amici former United Nations special rapporteurs in the Afghanistan investigation appeals hearing at the International Criminal Court; a senior legal adviser to the Supreme Court Chamber in the Extraordinary Chambers in the Courts of Cambodia; and a visiting professor in the Presidency of the International Criminal Court. Before academia, she was a legal officer for the Honorable Judge Fausto Pocar in the Appeals Chamber of the International Criminal Tribunal for the former Yugoslavia and the International Criminal Tribunal for Rwanda from 2004-07. During that time, she served as Deputy Chef de Cabinet in the Office of the President. Garry has previously been a law clerk to the Honorable Judge Rosemary Barkett sitting on the U.S. Court of Appeals, 11th Circuit. She has also worked in the private sector as an associate in the international law firm, Freshfields, Bruckhaus, Deringer LLP, practicing in the international arbitration, dispute resolution and public international law groups.
Garry obtained her JD from Berkeley Law in 2002, her Master's in International Affairs from Columbia University in 2001 and a master's certificate in Forced Migration Studies with distinction from Oxford University, U.K. She is admitted to the New York Bar and is a member of the American Society of International Law and the Pacific Council on International Policy.

Articles and Book Chapters
"Witness Proofing" in International Criminal Procedure: the Interface of Civil Law and Common Law Legal Systems (Linda E. Carter and Fausto Pocar, eds.) (Edward Elgar Publishing, 2013) - (PDF)
Contributor to Rights in Exile: The Janus Face of Humanitarianism (Guglielmo Verdirame and Barbara Harrell-Bond with Zachary Lomo) (Berghahn Books: Oxford, 2005).
"Introductory Note to United Kingdom (U.K.) Supreme Court of Judicature-Court of Appeal (Civil Division): N. v. Secretary of State for the Home Department." Vol. 43, No. 1 International Legal Materials 112-15 (2004). - (Hein)
"From the Aspirational to the Operational: Multinational Corporations, Corporate Codes of Conduct and Human Rights" (with Lucy F. Reed) in From Government to Governance: the Growing Impact of Non-State Actors on the International and European Legal System, pp. 176-185 (T.M.C. Asser Press, 2004).
"Alternative Dispute Resolution in Other Jurisdictions--the EU Green Paper" (with Lucy F. Reed and Emily Daughtery) in Alternative Dispute Resolution in Italy, (Associazione Italiana Giuristi Di Imresa (AIGI) Publications, 2003).
"Harmonization of Asylum Law and Policy Within the European Union: A Human Rights Perspective." Vol. 20, No. 2 Netherlands Quarterly of Human Rights 163-84 (Intersentia Publishers, 2002). - (PDF)
"When Procedure Becomes a Matter of Life or Death: Interim Measures and the European Court of Human Rights."

Vol. 7, No. 3 European Public Law Journal (Kluwer Publishers, 2001). - (PDF)
"Applying the Plumb Line of Uganda's Bill of Rights to Uganda's Draft Refugee Bill: An Analysis with Regard to the Rights of Refugees." Vol. 5 East African Human Rights Law Journal 1-31 (Makerere University Press, 1998). - (PDF)
"The Right to Compensation and Refugee Flows: A 'Preventative Mechanism' in International Law?" Vol. 10, Number 1/2 International Journal of Refugee Law 97-117 (Oxford University Press, 1998). - (Hein)
Other Works
International Judgments Worked On
FACULTY IN THE NEWS
Yahoo! Finance
August 4, 2020
Re: Jody David Armour
Jody Armour spoke on a panel hosted by the reform group Neighborhood Forward about the unintended consequences of a proposed menthol cigarette ban in California. "These kinds of bans and prohibitions only license the police to make more pre-text stops, and the Black community does not need more unjust interactions with police," he said. The story was also posted in EURweb.
RECENT SCHOLARSHIP
Judy Davis
June, 2020
Internet Legal Research on a Budget (with Carole A. Levitt). 2nd ed, American Bar Association Publishing, 2020.
Felipe Jiménez
June, 2020
"Contracts, Markets, and Justice: On Peter Benson's 'Justice in Transactions'," University of Toronto Law Journal.
Dorothy S. Lund
June, 2020
"The Cost of Doing Business: Corporate Crime and Punishment Post-Crisis," Corporate Law Academic Webinar.