Hannah R. Garry

USC Gould School of Law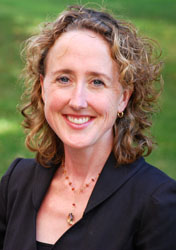 Clinical Professor of Law and Director, International Human Rights Clinic (she/her)
Email:
hgarry@law.usc.edu
Telephone

:
(213) 740-9154
699 Exposition Blvd.

Los Angeles

, CA

90089-0074

USA
Room:
442
Office Hours:
By Appointment
Google Scholar Profile:
Link
SSRN Author Page:
Link
Last Updated: April 26, 2023
---
Hannah R. Garry is Clinical Professor of Law and founding director of USC Gould's International Human Rights Clinic, established in 2011. Her areas of teaching and scholarship include international criminal law, transitional justice, international courts and tribunals, international human rights, and international refugee law. She has been invited as an expert before the International Criminal Court, the United Nations Office of the High Commissioner for Human Rights, the Canadian Parliament and various task forces. She is regularly quoted as an expert and has published OpEds with the following media outlets: the New York Times, Newsweek, Washington Post, BBC, Reuters, the Los Angeles Times and The Hill.
In 2022, Garry was USC Gould's first Fulbright research scholar at the University of Oslo Law Centre for the Study of the Legitimate Roles of the Judiciary in the Global Order (PluriCourts). In 2015, she was awarded the prestigious USC Mellon Award for Faculty Mentoring Graduate Students in recognition of her excellence in teaching.
Garry is a member of the Faculty Advisory Council for the USC Shoah Foundation Center for Advanced Genocide Research and the Southern California International Law Scholars group. She is an active member of the American Society of International Law, an expert on the inaugural Clooney Foundation for Justice TrialWatch Initiative's Experts Panel and a member of Human Rights Watch's Justice Circle.
As for other experience, Garry has filed a brief on behalf of amici torture survivors before the United States Supreme Court in United States of America v. Husayn, et al. and given oral arguments as amicus curiae with former United Nations special rapporteurs in the Afghanistan investigation appeals hearing at the International Criminal Court. She has also previously served as a senior legal adviser to the Supreme Court Chamber of the Extraordinary Chambers in the Courts of Cambodia and as a visiting professional in the Presidency of the International Criminal Court.
Prior to joining USC Gould, Garry was visiting assistant professor of law at the University of Colorado School of Law where she taught public international law, international criminal law and international human rights law. She also supervised students on Guantanamo detainee representation before U.S. military commissions as well as Alien Tort Statute litigation in federal court. While at CU Law, she was a Presidential Fellow at the American Society of International Law.
As for other academic experience, Garry has been a research consultant for two years with Oxford University's Refugee Studies Centre and Makerere University's Institute for Social Research implementing a multi-year socio-legal research project on protection of refugee rights under international law East Africa. She has also been a visiting law lecturer at Peking University Law School in Beijing; and a visiting scholar at the European Court of Human Rights in Strasbourg, France, where she published a study with the first compilation of statistics and analysis on the court's use of interim measures to stay deportation of refugees from Europe. Garry has also been a lecturer on refugee law at the International Institute of Humanitarian Law in San Remo, Italy.
Before academia, Garry was Deputy Chef de Cabinet and legal officer for President Judge Fausto Pocar in the President's Office & Appeals Chamber of the International Criminal Tribunals for the former Yugoslavia and Rwanda in The Hague & Arusha, Tanzania, from 2004-07. Garry also clerked for Judge Rosemary Barkett on the U.S. Court of Appeals, 11th Circuit, and worked as an associate at Freshfields, Bruckhaus, Deringer LLP, in the international arbitration, dispute resolution and public international law groups where she assisted the Eritrea Ethiopia Claims Commission in compensating war crimes claims from prisoners of war and civilians. She is admitted to the New York Bar and United States Supreme Court Bar.
Garry obtained her JD from Berkeley Law, a master's in international affairs from Columbia University, and a graduate certificate in forced migration studies with distinction as a Visiting Study Fellow at Oxford University's Refugee Studies Centre.
LinkedIn: Link
Twitter: @HannahRGarry
Articles and Book Chapters
"Mixed Claims Commission & International Criminal Trials: Towards a Transformative Justice Approach to Atrocity Situations" (Work in progress).
"From Policy Back to Principles? Refugee Protection under International Law & State (Non)-Compliance" (Work in progress).
"The Eritrea Ethiopia Claims Commission: at the Intersection of International Dispute Resolution and Transitional Justice for Atrocity Crimes?" with Morgan Brock-Smith & Nicholas Maisel, in By Peaceful Means: Adjudication and Arbitration of International Disputes (Oxford University Press, Forthcoming December 2022). - (SSRN)
"Witness Proofing" in International Criminal Procedure: the Interface of Civil Law and Common Law Legal Systems (Linda E. Carter and Fausto Pocar, eds.) (Edward Elgar Publishing, 2013) - (PDF)
"The European Right to Confrontation in Criminal Proceedings," 6 J. Int'l Crim. J 609, (reviewing Stefano Maffei, The European Right to Confrontation in Criminal Proceedings: Absent, Anonymous, and Vulnerable Witnesses (2006)). - (Hein)
Contributor to Rights in Exile: The Janus Face of Humanitarianism (Guglielmo Verdirame and Barbara Harrell-Bond with Zachary Lomo) (Berghahn Books: Oxford, 2005). - (www)
"Introductory Note to United Kingdom (U.K.) Supreme Court of Judicature-Court of Appeal (Civil Division): N. v. Secretary of State for the Home Department." Vol. 43, No. 1 International Legal Materials 112-15 (2004). - (Hein)
"From the Aspirational to the Operational: Multinational Corporations, Corporate Codes of Conduct and Human Rights" (with Lucy F. Reed) in From Government to Governance: the Growing Impact of Non-State Actors on the International and European Legal System, pp. 176-185 (T.M.C. Asser Press, 2004).
"Alternative Dispute Resolution in Other Jurisdictions--the EU Green Paper" (with Lucy F. Reed and Emily Daughtery) in Alternative Dispute Resolution in Italy, (Associazione Italiana Giuristi Di Imresa (AIGI) Publications, 2003).
"Harmonization of Asylum Law and Policy Within the European Union: A Human Rights Perspective." Vol. 20, No. 2 Netherlands Quarterly of Human Rights 163-84 (Intersentia Publishers, 2002). - (PDF)
"When Procedure Becomes a Matter of Life or Death: Interim Measures and the European Court of Human Rights."

Vol. 7, No. 3 European Public Law Journal (Kluwer Publishers, 2001). - (PDF)
"Human Rights and Forced Displacement," J. Refugee Studies 426, (reviewing Anne F. Bayefsky & Joan Fitzpatrick Human Rights and Forced Displacement (2000)). - (Hein)
"Evaluating the Effectiveness of UN Human Rights Institutions," Berkeley J. Int'l L 138, (reviewing Patrick J. Flood The Effectiveness of UN Human Rights Institutions (1998)). - (Hein)
"Applying the Plumb Line of Uganda's Bill of Rights to Uganda's Draft Refugee Bill: An Analysis with Regard to the Rights of Refugees." Vol. 5 East African Human Rights Law Journal 1-31 (Makerere University Press, 1998). - (PDF)
"The Right to Compensation and Refugee Flows: A 'Preventative Mechanism' in International Law?" Vol. 10, Number 1/2 International Journal of Refugee Law 97-117 (Oxford University Press, 1998). - (Hein)
Other Works
International Judgments Worked On
FACULTY IN THE NEWS
LLM Guide
June 5, 2023
Re: USC Gould School of Law
Law schools have been adapting to the increase in technological advancements, especially with the increased need for attorneys with the creation of AI. "Attorneys work on the front end, conducting threat assessments to ensure that their clients' systems and data are protected, and on the back end, to navigate any legal issues that may arise as a result of the attacks," Gruzas said.
RECENT SCHOLARSHIP
Robin Craig
April, 2023
"Fish, Whales, and a Blue Ethics for the Anthropocene: How Do We Think About the Last Wild Food in the Twenty-First Century?," 95:6 Southern California Law Review 1307-1343 (April 2023).
Robin Craig
April, 2023
"California Exceptionalism in the Colorado River: A Brief History and Implications for the Future."
Robin Craig
April, 2023
"Toward a Global Sustainable Development Agenda Built on Resilience" (with Murray W. Scown, Craig R. Allen, Lance Gunderson, David G. Angeler, Jorge H. Garcia, & Ahjond Garmestani), Global Sustainability (online publication April 2023).