Franita Tolson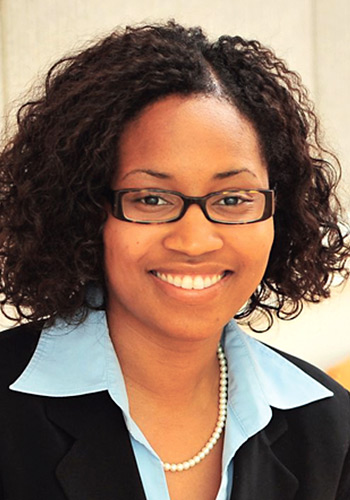 Vice Dean for Faculty and Academic Affairs, and Professor of Law
Email:
ftolson@law.usc.edu
Fax

:
(213) 740-5502
699 Exposition Blvd.

Los Angeles

, CA

90089-0074

USA
Room:
402
Google Scholar Profile:
Link
SSRN Author Page:
Link
Last Updated: September 16, 2019
---
Franita Tolson joined USC Gould School of Law in June 2017. Her scholarship and teaching are focused on the areas of election law, constitutional law, legal history and employment discrimination. She has written on a wide range of topics including partisan gerrymandering, campaign finance reform, the Elections Clause, the Voting Rights Act of 1965, and the Fourteenth and Fifteenth Amendments. Her forthcoming book, In Congress We Trust?: The Evolution of Federal Voting Rights Enforcement from the Founding to the Present, will be published in 2020 by Cambridge University Press.
Her research also has appeared in leading law reviews including the Boston University Law Review, the Vanderbilt Law Review, the Alabama Law Review, the Notre Dame Law Review, and the University of Pennsylvania Law Review Online. She has written or appeared as a commentator for various mass media outlets including The Huffington Post, The Hill, Reuters, and Bloomberg Law.
Prior to joining the USC Gould faculty, Tolson was the Betty T. Ferguson Professor of Voting Rights at Florida State University College of Law. Tolson was also a visiting assistant professor at Northwestern University School of Law.
Before entering academia, she clerked for the Hon. Ann Claire Williams of the United States Court of Appeals for the Seventh Circuit and the Hon. Ruben Castillo of the Northern District of Illinois.
Tolson is a graduate of the University of Chicago Law School, where she was a member of the University of Chicago Law Review and won the Thomas Mulroy Prize for Oral Advocacy in the Hinton Moot Court Competition.
Works in Progress
Reinventing Federalism?: The Status of Madison's Constitution after the Reconstruction Amendments
The Legislative Record
De Minimis Constitutional Violations
Books
In Congress We Trust?: The Evolution of Federal Voting Rights Enforcement from the Founding to the Present, under contract (Cambridge University Press, forthcoming 2020).
Articles and Book Chapters
"The Spectrum of Congressional Authority over Elections," Boston University Law Review 99 (2019) 317. - (Hein) - (SSRN)
"Election Law "Federalism" and the Limits of the Antidiscrimination Framework," William & Mary Law Review 59 (2018) 2211. - (Hein) - (SSRN)
"The Equal Sovereignty Principle as Federalism Sub-Doctrine: A Reassessment of Shelby County v. Holder," in Controversies in American Federalism and Public Policy, edited by Christopher P. Banks, 171-186 (Routledge, 2018).
"Offering a New Vision for Equal Protection: The Story of Harper v. Virginia State Board of Elections," in Election Law Stories, edited by Joshua A. Douglas and Eugene D. Mazo, 63-86 (Foundation Press, 2016).
"What is Abridgment? A Critique of Two Section Twos." Alabama Law Review 67 (2016): 433. - (SSRN) - (Hein)
"Introduction: The Law of Democracy at a Crossroads: Reflecting on Fifty Years of Voting Rights and the Judicial Regulation of the Political Thicket." Florida State University Law Review 43 (2016): 345. - (Hein) - (www)
"The Federalism Implications of Campaign Finance Regulation." University of Pennsylvania Law Review Online 164 (2016): 247. - (SSRN) - (Hein)
"Protecting Political Participation through the Voter Qualifications Clause of Article I." Boston College Law Review 56 (2015): 159. - (SSRN) - (Hein)
"Congressional Authority to Protect Voting Rights After Shelby County and Arizona Inter Tribal." Election Law Journal 13 (2014): 322. - (SSRN) - (www)
"The Constitutional Structure of Voting Rights Enforcement." Washington Law Review 89 (2014): 379. - (SSRN) - (Hein)
"The Union as a Safeguard Against Faction: Congressional Gridlock as State Empowerment." Notre Dame Law Review 88 (2013): 2267. - (SSRN) - (Hein)
"Second-Order Diverse in Name Only?: Sovereign Authority in Disaggregated Institutions." Tulsa Law Review 48 (2013) 455. - (SSRN) - (Hein)
"Reinventing Sovereignty?: Federalism as a Constraint on the Voting Rights Act." Vanderbilt Law Review 65 (2012): 1195. - (SSRN) - (Hein)
"Partisan Gerrymandering as a Safeguard of Federalism." Utah Law Review 2010 (2010): 859. - (SSRN) - (Hein)
"The Boundaries of Litigating Unconscious Discrimination: Firm-Based Remedies in Response to a Hostile Judiciary." Delaware Journal of Corporate Law 33 (2008): 347. - (SSRN) - (Hein)
FACULTY IN THE NEWS
KPCC Air Talk
November 18, 2019
Re: Camille Gear Rich
Camille Gear Rich participated in a discussion on KPCC Air Talk about free speech. "I think we're entering an era in which people are much more aware of the need for some protection, some regulation in terms of how speech is orchestrated, that government is in a position where it's trying to create conditions where a variety of speakers with different sensitivities can participate in public debate. So when it says "Congress shall make no law," there are all sorts of ways in which we have historically carved out particular things, particular areas, where there is a need for regulation … there is a need for let's say, speed bumps, or containers … where there are certain kinds of speech that are so coercive to public debate or dangerous for other reasons that we impose some limitations and we've created definitions around obscenity, around threats, around fighting words, to try to create those conditions that really will allow for a truly participatory and rich conversation," Rich said.
RECENT SCHOLARSHIP
Nomi Stolzenberg
July, 2019
Nomi Stolzenberg, "Anne Dailey and the New Fictionalism," 36th Annual Congress of Law and Mental Health, Rome, Italy.
Thomas D. Lyon
July, 2019
"Effects of the Putative Confession Instruction on Perceptions of Children's True and False Statements" (with Jennifer Gongola and Nicholas Scurich), Applied Cognitive Psychology 33 (2019): 655.
Thomas D. Lyon
July, 2019
"Children's Concealment of a Minor Transgression: The Role of Age, Maltreatment, and Executive Functioning" (with Shanna Williams and Kelly McWilliams), Journal of Experimental Child Psychology.