Jonathan Handel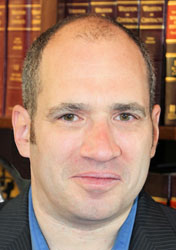 Lecturer in Law
Telephone

:
(323) 650-0060
699 Exposition Blvd.

Los Angeles

, CA

90089-0074

USA
Last Updated: July 27, 2020
---
Jonathan Handel (jhandel.com) practices transactional entertainment and technology law at TroyGould in Los Angeles and is a contributing editor for The Hollywood Reporter, where he covers entertainment labor and select other matters. He is also a former computer scientist and was involved in local politics for a decade.
Handel is the author of the 2015 book Entertainment Residuals: A Full Color Guide, which describes the union reuse/royalty payments that are common in the entertainment industry, and the 2011 book Hollywood on Strike!, which chronicles and analyzes the Hollywood writers strike of 2007-2008 and the ensuing Screen Actors Guild stalemate that lasted through mid-2009.
Handel is a lecturer in law at the USC Gould School of Law in Fall 2013, his second year. He has also been an adjunct professor at Southwestern Law School and UCLA Law School. Handel has previously worked as a talent lawyer; as associate counsel at the Writers Guild; and as a litigator.
Handel is a member of the Academy of Television Arts and Sciences, and was named by the Daily Journal as one of the top 100 lawyers in California in 2008. He has been profiled in the book, social.lawyers, by Jayne Navarre, and by the Los Angeles Business Journal.
A magna cum laude graduate of Harvard College in applied Math and Computer Science, Handel worked in the computer industry before, during and after college. He was also involved in local politics as an elected delegate and Democratic party committee member and in gay politics; drafted and lobbied for passage of the Cambridge, MA, human rights (civil rights) ordinance; and served on the human rights commission that the law established to investigate and adjudicate discrimination claims. Handel then attended Harvard Law School, graduating cum laude in 1990, and then clerked on the U.S. Court of Appeals for the Fifth Circuit. During 1992-1993, while a litigation associate at a Los Angeles firm, he concurrently served as a federal Associate Independent Counsel (special prosecutor) investigating alleged misconduct in the Bush administration.
Books
Entertainment Unions and Guilds: An Interdisciplinary Bibliography (Hollywood Analytics, 2012).

The New Zealand Hobbit Crisis: How Warner Bros. and the Kiwi Government Crushed an Attempt to Unionize "The Hobbit" (2012).

Hollywood on Strike! (Hollywood Analytics, 2011).

How to Write LOI's and Term Sheets (Createspace, 2009) (short book).
Book Chapter

"Attorneys," in Ask the Pros: Screenwriting (2004) (primary author of chapter).
Journal/Professional Articles

"Uneasy Lies the Head that Wears the Crown: Why Content's Kingdom is Slipping Away," 11 Vanderbilt J. Ent. & Tech L. 597 (2009).

"Hollywood Under Siege," 26 ABA Ent. & Sports Lawyer no. 3 10 (Fall 2008).

"Mark My Words: While Single-Work Titles May Not Be Federally Registered, Other Legal Strategies are Available to Protect a Movie Title," Los Angeles Lawyer Magazine (April 2008).

"AFMA International Censorship Rider: Some Suggested Revisions," The AFMA Model International Licensing Agreements 2nd (February 1994) (co-author).

"Recent Publication," 24 Harv. C.R.-C.L.L. Rev. 611-19 (Spring 1989) (reviewing Richard Mohr, "Gays/Justice: A Study of Ethics, Society, and Law").
Popular Articles and Op-Ed Pieces

Numerous articles for The Hollywood Reporter on entertainment labor and other subjects (July 2010 to present).

"Book Review," Los Angeles Times (October 23, 2009) (review of William Patry, Moral Panics and the Copyright Wars).

"There's a Lot of Residual Pain Ahead if Current System Isn't Remedied," The Hollywood Reporter (July 23, 2009).

"Copyright Enforcers Must Overcome Internet's Free Content Culture," Daily Journal (July 21, 2009) (available in slightly different form on Huffington Post as "Culture Clash on the Internet").

"SAG Contract is Ratified, but Drama is Likely to Return Quickly," Daily Journal (June 30, 2009).

"SAG Contract Ratified; Now What?," 15 Century City Lawyer no. 15 (June 2009).

"New-Media Distribution Giving Hollywood a Makeover," Los Angeles Business Journal (June 15, 2009).

"Why the Film Biz Still has Far to Go," Variety.com (June 11, 2009).

"The Struggle Over Content and Technology Will Define Hollywood's Future," Daily Journal (June 9, 2009).

"SAG's Strange Voyage," 15 Century City Lawyer no. 14 (May 2009).

"Actors Strike a Deal, but is a New Compensation System on the Horizon?," Daily Journal (April 7, 2009).

"Economy, New Media are Conspiring to Make Things Tough on Actors," Daily Journal (March 24, 2009).
Blogging

Huffington Post - over 100 articles

Forbes.com


AlwaysOn - several dozen articles, including cross-posts from Huffington Post

http://www.jhandel.com - approximately 250 articles, including cross-posts from Huffington Post

IMDb - automatic feed of articles from jhandel.com
FACULTY IN THE NEWS
The Guardian
March 3, 2021
Re: Jody David Armour
Jody Armour was interviewed about the lack of change in the LAPD thirty years after the savage assault on Rodney King. "So many activists are calling for defunding the police because the changes that have occurred in cosmetics have not made real changes in how many Angelenos and marginalized communities are experiencing policing," he said.
RECENT SCHOLARSHIP
Thomas D. Lyon
January, 2021
"Understanding expert testimony on child sexual abuse denial after New Jersey v. J.L.G.: Ground truth, disclosure suspicion bias, and disclosure substantiation bias," (with Shanna Williams & Stacia N. Stolzenberg) Behavioral Sciences & the Law 38 (2020).
Daniel Klerman
January, 2021
"Choice of Law and the Art World" (with Anja Shortland), The Global Law Market (conference), CEGLA Center, Tel Aviv University.
Daniel Klerman
January, 2021
"Art Theft and the Art Loss Register: Law, Norms & Institutions" (with Anja Shortland), Departmental Seminar, Economics Subject Group, Management School, Queens University Belfast.