Ukrainian family escapes war with help from students in USC Gould's International Human Rights Clinic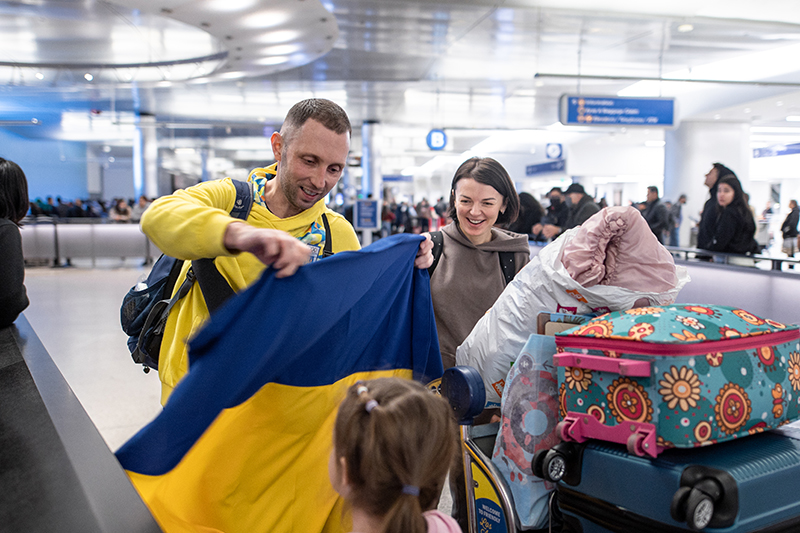 The family arrives at LAX. (Photo by Andrew Svistunov)
The 2022 holidays were memorable to a Ukrainian family that escaped the ongoing war in Ukraine thanks in part to the USC Gould School of Law's International Human Rights Clinic (
IHRC
) and two student attorneys who did the legwork to bring this family to the United States.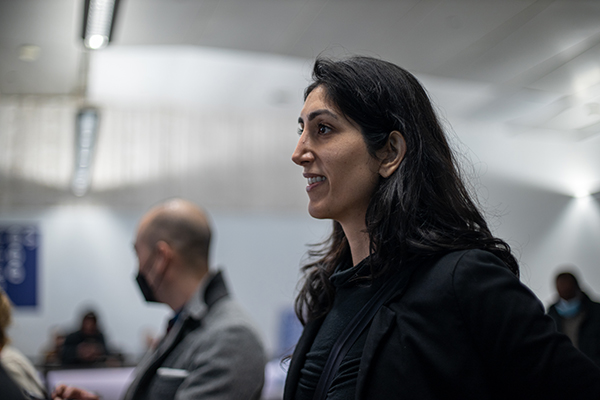 IHRC's Henna Pithia waits to greet the family at the airport. (Photo by Andrew Svistunov)
The Ukrainian family of four (including two children ages six and two) landed Dec. 10 at Los Angeles International Airport, greeted by Henna Pithia (JD 2015), visiting  clinical assistant professor with the IHRC and supervising attorney on this matter. Also present were members of an Orange County church sponsoring the family, plus members of Home for Refugees, a faith-based organization in Irvine, Calif. that helped IHRC get in touch with the sponsors to arrange for humanitarian parole for the young family and help them escape the war, now in its second year as of Feb. 24.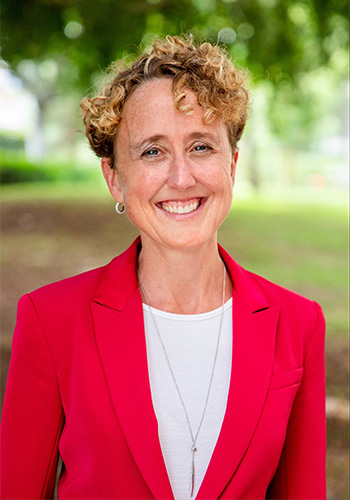 Hannah Garry, IHRC director
"One of the four focus areas of the IHRC is refugee rights," says Pithia of the clinic, founded in 2011 by Director, Professor Hannah Garry. "Another is accountability for atrocity situations. Our clinic is always adjusting and acting upon what is most urgent, taking into consideration the most pressing human rights concerns of the day. Combining these two focus areas with what's happening in Ukraine, it made sense to help this young family while another clinic team was simultaneously in The Hague at the International Criminal Court, with Professor Garry calling for accountability for the perpetration of atrocities that caused this family to flee."
For this Ukrainian family, the way out began with Uniting for Ukraine, a U.S. government program launched in April 2022 to streamline the humanitarian parole process and help Ukrainians escape the ongoing war. Through this program, applicants with qualified U.S. sponsors can live in the U.S. as parolees for two years. In the past, the parole application process has often been interminable and sometimes only granted for one year. The clinic welcomed the U.S. government's new program, which allowed the young family to escape the war in Ukraine in a timely manner. (The family is not being named for privacy concerns.)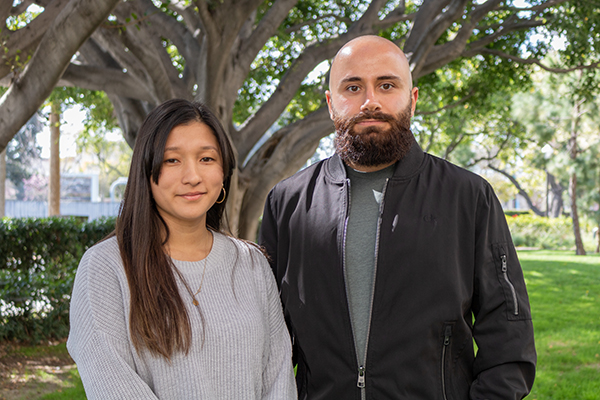 2L Uma Fry Demetria and 3L Harutyan Margaryan (Photo by Beth Mosch)
2L Uma Fry Demetria and 3L Harutyan Margaryan worked with representatives at Home for Refugees who connected the clinic to U.S. sponsors that would eventually support the family through the parole process. Communicating across borders with the Ukrainian family, the students provided legal assistance by completing the online parole application form for each sponsor and each member of the family. Communication via Zoom was irregular, depending on what was happening in Kyiv, where the family was living amidst the ongoing war.
"Our client was always unsure if he could make the meetings because he was often in bomb shelters with no electricity or Zoom connection," says Demetria. "We decided to continue communication through a secure, encrypted platform to make sure that we had a private line of communication with our clients as they fled Ukraine."
"It's very dangerous on a large scale – we constantly worried about whether the family would be the next target of Russian drone, missile, or rocket strikes," says Margaryan.
Relieved to remove his family from the war, the clinic's client said he appreciated that he could trust Demetria and Margaryan to properly handle the application process and get him and his family out quickly and safely.
"Harut and Uma are true professionals," he says. "I was very comfortable working with them on our case. The help I received from Harut and Uma on arranging humanitarian parole is invaluable. I thank them very much for that."
The church has assisted the family with housing and basic needs through fundraising, Pithia says.  Before the two years of parole are up, the family will explore whether they should apply for other forms of immigration relief, including asylum or another government program that may be developed in the future to assist them.
"The Biden administration may continue to use this online application system for the wider refugee population," Pithia says. "We are interested to see where we go moving forward."
For the students, the outcome demonstrates the power of clinical work to change the lives of people uprooted by war – people often forgotten as the daily news cycle explodes minute by minute with shocking headlines.
"It's such a meaningful experience," says Margaryan. "You're making a difference in a family's life, using the skills we are developing to make even a small impact on a larger scale."
"When Russia's invasion happened, it blew up in the media right away, but people forget it's ongoing and has been impacting lives," says Demetria. "There's a stronger realization that they have jobs and family like everyone else when you're on Zoom with someone who is in the dark with their daughter on their lap."
Both Margaryan and Demetria plan to continue to work on important human rights issues after graduation.
For the clinic's client, the IHRC and the other organizations that brought him and his family here have opened a door to relief and a chance for a better life.
"I am happy that finally, my children will be safe," he says. "They will finally be able to live a full life, go to school and kindergarten, walk by the ocean, and have fun in parks. I thank the United States government for this opportunity and the introduction to the Uniting [for] Ukraine program. I thank the team of Home for Refugees, the USC team, the team of sponsors, and all the people who support us. Without the help of these wonderful people, this would not have happened."