Judge Robert L. Wilkins tells story of family journey in 2022 Roth Lecture 
By Melissa Masatani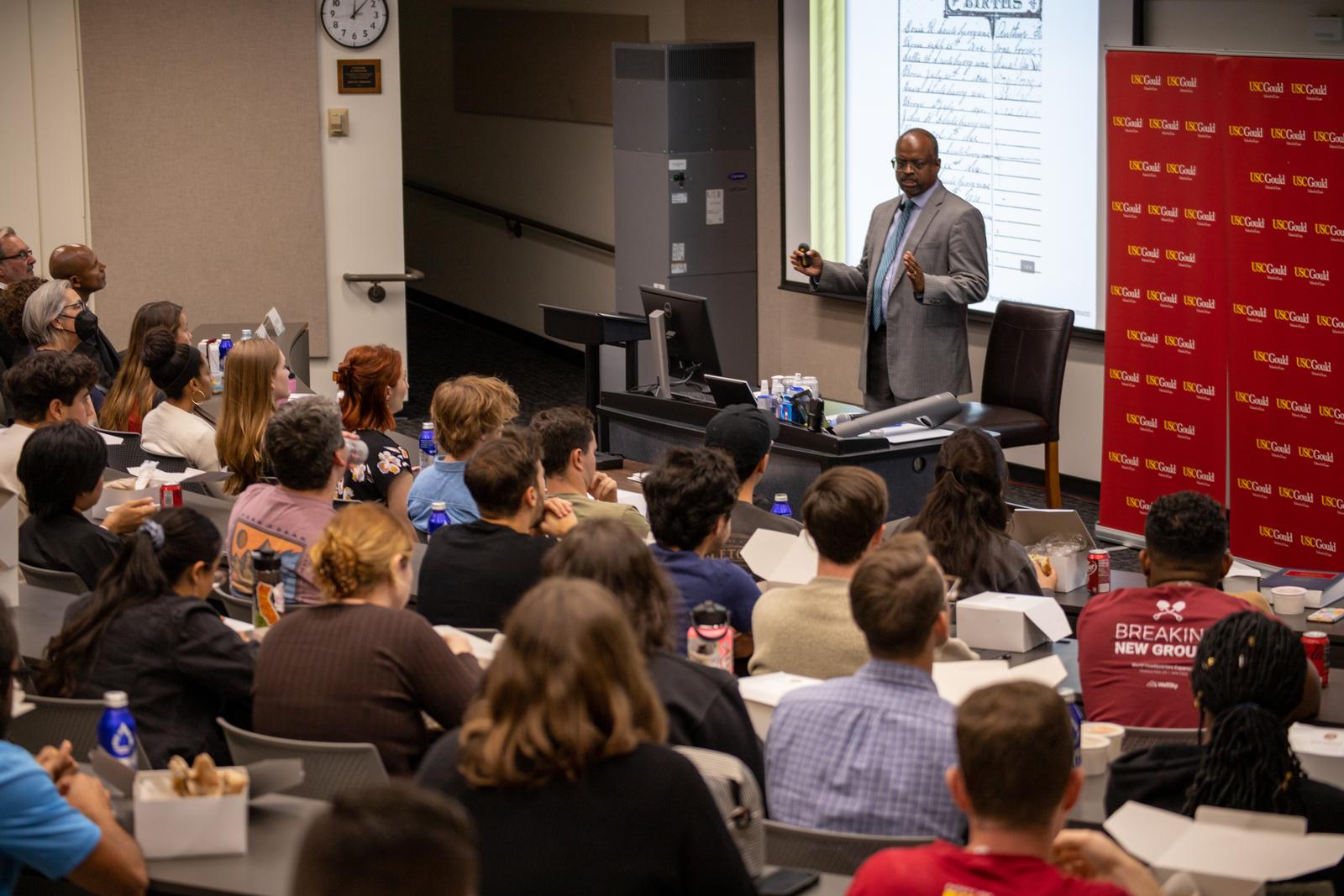 The Hon. Robert L. Wilkins delivered a message of perseverance and hope in the 2022 Roth Lecture.
The Honorable Robert L. Wilkins of the U.S. Court of Appeals for the D.C. Circuit presented the USC Gould School of Law's 2022 Justice Lester W. Roth Lecture, titled "My Family's Journey from Slave to Citizen."
The Sept. 22 visit was part of USC Gould's Jurist-in-Residence program, where Judge Wilkins met with various students and faculty throughout his time on campus.
"I'm very glad to be at USC and meet so many professors and students, it's a really vibrant community with very bright students," Judge Wilkins said, adding that one interaction in particular stood out to him. "One of the students asked me after my lecture, 'How do you keep from feeling disconsolate about our current state of affairs?' and I'd like to bring a message of hope to the students, let them know that we just don't give up, you don't let these external factors cause you to leave the field.
"We have God-given talents and we should use those talents to push forward and to continue to make this a more perfect union."
It was during law school that Judge Wilkins initially became interested in genealogy, but he didn't begin serious investigations until 2018. Inspired by the long line of names in a family Bible, Judge Wilkins shared the discoveries he made that uncovered a link to the law.
Starting with the first name in the Bible, Louis Saulsbury who was born in 1842, Judge Wilkins was able to find records of his four-time great-grandmother — Louis' mother Edie — and her legal fight in 1862 in Kentucky. Her successful case led to her inheriting land that became a known Black settlement in Kentucky.
"I didn't know who my fourth-great-grandmother was and I definitely didn't know anything about this lawsuit" before beginning genealogical research, Judge Wilkins said. "While researching slavery in Kentucky I learned the story of the Saulsbury Free Negro Settlement and I knew that it was my family surname, so I was curious as to whether I was related to them."
Family story highlights power of Constitutional amendments
After winning her case in the middle of the Civil War, she was able to inherit the land willed to her and several other former slaves by their former owner. Edie Saulsbury and her husband David were first counted as citizens in the 1870 census, and Edie died in 1905. Six generations and barely more than a century later, Judge Wilkins would stand in the Oval Office with his family upon being appointed as a federal judge.
"What this story shows is that, legally, the country started in a very bad place of injustice for people of African descent," Judge Wilkins said. "My family's journey is a demonstration of how the Reconstruction amendments, the 13th, 14th and 15th Amendments, helped to transform America and my personal story as a federal judge in Washington, D.C., appointed by President Barack Obama, a person of African descent — none of that would be possible under the original Constitution."
After earning his JD from Harvard Law School in 1989, Judge Wilkins spent 20 years as a public defender and in private practice before he was appointed U.S. District Judge for the District of Columbia in 2010 and then appointed to his current role in 2014. Although he did not enter law school with the intent of becoming a judge, he advised students interested in that pathway to work hard and distinguish themselves as ethical lawyers who are a service to the profession.
"The powers that be, whether they're governors, senators or presidents, are looking for people who have a sense of connection to the legal community and who have shown themselves to be people of integrity and service," Judge Wilkins said.
The Jurist-in-Residence program, launched by USC Gould Dean Andrew Guzman in 2018, brings judges from geographic areas outside of Southern California to USC Gould to create an intensive learning experience reaching beyond the classroom. Visiting judges sit in on classes and have one-on-one discussions with faculty and students throughout their time on campus.
The Roth Lecture Series was established in 1979 by the Louis and Florence Cohen Philanthropic Fund of the Jewish Community of Los Angeles. The lecture series honors Justice Lester W. Roth, a 1916 graduate of USC Law and presiding justice of the California Court of Appeal, Second Appellate District, from 1964 until his retirement in 1992.