The 2022 Institute on Entertainment Law and Business addresses changes in the industry and how to adapt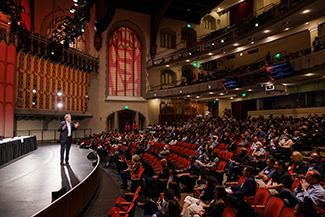 Jeffrey Cole, CEO of the Center for the Digital Future and a research professor at the USC Annenberg School for Communication and Journalism, delivers the opening session, "The Industry: Trends, Fads and Transformation."
The 2022 Institute on Entertainment Law and Business took place at USC on Saturday, October 22, featuring a keynote speech from comedian Byron Allen, founder, chairman and CEO of Allen Media Group.
Titled "No Joke: Current Realities in the Entertainment World," the continuing legal education event explored the latest industry trends highlighted changes in the industry in the wake of rapidly evolving technology and shifts due to COVID-19.
The one-day institute, co-hosted by USC Gould School of Law and the Beverly Hills Bar Association, brought together entertainment lawyers, executives, accountants and other professionals to USC's campus for the first time since the onset of the pandemic.
"I don't work in media, I work in disruption," opened Jeffrey Cole, CEO of the Center for the Digital Future and a research professor at the USC Annenberg School for Communication and Journalism. Setting the stage for the day, Cole weaved the story of theater closures, the shifting prominence of streaming services and how the entertainment industry and audiences alike were forced to adapt after the pandemic.
Luncheon keynote speaker Byron Allen received a standing ovation following his interview with Bruce M. Ramer of Gang, Tyre, Ramer, Brown & Passman, Inc. Allen told the story of his rise to success and the development of his tenacious entrepreneurial spirit, which he says he used to help support his single mother growing up. At the age of 14, he said he spent days waiting to do standup at a comedy club, where he would be discovered by Jimmie Walker, catapulting him into circles with the young Jay Leno and David Letterman and becoming the youngest comedian to do the Tonight Show.
Allen described how race shaped his career path, noting that the allyship of his outspoken friends and business partners broke down obstacles. A close friend of Coretta Scott King after Martin Luther King Jr.'s assassination, Allen described his vision to use media for good: "Media is so powerful — it can be utilized or it can be weaponized."
He outlined the "5 E's" that he strives to live by — education, equal justice, economic inclusion, environmental protection and empathy — in pursuit of creating a unified America. "That's my north star and that's what I'm pursuing," said Allen. "I'm pursuing us creating that vision."
Morning panels in Bovard Auditorium included "No Laughing Matter: Legal Issues in Representing Comedians," a discussion of the nuances of comedy through the lens of intellectual property law; "The Multi of Metaverse," an explanation of the basics of the metaverse, blockchain and predictions on how businesses can use them; and "The Music Business is Back: What Does That Mean?" a conversation between experts on how music has shifted in response to the pandemic and the rise of platforms like TikTok.
"The only thing constant in the music business is change," said Jeff Harleston, general counsel and executive vice president of business and legal affairs at Universal Music Group, during the music business panel.
Travis Cloyd, CEO and futurist at WorldwideXR and Thunderbird School of Global Management, shared a similar sentiment in the panel on the Metaverse. "Metaverse is disruption. Within the next decade, this could be a trillion dollar industry," he said.
Afternoon breakout panels focused on talent compensation; merger and acquisition activity in the production company space; privacy challenges and pitfalls; production incentives and entertainment malpractice; and state bar issues. Panelists analyzed recent developments in their respective fields and provided in-depth discussion of each topic.
Experts throughout the day shed light on the business behind popular art and creators. In his keynote, Byron Allen put it best: "It's not show business — it's business show."
USC Gould School of Law offers continuing legal education opportunities for professionals who want to learn and network with leading experts in their industries. A fixture of the Los Angeles legal community since 1948, USC Gould Continuing Legal Education hosts six annual conferences for professionals at every level to learn from, and network with, the biggest players in entertainment, estate planning, business, tax and intellectual property. To learn more, visit or subscribe at gould.usc.edu/cle – and follow on Twitter, Instagram, Facebook and LinkedIn.