Naader Banki (JD 2016) – entertainment and media associate at Manatt, Phelps & Phillips, LLP – discusses how his law school lessons apply to his professional role.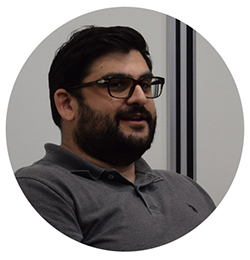 Naader Banki
How did your education and experiences at USC Gould prepare you for your career?
I would have to distill it down to two main factors: (1) my classmates and (2) my professors. Regarding my classmates, I really never felt the typical "competition" you read about pervading law school. I went from studying with my classmates to now working with them (and even sometimes negotiating against them) and leaning on their knowledge when I find myself facing a legal problem that is not in my area of expertise.
Regarding my professors, the level of experience some of our professors have in their respective fields is really quite astonishing. That, along with the number of classes available to take both within and outside the law school (e.g., at the USC School for Cinematic Arts or the USC Marshall School of Business) that were being taught by leaders in their fields, were an incredible experience. I was able to learn actual, practical knowledge, rather than just theory.
How would you describe your current role?
I'm an entertainment/media associate at Manatt, Phelps & Phillips, LLP. My practice predominantly revolves around representing all manner of talent and companies in the music, digital media, film and TV industries. I really enjoy my job, and particularly enjoying working with my co-workers. I came into law school with zero interest in going to a big firm. But some of my classmates convinced me to at least participate in on-campus interviews, and after I secured a summer associate position at Manatt, I was really, really happy with my decision. It's been three years, and I've been really happy with my choice thus far.
Are there any lessons from your days as a law student that you rely on in your current work?
Absolutely. I still have many of the textbooks from the courses I took from adjunct professors, as those courses taught us the most practical skills of being a lawyer. And the general mindset of analytical thinking that you learn in law school naturally never leaves you and is a part of my day-to-day work.
What is your favorite or most rewarding part of what you do?
I love working with creative people and helping them (in a very small way) see their vision come to life. It's so fun to see a project, whether that's an album, TV show, digital series or film, evolve from its infancy to its final incarnation.
Was there a professor or course you found particularly inspirational?
Too many to name! The most inspirational story had to be that of Gould faculty E. Randol Schoenberg, who represented Maria Altmann in her suit to obtain several precious paintings stolen from her family during World War II. The film Woman in Gold is based on this story (and it was actually released when I was taking his course on Art Law). As a former transactional lawyer, he was able to successfully argue in front of the U.S. Supreme Court and win. That's truly inspirational. Aside from Professor Schoenberg, I really enjoyed [Lecturer in Law] David Ho's course on Digital Media, as he had a fascinating career path that started at a big firm and led him to various in-house positions, to eventually becoming general counsel of Fullscreen. I also relished learning from Gould faculty Alan Levine; his course on deals in the entertainment industry was probably the most practically useful class I took in law school. And outside the law school, I really enjoyed the three classes I took at the USC School for Cinematic Arts, (1) the Business of Representation taught by Professor Alan Berger, (2) Professor Paul Bricault and Professor David Barron's course on Digital Technologies in the Entertainment industry, and (3) Professor Tony Etz's course on the Television Business. All of these professors were either active leaders in their fields, and the opportunity to learn from them (and the incredible guest speakers they invited) was invaluable.