Gould students worked tirelessly on the case

-By Gilien Silsby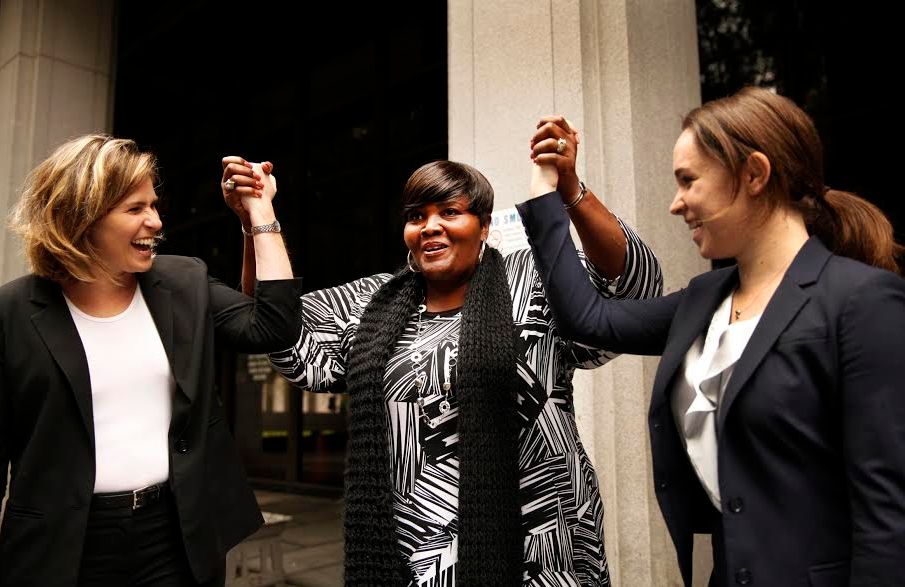 Heidi Rummel, Demitra Jones-Goodie, Laura Donaldson
A 74-year-old woman, known as "Mother Mary" to family and friends, was released from prison March 24 after serving 32 years for crimes committed by her batterer.
Mary Virginia Jones, represented by law students at USC's Post-Conviction Justice Project, appeared in Los Angeles Superior Court. Dozens of family and friends packed the courtroom, several screaming out cries of joy when the judge announced she would be released.
"I am ecstatic and incredibly grateful to USC law school and the Post-Conviction Justice Project," said Jones's daughter, Denitra Jones-Goodie, who has remained steadfast in support of her mother. "This is going to be the best Mother's Day ever."
A dedicated mother and church member, Jones was convicted of first-degree murder without the possibility of parole in 1982, after four trials, including a reversal on appeal because the court failed to properly instruct the jury and excluded evidence of her duress defense and two hung juries.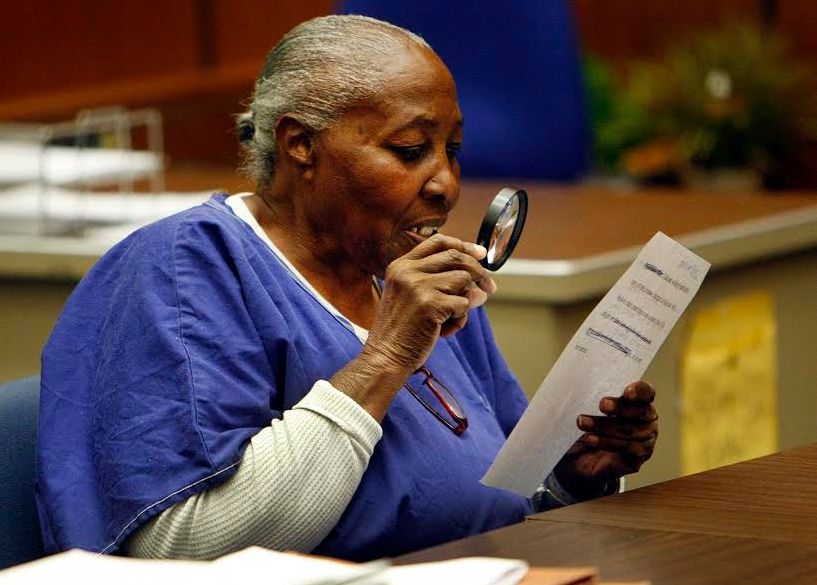 Mary Jones
Students in USC's Post-Conviction Justice Project investigated Jones' case and challenged her convictions, arguing that she would not have been convicted if the jury had heard expert testimony on the effects of intimate partner battering, formerly Battered Women's Syndrome.
The Los Angeles District Attorney's office conducted an independent investigation of Jones's claims and has agreed to set aside her convictions in exchange for a no contest plea to voluntary manslaughter and a time-served sentence.
Jones was charged in the 1981 murder after her abuser, Mose Willis, kidnapped two drug dealers and ordered Jones at gunpoint to drive a car to a back alley in Los Angeles. Willis shot both men as Jones ran from the scene. She hid from Willis at a friend's house and was arrested a few days later.
A week prior to the crime, Willis shot at Jones's daughter and threatened to kill both of them if they went to the police.
"Mr. Willis forced Jones at gunpoint to participate in the robbery and kidnapping — she ran down the alley fully expecting him to shoot and kill her, too" said Heidi Rummel, co-director of USC's Post-Conviction Justice Project.
Mary Jones in the middle, surrounded by family on Christmas in prison
Before she was arrested, Jones owned a home in South Los Angeles, worked full-time as a teacher's aide for Los Angeles Unified School District, and was very involved in her church, Rummel said. She met Mose Willis just months before the crime in 1981, when he was homeless. She invited him into her home and brought him to church because he professed his desire to "live a clean life." Jones had never been arrested before she was prosecuted for Willis's crimes.
USC law students, Laura Donaldson and Mark Fahey, have worked on Jones's case for the past several years.
"The procedural history of Mary's case gave me a greater appreciation for the pitfalls of the justice system," said Donaldson. "After first learning that it took four trials to convict Mary, I was shocked and even more motivated to get her out of prison. I am so happy that Mary is finally getting the justice she deserves and be able to go home to her family after serving 32 years for crimes for which she should never have been convicted."