By Kristy Hutchings
Students and alumni gathered in USC Gould's Crocker Plaza for the 2018 Public Interest Career Fair (PICF).
USC Gould alumni representing various legal organizations including the ACLU of Southern California, the United States Attorney's Office, and Mental Health Advocacy Services were present, ready to share their knowledge of how to build a successful career in public interest from the USC Gould perspective.
Sarah Clifton, a USC alumna (JD 2009) representing the American Civil Liberties Union of Southern California, emphasized the importance of taking advantage of events like the Public Interest Career Fair offered at Gould. "It doesn't take much time out of your day to do a quick walk-through and meet some great local attorneys," she said. "I know when I was a law student here, school staff helped me to develop a great relationship with the L.A. County Public Defender's Office, which subsequently resulted in my summer internship with them and really sparked my passion for criminal justice work."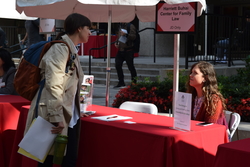 The PICF is useful not only for the valuable networking opportunities, but for the chance to learn more about a potentially career-changing internship, volunteer, and externship opportunities in multiple realms of the public interest sphere. Clifton explained that "students will have an opportunity to learn about a number of government and public interest organizations, some that they may already be aware of, and some that they may never have even heard of," which can help students zero in on a specific field of interest.
"Having more than 30 organizations participate in the Public Interest Career Fair demonstrates the vibrancy of public sector careers to our current student body," said Director of Gould's Career Services Rachel Kronick Rothbart, who organized the event.
"Students thinking about public interest jobs can meet and speak with attorneys to learn more about the represented organizations and even their own career paths. It is also gratifying to bring alumni back to the law school so they can be involved on campus, meet potential job candidates, learn about our public service initiatives," she said. "For our own students it serves as another way they can see how being part of the Trojan Family can benefit their public sector careers."
Jean Burke from the L.A. County Public Defender's Office advised students to "ask the attorneys a lot of questions about their experiences. This can help students filter out areas of practice that don't seem to be a good fit for them, and allow them to focus more on areas that would be," she said.
Additionally, Meredith Goetz, representing the Frank D. Lanterman Regional Center, an organization devoted to supporting individuals and families dealing with developmental disabilities, offered an enthusiastic review of the PICF from an employer's point-of-view. "We always enjoy participating, and have recruited a number of talented Gould students over the years through this event," she said.
Michael Supanick (JD 2020), detailed his experience with the PCIF as a student. "I knew the PICF would be a great chance to learn more about organizations that would potentially fit my goals and to discuss opportunities on how to get involved within these groups," he said. "Overall, events like PICF provide a great opportunity to meet professionals in a low-stress environment so you can learn about the surrounding legal and professional community. Even if you only have time to speak with a few organizations, it is still worth it to attend because you can collect information you cannot receive elsewhere and it is a great place to begin your network."