Small Business Clinic gives healthy meals business peace of mind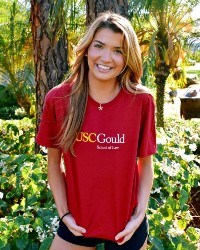 2L Megan Ricker gained valuable experience helping client Mackenzie Burgess develop a client services agreement, giving Burgess peace of mind.
When food blogger-turned-registered dietitian Mackenzie Burgess started her business, Cheerful Choices, her goal was to help people eat better with simple recipes using customizable ingredients of their choice.  Her clients ranged from busy moms looking for easy, nutritious, family-friendly recipes to young professionals attending meetings all day with little time to fit in a healthy meal.
Burgess' education prepared her for serving her clients' needs, but left much to be desired when it came to the day-to-day demands of entrepreneurship.
"[School] didn't really teach us a ton about running our own business, so I was often just trying things out and seeing what happens," says Burgess. At the time, she was working with a contract that left her feeling "insecure and not legally protected," but was daunted by the process of developing something better. "It was hard to think of putting thousands of dollars down on [creating] a sound contract," she says.
At a friend's recommendation, Burgess applied for and was accepted as a client by USC Gould School of Law's Small Business Clinic, which has helped more than 2,500 business owners since its launch in 2007. The clinic was exactly what she needed to step up as a business person.
"It was a win-win. It was completely free for me and it also [gives] law students practical experience," said Burgess, who became a client of 2L Megan Ricker.
Ricker helped shape Cheerful Choice's Client Services Agreement, detailing the business' services as well as defining any limitations its business relationship faced.
Burgess' contract now outlines such things as cancellation protocols and clarifies that without proper state licensure Burgess is unable to provide detailed medical nutrition therapy services that patients suffering from diabetes or kidney disease would require. "I learned so much about contracts and language that won't leave you boxed in," says Burgess, adding, "Megan was super professional and timely. The whole process was done in few months."
Ricker got a lot from the experience, too. "I loved working with Mackenzie," says Ricker, "It was great to connect with someone who was navigating a new career. I really felt I was giving her tools for success in her business. That was really empowering."
Ricker has since taken on about 15 small business clients under the guidance of SBC founder Professor Michael Chasalow, who praised Ricker's work. "Megan is a hard worker, extremely bright, and always goes the extra mile for her clients.  In addition, Megan has great instincts that enable her to work effectively with a broad range of client personalities and needs," says Chasalow.
Working with SBC helped Ricker refine her plans for the future.
"I've realized what I want from my career from this experience," Ricker says. "I want to feel that I can make an impact — and with small businesses, you're making an impact in real time. I can see how much this means to my clients and it makes me want to do the very best that I can do for them."