Tala Toufanian '12 travels from coast to coast to pursue education and experience
by Jason Finkelstein

For many attorneys, it's common to rack up frequent flyer miles while traveling back and forth between distant cities.

Tala Toufanian '12 didn't wait for her legal career to commence before making cross-country travel a regular part of her life. In fact, by the time the USC Law 2L passes the bar, forget a free flight; she may have enough miles to buy the airplane.


A Los Angeles native, Toufanian decided she wanted a different experience when choosing an undergraduate university, so she landed at Brown, in Providence, R.I.

Though some of her favorite college memories were snowball fights, which she never had while growing up in California, Toufanian realized that when she was applying to law school, the west coast was where she wanted to be.

"It was a big appeal to me to be closer to home and to be closer to my family after four years of being away," she said.

Another factor that steered Toufanian toward USC Law was that while she was growing up, she looked up to her cousin, John Toufanian '99, who lived with her family while he was attending the law school.

So when Toufanian returned home to Los Angeles to follow in a family member's footsteps, you might say her story had come full circle.

Until this past summer.

Toufanian once again returned to the east coast, this time to New York City, where she completed a prestigious externship at the U.S. Court of International Trade (USCIT).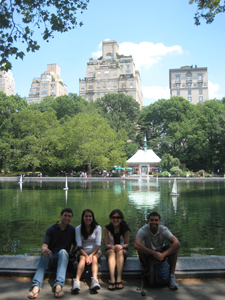 Tana Toufanian '12 (second from left) with friends in NYC
Toufanian, who speaks four languages, applied to work at the USCIT because of her interest in litigation and in international law. In her first year at USC Law, she became involved in the J.D./LL.M. partnership program to meet international students and learn about the law in other countries. Toufanian also joined the USC International Law and Relations Organization (ILRO), and upon returning to USC in August, she became its co-president.

Toufanian was one of about 20 law students from around the country selected to work at the USCIT, and one of just two who worked in the chambers of its highest ranking judge, Chief Judge Jane A. Restani.

She was assigned specific case issues, researched them and wrote memorandums explaining what the outcomes should be, based on legal precedent.

In addition to the specialized customs, trade and anti-dumping/countervailing duties cases she worked on for the USCIT, Toufanian was exposed to criminal matters because Chief Judge Restani also sits by designation for U.S. Courts of Appeals cases.

Toufanian said that her first year at USC Law prepared her well for the rigors of her summer position.

"Everything you're learning is relevant to something that you may be doing one day," she said. "The biggest thing that I've found that you need is to be able to research efficiently and to write well."

Toufanian said she learned how to do just that in her Legal Research, Writing and Advocacy class with Prof. Sue Wright. She also credits Prof. Clare Pastore's Civil Procedure class for providing her with valuable information she was able to put into practice this summer.

Although Los Angeles and New York have obvious geographical differences, Toufanian felt the two cities had a lot in common in terms of diversity and culture, and she quickly became used to riding the subway back and forth to work each day from her upper east side apartment.

"You still have everything available to you," she said. "You can go to the theatre, you can go to museums, you have everything at your fingertips."

After law school, Toufanian doesn't know where she'll settle down, but she would like to end up in a big city.

One thing's for sure: Tala Toufanian isn't tied down. In fact, her life is just beginning to take off.