The New Family Law Mediation Clinic gives students experience in child custody cases
-By Julie Riggott Commissioner Marilyn Mordetzky calls USC Gould's new mediation class in family law an "eye-opener for anyone considering a practice that involves families." That's because this first-of-its-kind course teaches substantive law and allows students the opportunity to mediate child custody cases under the supervision of Mordetzky, who is director of the mediation program at the Edmund D. Edelman Children's Court in nearby Monterey Park.
"Dependency is a very specialized area of law," said Mordetzky, who served as a judicial officer  in the dependency court for seven years and was named judicial officer of the year in 2011. "I don't think there is any school that offers substantive law in dependency, especially the differences and crossovers between family and dependency law," said Mordetzky, who is also a commissioner for the Los Angeles Superior Court and a past Juvenile Bar president.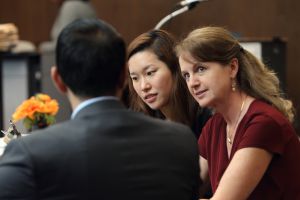 Prof. Lisa Klerman, director of the Mediation Clinic, consults with her students at the Los Angeles Superior Court on a mediation matter.
Professor Lisa Klerman, the director of the Judith O. Hollinger Program in Alternative Dispute Resolution (ADR) at the law school, describes the Family Law Mediation Clinic as "a very exciting specialized clinic that will be enormously beneficial to the students, the court system, and the families that are in need of resolving their differences in a peaceful process. Students will gain such a vast experience from this course that can branch out to many opportunities."
Jenecia Martinez '16 is enrolled in the course. She came to USC Gould to pursue a career in public interest, with the hope of using her law degree to advance the rights of low-income communities.
"Many of the clients I have worked with —on public benefits, immigration, housing and special education law issues — often find themselves entangled in the family-dependency law court system," Martinez said. "I want to learn more about these parents' experiences in dependency court, so that I am able to better advocate for my clients once I am a practicing public interest attorney."
Mediation in dependency court is often challenging and can get highly emotional, Mordetzky said. It's usually the case that parents have been at dependency court a minimum of 18 months. Mediators have to convince them that this is a moment when they can decide what's in their best interest and their children's best interest.
Of course, it's also fulfilling work. "I've never had a situation where a mediator interested in family law said, 'this is not for me,'" Mordetzky said. "It's extremely rewarding to see the parties acknowledge each other and understand the purpose of being there — which is the best interest of the child."
Klerman noted that this is the first of several "specialty" mediation clinics that are planned for the future, as the law school continues to expand its ADR program. "We are very lucky to have Commissioner Mordetzky teaching this new class, and are grateful for our partnership with the Edelman Court."