Richard Rosenblatt (JD 1994) recruits Ted Russell (JD 1994) to team up on Autograph, a new venture bringing Web3 to the world of entertainment and sports
Two USC Gould School of Law classmates have joined forces on a sports NFT platform that elevates fan engagement for sports stars like champion quarterback Tom Brady, Olympic standout Simone Biles and hockey legend Wayne Gretzky to a new level.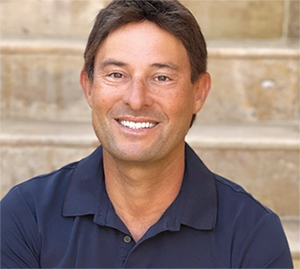 Richard Rosenblatt, co-founder of the NFT platform Autograph
Innovative tech entrepreneur Richard Rosenblatt (JD 1994), co-founder of Autograph, a groundbreaking NFT platform launched in 2021, recruited Ted Russell (JD1994), former executive vice president for business affairs at Twentieth Century Fox, as the platform's chief operating officer and chief business officer.
Rosenblatt says the idea for Autograph germinated while he was with his family in Cabo San Lucas in the early days of the pandemic. He and his son Dillon, a graduate of USC's Iovine and Young Academy and an entrepreneur, got to talking about Web3 and NFTs — non-fungible tokens that fans trade and sell — in the sports and entertainment spheres. Rosenblatt enlisted long-time friend Brady as co-founder and co-chairman.
"We wanted to create something unique in the space," Rosenblatt says. "The analogy is baseball cards. They were the most treasured thing I owned as a kid. And now, in digital form you can collect NFTs and have them signed. Other platforms were focused on leagues, but we started by focusing on individual players and building their personality online. We keep expanding and just announced that we are the exclusive NFT partner of the PGA."
Autograph enriches the fan experience by offering access to special NFT drops and engagement opportunities like meetups and online Q&A sessions. The platform holds exclusive agreements with a substantial roster of entertainment brands and individual athletes, distinguishing it within the NFT space. The platform is guided by an advisory board of people Rosenblatt has known for years, including golf superstar Tiger Woods, award-winning actress and producer Eva Longoria Baston and skateboarding icon Tony Hawk. Dillon leads the company as CEO and co-founder.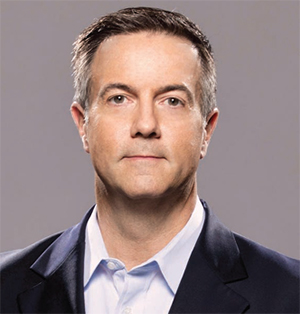 Ted Russell, Autograph's chief operating officer and chief business officer
A phone call from Rosenblatt was a life changer for Russell. He was running his own business advising practice, working for several large private equity and venture firms, when he heard what Rosenblatt, serial entrepreneur and founder of multiple tech media companies, was proposing.
"We talked about what the company could be and do, I met the other founders and it seemed like an interesting opportunity to work in a growing technology space," Russell says. "I had done a lot of tech, media and entertainment work, and it all seemed to fit together."
Russell oversees deal-making, finance, strategy, business development, innovation and people management for a company that has expanded from four to 120 people in just 15 months.
"[We have] a lot of moving parts that all need to work together seamlessly to deliver against the promise we make to brands, companies and talent," Russell says.
Rosenblatt founded his first public company iMALL, a groundbreaking e-commerce platform for small businesses to sell products online, when he was a 2L at USC Gould, and went on to run Intermix/Myspace, the original social network; soon after selling Intermix/Myspace to News Corp, he founded Demand Media (now Leaf Group), an innovative content creation platform that operated multiple online brands. More recently he founded and is CEO of Whip Media, which he calls "the Nielsen of the streaming world," a content licensing and research platform for entertainment organizations that allows users to share TV and movie moments.
Though not practicing law today, Rosenblatt credits his Gould law degree with giving him the credibility and organized thinking he needed to run three public companies.
"It always helped me think in a very linear way," he says. "Law helped me think 'bullet one, section A' and to look at both sides. As a good businessperson you learn to listen to both sides whether you agree or not. The law is a big part of everything I do."
Both Rosenblatt and Russell applaud then-Dean Scott Bice's torts class for training them to prepare and organize, and for Rosenblatt, Professor David Slawson's contract law course proved instructive.
Russell also praised Professor Rob Saltzman for teaching him how to analyze issues, and legal writing classes that gave him a good foundation for his clerkship with the Hon. John Davies in the U.S. District Court for the Central District of California in Los Angeles. Russell has also been a lecturer in law at USC Gould teaching ethics and negotiation.
As Autograph continues to grow, Rosenblatt continues to innovate, co-founding Adim, a new storytelling incubator that he hopes will be "the next Marvel" with Rob McElhenney, creator and actor on FX's It's Always Sunny in Philadelphia and actor Ryan Reynolds. Another son, Chase, a USC Marshall School of Business alum, is co-founder and CEO of Adim.