Class included courtroom visits, guest speakers and mock trials
By Melissa Masatani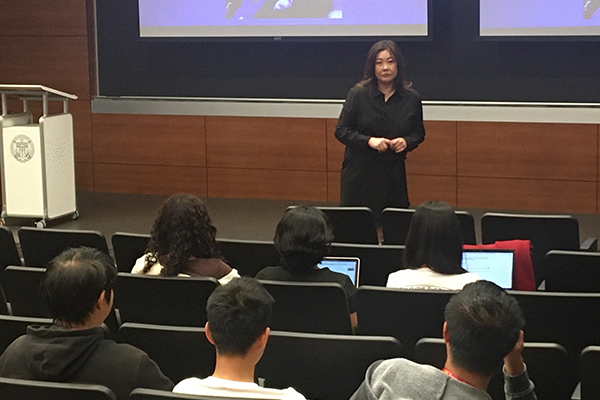 Guest speakers shared their career experiences with high school students during the four-week course, "Lawyers, Law and the Legal System," held as part of the USC Summer Pre-College Program.
What is the law and why is it so important in our daily lives? For a group of high school students, this summer marked a chance to discuss those two very important questions in a college classroom. USC Gould School of Law, in association with USC Bovard College, held a four-week course, Lawyers, Law and the Legal System, as part of the USC Summer Pre-College Program.
Taught by Dave Campbell, a retired 35-year deputy district attorney for the Los Angeles County District Attorney's Office, students were introduced to the basic structure of the legal system.
"My goal was to provide a meaningful summer experience that would open the students' hearts and minds, motivating them to consider pursuing a legal career," said Campbell, whose experience includes litigating complex criminal jury trials as well as classroom experience teaching psychology and criminal law classes. "By giving high schoolers the chance to participate in motions, arguments and trials in both civil and criminal law, they learned to think on their feet and get a taste of what the day-to-day life of an attorney is like."
Students with an interest in reading, writing and the law learned about various pathways to becoming a lawyer. Topics included criminal law, personal injury, contracts, wills, family law, defamation and appellate review. The course also offered a first-hand look at how the legal system functions via class field trips and guest speakers.
"The students said that preparing PowerPoints to present closing arguments for a mock criminal trial, as well as participating in a mock family law mediation session involving a disputed parenting agreement, were two of the highlights of the class," Campbell said. "Students were intrigued by their ability to make their own arguments and presentations as if they were really presenting at an actual trial."
In addition to guest speakers, the class visited Pasadena misdemeanor criminal court and Hollywood mental health court. Students mentioned that the mental health court visit was the most surprising and impactful experience of the class, Campbell said, adding that the class witnessed a writ hearing in which the court needed to determine whether a person with a mental illness was competent to provide for their own basic needs.
"Many of the students noted that they weren't aware that a court devoted to mental health cases existed, and several students expressed a future desire to advocate for the rights of marginalized persons," he said. "One student observed that listening to the passion each of the guest speakers conveyed when discussing their jobs was very moving and remains an experience she will never forget."