Neiman Sieroty Lecture will be held April 7
Lecture begins at 4PM; Reception at 5PM
Story by Kalyn Norwood
USC Gould School of Law will host an installment of the "Lecture in Civil Liberties" series Monday, April 7, and will feature The Honorable Jed S. Rakoff, United States District Judge in the Southern District of New York.
The title of his lecture is "Why Innocent People Plead Guilty."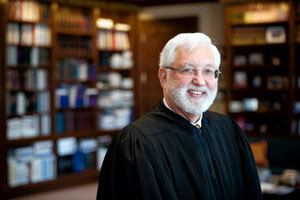 The Hon. Jed S. Rakoff
Rakoff received his J.D. from Harvard Law School and, before joining the bench, worked as a federal prosecutor and a criminal defense lawyer. In the past 18 years on the bench, he has written over 1500 judicial opinions and published over 125 articles. In addition, Rakoff is an adjunct professor at Columbia Law School, teaching classes on white-collar crime, class actions, science and the courts, and the interplay of civil and criminal law.
This event is part of a series named for Allen Neiman '56 and Alan Sieroty '56, who were former classmates and law partners.
Neiman specialized in commercial litigation and family law as a general practitioner for over 50 years and is the former vice president of the Southern California chapter of the American Civil Liberties Union. He played an active role in the protection of the civil rights movement during the 1950s and 1960s. During that time, he represented subpoenaed individuals in front of the House Un-American Activities Committee (HUAC) and also volunteered as a civil rights worker in Mississippi.
Today, Neiman is the senior member of the Los Angeles Consular Corps and the Honorary Consul General to the United States for Burkina Faso in West Africa.
Sieroty served on the California State Assembly until 1977 before being elected to the California State Senate. During that time, he authored more than 100 laws, such as the California Coastal Protection Act, the California Financial Privacy Act, the Dymally-Sieroty Children's Center Construction Act and the Art in Public Buildings Act. He is also a founder of the Progressive Jewish Alliance.
Although retired, Sieroty continues to serve on the board of the Southern California American Civil Liberties Union and on the advisory board of the Liberty Hill Foundation.
The lecture will begin at 4PM, followed by a reception at 5PM.