Michael Santos '13 describes his work with National Immigrant Justice Center in Chicago, representing LGBT asylum seekers

by Meghan Heneghan

Among the many struggles facing U.S. immigrants, those facing lesbian, gay, bisexual and transgender (LGBT) populations often prove harder to overcome, due in part to a complex immigration system that has become what Michael Santos '13 calls "a giant monster designed to keep immigrants out"

The system's flaws seem nearly identical to what they were over a decade ago.

"I remember when I had to go through the process of emigrating from the Philippines myself," Santos shares, describing an immensely challenging ordeal that required him to recall many detailed things about his past. "Now, I see the same thing happening every time I interview my clients."

But, Santos feels being a first-generation Filipino immigrant living in the United States allows him to be a better advocate for those not otherwise capable of good legal representation in the immigration system.

As part of his many efforts to serve and even improve the system, Santos is spending this summer working at the National Immigrant Justice Center in Chicago, where he represents the often marginalized LGBT asylum seekers.

His work qualifies him as a member of the Equal Justice Works (EJW) Summer Corps, a prominent organization supporting law students who dedicate their summer to legal projects at nonprofit public interest organizations. Santos is one of USC Law's three students selected to be members of the Corps.


The Equal Justice Works describes "the Summer Corps program exemplifies the mission of EJW—to create a just society by mobilizing the next generation of lawyers committed to equal justice."

Santos is also one of 30 USC Law students to receive a Public Interest Law Foundation Summer Grant—an honor awarded to select students who have completed at least 25 hours of pro bono work during the previous year.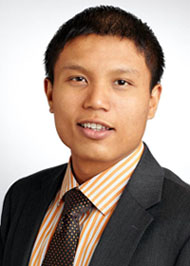 Michael Santos '13

Santos's previous work through USC Law's Immigration Clinic, the Los Angeles Gay and Lesbian Center, and the USC Iraqi Refugee Assistance Project provided a solid foundation for his work. Santos spent his second year of law school representing LGBT asylum seekers in front of Los Angeles immigration courts as part of his work with the clinic. He also worked at the Organization for Refuge, Asylum, and Migration the previous summer, advocating for refugees fleeing persecution based on sexual orientation, gender, and gender identity.

His experiences have only highlighted the inconsistencies he finds in the legal system.

"I've represented [clients] in immigration court in California but see the same laws read so much differently here in Chicago," Santos says, referring to situations presenting grounds for asylum. "I've realized how much work needs to be done in immigration law, particularly at the Bureau of Immigration Appeals level, where the board's decision tends to be inconsistent across circuit courts."

At the National Immigrant Justice Center, Santos represents LGBT individuals before immigration judges, explaining their fear of persecution if they were to return to their home countries.
Immigration courts tend to be unfamiliar with the nuances of LGBT asylum issues, Santos says. He finds it important to make a distinction between the conditions for gays in many countries and those for transgender individuals.

"Courts try to deny asylum because the conditions for gays are favorable in the home country," Santos says. "For example, Mexico supports the rights of same-sex marriages. However, transgender individuals still face great danger."

Additionally, Santos describes the difficulties of serving the legal needs of a population that is so widely misunderstood.

"How can you easily prove someone's sexuality? It's difficult and can even be a very traumatizing experience for an asylum applicant to discuss in front of strangers," Santos says. "But I get to control how the story is told to the judge and how to ensure its credibility."

The benefits, for Santos, extend beyond just success in the courtroom. He says, "I'm making a difference, and that's why it's so gratifying…seeing a client get out of detention, hearing the diversity of stories. Whether a person gets deported can mean a matter of life or death, particularly if they risk persecution because of their sexual orientation or gender identity."

Next year, Santos will be the legal director of USC Law's Iraqi Refugee Assistance Project (IRAP). The group offers legal assistance and policy advocacy on behalf of Iraqi refugees wishing to resettle in the United States.

In addition, Santos will spend his fall interning with the U.S. Department of Health and Human Services' Office of Civil Rights Division in Washington, D.C., where he will research and analyze federal civil rights laws as they apply to limited English proficient persons and vulnerable immigrant populations.

"I'm definitely interested in furthering my career working with asylum seekers and vulnerable immigrant populations," Santos says of his future plans.

Santos is able to empathize with the difficulties this population faces—"bridg[ing] many cultures and basically re-making [one's] own conception of 'home'," just as he did while being displaced many times throughout his childhood.

"As a first-generation Filipino immigrant, I want to be an advocate for those who had similar experiences as I did living here in the United States, especially those who are stuck in the immigration system and not fortunate enough to afford good legal representation."