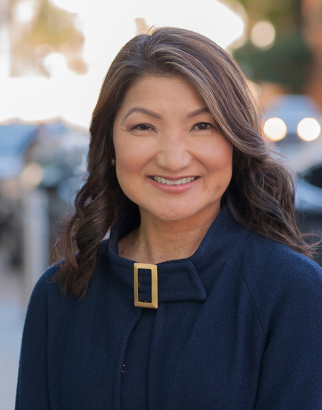 Karen Wong (JD 1986), a pioneer in the renewable energy space, has been named the new chair of the USC Gould School of Law's Board of Councilors. She assumed this important leadership role in July, succeeding John Iino who will continue to serve as a member of the board.
Karen Wong is a partner in the Los Angeles office of Milbank LLP. She joined the law firm as an associate in 1990 and made partner in 1996. As a member of Milbank's preeminent Global Project, Energy and Infrastructure Finance group, Wong helped establish and build Milbank's renewable energy and development practices.
"The Gould School of Law is delighted that Karen has agreed to chair the Board of Councilors," said Dean Andrew Guzman. "Her leadership experience and dedication to USC and Gould will be enormously valuable in helping us in shape the law school's bright future. "
In more than three decades of practice, which began with her first renewable energy project in 1987, Wong has led a number of innovative transactions globally, including one of the largest wind projects in North America, the first U.S. offshore wind project, the first wholly-foreign owned power project in China, the first independent power project in Thailand and the first thermal project in Lao PDR, a collective value surpassing $30 billion dollars.
A double Trojan, earning a BS in business administration from the Marshall School in 1982 in addition to her JD from Gould, Wong has an extensive record of engagement and leadership at the law school and at USC.
Wong previously served as vice chair of the Gould Board of Councilors. She also a guest lectures for Gould along with a law student mentor. Prior to that, she chaired the 2016 USC Gould Law Firm Challenge and her 30th law school reunion.
At the university, Wong currently sits on the USC Associates Board of Directors. She has also served on USC's Board of Governors, and has held numerous leadership roles in the USC Asian Pacific Alumni Association, including president. Wong was a member of the host committee for the USC Women's Conference and is a life member of Town & Gown. As a student, Wong helped establish the Asian Pacific American Student Services at USC and the Asian Pacific American Support Group, the predecessor to the Asian Pacific Alumni Association.
Among her list of professional distinctions, Wong has been named a leading lawyer in California and named to many lists by the Daily Journal, including "Top Women Attorneys," "Top 25 Clean Tech Lawyers," and "Top 75 Women Lawyers." She is repeatedly recognized by leading legal and finance publications, as well as by the wind industry; recently, she was selected to IFLR 1000's "Women Leaders" for 2020.