Professor Jouet presents comparative research to public defenders from Mexico City

By Becca Speier
Professor
Mugambi Jouet
was recently invited to present his findings on American criminal justice to a delegation of public defenders from Mexico City who were visiting Southern California as part of a continuing legal education opportunity offered by a nonprofit organization in Mexico. The event took place at the USC Gould School of Law in December.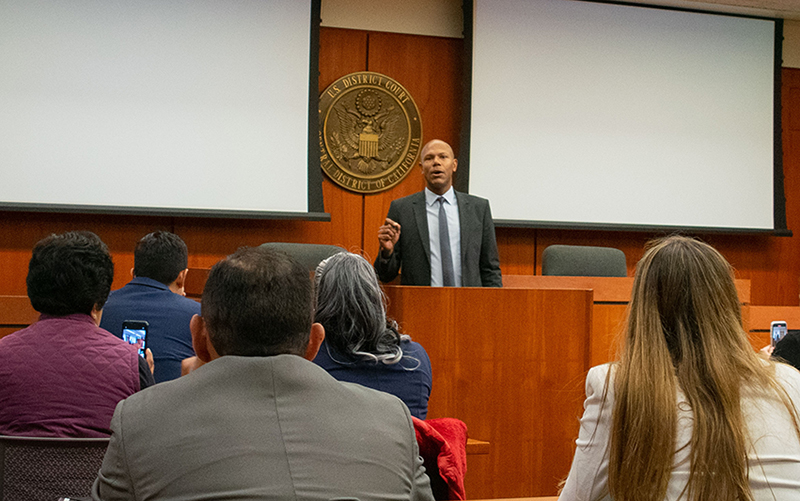 Jouet's presentation compared criminal justice outcomes in America and the rest of the world, highlighting America's high incarceration rate – three times higher than Mexico's – and the historical context of that and other aspects of American criminal justice. Jouet gave his presentation in Spanish under the auspices of the Centro de Estudios sobre la Ensenanza y el Aprendizaje del Derecho, A.C.
Jouet's background in comparative history anchored the presentation, focusing on how the U.S. once led the way in humane and rehabilitative concepts of criminal justice, while Canadian and European criminal justice systems today offer more effective examples. Though the Mexican criminal justice system faces challenges of its own, Jouet says the Mexican public defenders benefitted from a wider perspective of what is and isn't working in the United States.
"Mexico abolished the death penalty for all crimes in 2005, whereas the United States retains it at a time when it is increasingly recognized as an inherent human rights violation and has been abolished in law or practice by over two-thirds of all countries worldwide," Jouet says.
Jouet met with the public defenders after his presentation and was impressed with their experience and thoughts about criminal justice reform.
"Their questions and observations reflected a keen understanding of the value of human dignity and how penal systems should strive to protect it," Jouet says. "We likewise discussed how societies must tackle root social causes of crime and how penal reform should fit within a wider reform agenda. Societies that face less socioeconomic and wealth inequality tend to have healthier criminal justice systems."