By Leslie Ridgeway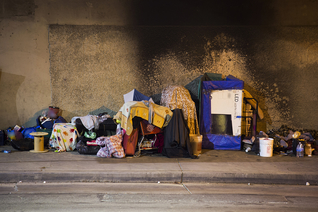 Learning the skills needed to advocate for people who are homeless or at risk of becoming homeless is the subject of the first special topics legal externship class. (Photo credit: Matt Gush)
The USC Gould School of Law Office of Experiential Learning will offer a first-ever special topics legal externship class in Spring 2020, with the first class focused on inspiring law students to learn the skills needed to advocate for people who are homeless or at risk of becoming homeless.
The one-unit class will be taught by James Gilliam, an attorney and coordinator, homeless prevention with the Los Angeles Homeless Services Authority. The plan is to model the class after the Lawyers Preventing and Ending Homelessness (PEHP) Project, funded for the past year by Measure H. Students will work with clients in the field and gain skills in client interviewing, legal assessments, issue identification, learning to work with social workers, and more, Gilliam says.
"We need more lawyers who are interested in issues like this and have public interest goals," he says. "I hope some of the students who get out on the front lines will have a spark in their belly that drives them to do this for their career." The course has drawn media attention in NBC News Los Angeles and the National Jurist.
The legal externship class was brainstormed by Gould Prof. and Director of Experiential Learning Laura Riley, Gilliam and Brenda Wiewel, director of the USC Initiative to Eliminate Homelessness. The class will eventually cover other special topics in addition to homelessness, Riley says.
"We will rotate topics to be inclusive of student interests," she says. "This class is specifically designed for students who will be working in externships with a legal nonprofit focused on homelessness work. The class will enhance their learning at their placement and we hope will create a pipeline of lawyers who are interested and educated on homelessness work, which is such an important issue in our city."
An opportunity to see the true picture of homelessness
The goal of PEHP is to determine which people are currently homeless and in need of housing, or at risk of becoming homeless due to eviction, and help them find housing. The project involves seven different public interest law firms in the Los Angeles region, including the Inner City Law Center, Neighborhood Legal Services, Bet Tzedek and the Los Angeles Foundation for Legal Aid. Students will work under the direction of a lawyer at each law firm.
Gilliam sees the class as an opportunity for students to get the true picture of how difficult it can be for people experiencing homelessness to secure housing – and to help them address the many issues that affect their ability to pay the rent.
"We look at each family and do a cash flow analysis," he says. "For example, sometimes we can get bad student loan debt discharged, or help with limited immigration assistance to maximize employability. A primary issue many clients face is quality of life citations for loitering or jaywalking. If they don't pay, they're in collections or their driver's license can be put on hold, and they can't get to work. I saw one ticket as high as $1,300. We've been having significant success in getting those dismissed in the interest of justice."
PEHP is the only legal services program of its kind in the nation, Gilliam says. If it's successful, it could be replicated in other cities, offering more learning – and employment – opportunities for law students dedicated to public interest work.
"Our immediate goal is to provide well-trained externs and create more resources for the clients," he says. "We will give students great experience and give the legal services organizations great externs. We hope students will enroll and get involved in meaningful solutions to the homelessness crisis at this stage of their legal careers."