Two efforts over spring break encourage public service
By Leslie Ridgeway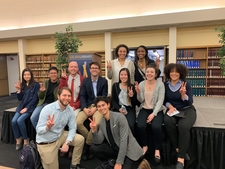 Participants in the Spring Break Pro Bono Day engaged in activities exposing them to different aspects of pro bono and public service work.
Twelve JD and Graduate and International Programs students got a glimpse of the value of pro bono and public service work at the Spring Break Pro Bono Day on March 14.
The students worked with the Bet Tzedek conservatorship team at the Law Library, helping with filing preparation, then met at the Stanley Mosk Courthouse to learn about two self-help programs operating out of the courthouse in Downtown Los Angeles: The Los Angeles County Bar Association's Domestic Violence Legal Services Project, and the Shriver Housing Project.
"The Pro Bono Day exposed students to community efforts in the areas of conservatorships, temporary restraining orders, and eviction defense, so they can choose how they would like to get involved in the future," said Laura Riley (JD 2010), director of Experiential Learning and an adjunct assistant professor of law at Gould. "Hopefully the work will inspire students to get involved in nonprofit legal services organizations working with underserved populations in Los Angeles, where the need is great."
Riley said many students entering law school have identified goals to embark on public interest or public service work as part of their profession. The Pro Bono Day can help students stay inspired to continue on this path and learn about pro bono opportunities.
"We hope we can offer a way to develop that skill set through pro bono work," she said. "It's often less of a time commitment, and therefore more of a possibility for 1Ls and LLM students, than an externship."
The Spring Pro Bono Day joins the Trina Grillo Social Justice and Public Interest Retreat as two spring break opportunities for students seeking experience in pro bono work. First-year student Eric Wolff attended both the Spring Break Pro Bono Day and the Trina Grillo Retreat to fulfill goals to spend more time doing pro bono work and learn more about social justice services offered by lawyers.
Both the pro bono day and retreat opened his eyes to needs of clients who have experienced trauma, he said. Working with the legal conservatorship team at the LA Library gave him an opportunity to translate a client's traumatic story into an important part of a legal petition, and the retreat provided some interventions he said would help him as he advocates for systemic changes within the legal profession as a student and practitioner.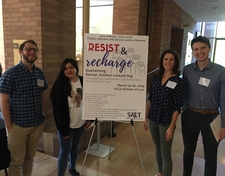 Students at the Tina Grillo Social Justice and Public Interest Retreat learned strategies for dealing with traumatized clients, as well as managing burnout and funding their public interest work.
"I was glad that a large part of the Trina Grillo retreat was devoted to discussing how to deal with a client's trauma," he said. "I learned some great strategies for working with and interviewing traumatized clients by creating an environment of safety and empowerment, and letting those principles guide my actions."
LLM student Shu-Yu Chiu used the Spring Break Pro Bono Day experience to understand more about practicing law in the U.S. and networking.
"I wanted to enhance my experience in law since I've never had this kind of experience before," he said. "It was also a good chance to speak English with others, and it challenges me to speak with a client even when I feel scared. Another thing is that I can make more friends since most of the LLM program students do not have so many chances to meet JD students."
Gould alumnus Carlos Dominguez (JD 2005), who met with the pro bono clinic students at the LA County Bar Association's Domestic Violence Legal Services Project as a volunteer, said his own experience during law school interested him in pro bono work. Now practicing criminal appellate law with the California Attorney General's Office, he said it was important for the students to understand the impact they can have on others' lives – and their careers.
"Put simply, pro bono work feels good, does good, and looks good," he said. "There is not an employer out in the legal world that would not be impressed by law students and young attorneys volunteering their time to help others. As attorneys, we have a duty to donate part of our time and legal skills to help the community and those in need. I am very excited that USC is actively promoting pro bono work in the community."
Riley says that she is hoping to create a similar program for winter break. She hopes that more students will be able to sign up in the future and that the exposure students get in the pro bono day and retreat will help them identify other service opportunities in the future according to their career goals.
"I think there is an interest in pro bono work," she said. "My hope is that our office can encourage and facilitate ways for students to pursue that interest because we recognize it's hard when focusing on your studies to make time for the work that brought you to law school in the first place."