USC clinics collaborate to meet game developer's needs
-By Christina Schweighofer
A mobile gaming app is not always fun and games. Any serious developer needs to navigate the legal waters surrounding a new business venture. Two clinics at USC Gould provided a one-stop resource for Artak Avakyan.
Avakyan initially contacted the Intellectual Property and Technology Law Clinic (IPTLC) for assistance with trademark issues and work-for-hire agreements. In their first meeting with him, Alexandria Chu '16, Ara Baghdassarian '17 and Prof. Dan Nabel, the interim director for the IPTLC, learned that their client also needed assistance forming a company.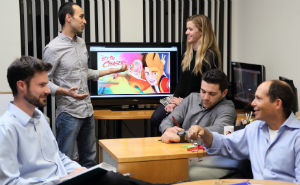 One project, two clinics: (left to right) Prof. Dan Nabel, client Artak Avakyan, Jessica Harnsberger '17, Ara Baghdassarian '17 and Prof. Michael Chasalow
Nabel promptly reached out to USC's Small Business Clinic (SBC), directed by Prof. Michael Chasalow. The ensuing partnership provided Chu and SBC student Jessica Harnsberger '17 with a unique learning experience that demonstrated how attorneys in law firms join forces to work on different aspects of one matter.
The challenge the students faced revolved around work-for-hire agreements and the timing of two activities: the creation of the game and the forming of the LLC. The app was still in development when the SBC started drafting the LLC's operating agreement.
"We needed to make sure," Harnsberger said, "that the language we included in our Operating Agreement actually made sense with respect to the game our client was creating and that the game itself was placed into the LLC in the proper manner that would protect our client's intellectual property rights while keeping in mind the applicable corporate and tax requirements."
The case provided real-world practice in several ways. To begin with, the students learned the importance of collaboration.
"In a law firm," Chasalow said, "different departments and different attorneys with different expertise must work together on complex matters. Often an associate must coordinate assignments given by different partners and synthesize different work styles."
This kind of experience could set the USC law students apart because law firm associates who have learned to collaborate with their colleagues are more successful than others.
As Nabel pointed out, they become more efficient and effective advocates, and they are likely to generate additional business by helping existing clients identify legal needs in other areas.
"Such associates tend to make partner," Nabel said, "and each opportunity we give our students to collaborate with their colleagues in other clinics helps build this understanding."
The project also required the students to coordinate client communications. They had to make sure not to bombard the game developer with information, and their messages needed to be consistent.
The students found their clinical experience inspiring.
"It's great when you can help clients with everything they need," Chu said. "They can come to one place, and the SBC helps with the small business support, and we can help with IP. It's just great to see how happy they are."
Baghdassarian agreed, adding, "Working on this project was an amazing practical learning experience."
Nabel and Chasalow are already looking forward to having their students work together on additional cases. Possible cooperative ventures could even involve collaborations across USC schools.
"I think this project will provide a good foundation for future collaboration," Chasalow said.