Increasing number of nonprofits find assistance at Small Business Clinic 
-By Anne Bergman Nora Phillips, an immigration attorney in Boyle Heights, frequently advocates for her clients at the U.S.-Mexican border, fearlessly going toe-to-toe with government officials. Yet, when it came time to form a limited liability partnership required to launch her own firm, she was terrified.
"I'm much more of a social justice person than a business person," Phillips said. Fortunately, colleague Niels Frenzen, director of USC Gould's Immigration Clinic, referred her to Prof. Michael Chasalow and Gould's Small Business Clinic (SBC) for assistance.
"The SBC did an amazing job with my LLP," Phillips recalled. So impressive, in fact, that six months later she returned to the SBC to help her establish the nonprofit organization Al Otro Lado, which provides immigration and ancillary legal services to indigent migrants, refugees and deportees in Tijuana, Mexico.
Setting up the 501(c)(3) with the Internal Rev-enue Service to secure Al Otro Lado tax-exempt status proved particularly challenging because the nonprofit is bi-national, with one board member who lives in Mexico City and the other in San Diego.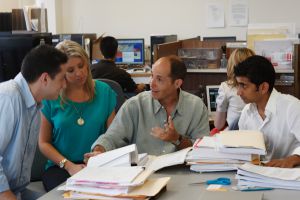 Helping nonprofits: Professor Michael Chasalow leads Gould's Small Business Clinic, helping clients ranging from startups to nonprofits.
"I learned so much from the work for this client," said Morgan Schwartz, a 3L assigned to represent Phillips. "As Professor Chasalow says, 'real life stuff ' comes up all the time during our work in the SBC. That's one of the best things about the clinic, because there's no way studying a hypothetical case could give you this type of experience."
"While most of the SBCclients are small businesses and entrepreneurs, an increasing number are nonprofit organizations, which provide an important dimension to a student's clinical experience," said Chasalow.
"We're providing opportunities for students to learn how to form and organize a nonprofit," he said. "It can take a substantial amount of time and expertise to follow the rules and gain regulatory approval."
For 3L Zachary Lainer, this type of hands-on learning with clients is "one of the reasons I came to USC Gould." He worked with Writer's Room Productions (WRP), a nonprofit that brings to life short stories in on-stage performances written by K-8 students.
Lainer worked with WRP through every step of the process — from forming the entity to filing its Articles of Incorporation with the California Secretary of State and then obtaining tax-exempt status with the IRS.
"We also helped WRP to coordinate and draft the minutes for its first board meeting and to structure its bylaws and some of the organization's official policies," said Lainer. "The formalities are more cumbersome for a nonprofit, and there are more alternatives to evaluate in the structure of the organization."
WRP founder Amber Robins said that before she and her husband discovered the SBC, "We were trying to find ways to file for nonprofit status, and it was so overwhelming."
Robins met with Lainer at the clinic in August and everything went "super smoothly," she says. "I didn't even feel like I was on a college campus; it felt so professional."
Within a few months, in early November, Robins learned that they had cause to celebrate: Their nonprofit had received tax-exempt status from the IRS and was now official.
It was especially gratifying for Lainer. "The fact that WRP received its confirmation from the IRS so quickly, before the semester was even over, meant that I got to share that moment with them. That was a unique opportunity."