Digital format for entertainment law journal is sustainable and more visible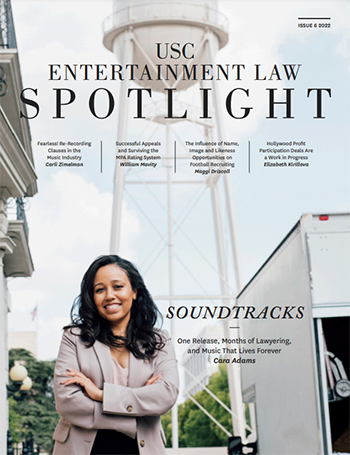 Spotlight, a student-run publication of USC Entertainment Law, moved online to meet sustainability goals and for better visibility.
In alignment with USC's sustainability initiative, Spotlight, a student-run publication of USC Entertainment Law, is now completely digital.
The move, which includes a website where readers can subscribe and find current and archived issues of the journal, also expands Spotlight's visibility to entertainment law students and attorneys, says Blake Hazard (JD 2022), editor-in-chief of the 2021-2022 issue.
"Going online really does let us promote and disseminate the journal more widely," Hazard says. "Spotlight has the ability to reach a broader audience within school and outside, and to communicate the passionate energy that Gould students have about entertainment law. [The journal is] kind of a calling card for our entertainment law program and is a place where students and attorneys can explore the hotter topics in entertainment law."
The entertainment law journal joins the Business Law Digest as another student-run publication available solely online. The Southern California Review of Law and Social Justice and Interdisciplinary Law Journal are due to change to digital-only formats in the 2023-24 academic year.
Articles in Spotlight, published once each academic year, are written by entertainment law students and attorneys. This year's issue, the sixth since the journal began publishing in 2017, features articles on soundtracks through the eyes of a lawyer; re-recording clauses in the music industry; the Motion Picture Association and ratings appeals; how name, image and likeness rights affect college football recruiting; and profit participation deals in Hollywood.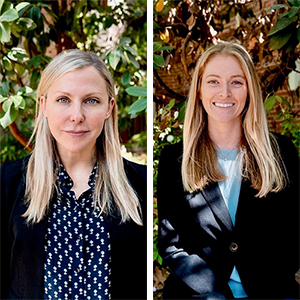 Spotlight's staff includes Editor-In-Chief Blake Hazard (JD 2022) (left) and Managing Editor Francesca Sadler (JD 2022).
Hazard, who has a background in literature and publishing and is trustee of a literary estate, said she decided to work on Spotlight out of a love of language as well as entertainment law.
"I enjoyed working with [the other students] to help Spotlight take shape and come to life," she says. "I loved being involved from the first stages of imagining a piece to final publication, working with our team throughout the writing process, and touching all aspects of putting a journal together."
In addition to Hazard, the 2021-22 issue staff includes Francesca Sadler (JD 2022), managing editor; Kate McClellan (JD 2022), senior notes editor; 3L Daniel Donohue, senior articles editor and 3L Daniel Willey, chief production editor and technical editor. Staff editors include 3L Meredith Rasmussen, 3L Kendall Russ, 3L Samantha Shadrow, 3L Jamil Wilkerson, 3L Ari Wininger and 3L Martin Yi. Faculty advisor is  Preston Ascherin.