Amy Trask (JD 1985) uses Gould education as framework for career as Raiders CEO, TV analyst, Big3 Chair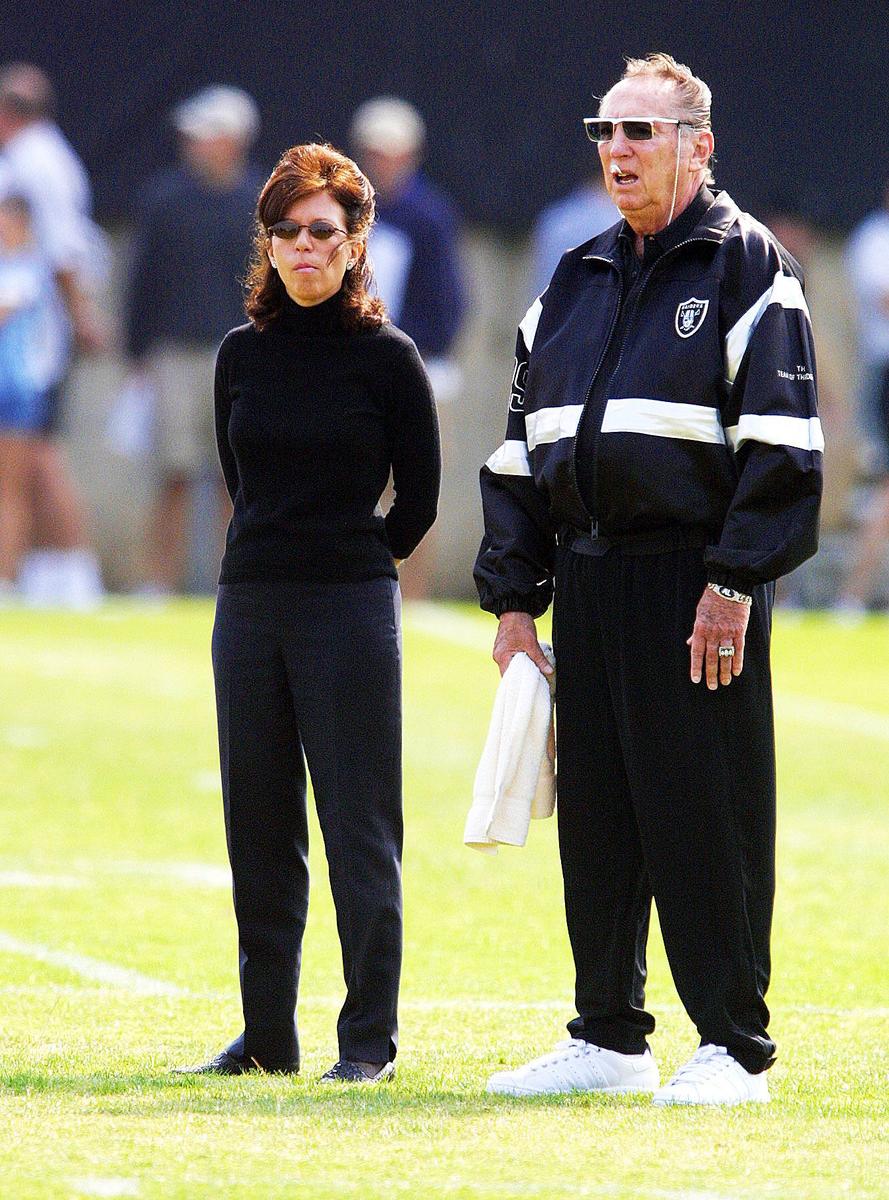 Amy Trask (JD 1985) with late Raiders owner Al Davis
Amy Trask (JD 1985) never planned on a law career, yet she sometimes finds herself on national television raising a formal objection with one of her CBS Sports or CBS Network Sports co-hosts.
"I can't stand it when a question has assumptions baked into it," says Trask, who previously logged a 26-year career with the (now) Las Vegas Raiders, which includes being named the first woman CEO in the National Football League. "There are times where I'll say, 'Objection, assumes facts not in evidence.' For someone who swore she wouldn't practice law, there I am, throwing out objections on TV."
When Trask enrolled at USC Gould, she was considering professions ranging from veterinarian to astronaut to mystery novel writer, she says, but ruled out a law firm partnership or other legal pursuit. Whatever career she chose, she knew it would be enhanced by what she learned in law school at Gould – "and I was not disappointed," she says.
"The critical analysis and issue spotting I learned at Gould helps me now as a TV analyst," she says. "I find it also helps in writing (as a contributor to The Athletic). With the Raiders, my law degree helped me understand contracts, and of course my boss (the late Raiders owner and general manager Al Davis) was involved in a lot of litigation. The education I received in law school was extraordinarily valuable in my business career."
Her Raiders tenure started with an internship with the team she'd been rooting for since her undergrad days at University of California, Berkeley. With the Raiders, she took on any work that came her way, impressing Davis, who she considers a touchstone in her career. Trask says she recognized her good fortune in working for a person like Davis. "[He] promoted me without regard to race, ethnicity or gender," she says.
TV role presents greatest challenge of career
Trask says the TV analyst role is the most challenging to date, forcing her to confront lifelong nerves about being on camera. Recruited shortly after stepping down as the Raiders top executive, she was still weighing the decision at a gathering of friends when a woman next to her whom she barely knew quietly said, "Let it go." It was exactly what she needed to hear, and although she still gets butterflies on set sometimes, it's more enjoyable than she ever imagined.
"I've gotten far more comfortable, I'm facing my biggest fear … and it's fun!" she says. "Sometimes I say to myself, 'I'm being compensated to sit here and talk about football and they do my hair and makeup?'" The best advice she heard about working on camera – "Be yourself" – echoes her mother's advice during childhood. "She said, 'To thine own self be true.' It wasn't until college that I learned that my mom didn't invent that, Shakespeare did."
Trask has also embraced her role as Chairman of the Board of Big3, a 3-on-3 basketball league launched in 2017 by hip-hop musician and actor Ice Cube and entertainment executive Jeff Kwatinetz. Though the pandemic forced the league to temporarily suspend its fourth season, teams are gearing up for 2021, and Trask is proud of the opportunities the league is bringing to a diverse group of professional athletes.
"We are leading by example, and sending a positive message," she says.