Lavine's story and success inspire Gould students
By Yulia Nakagome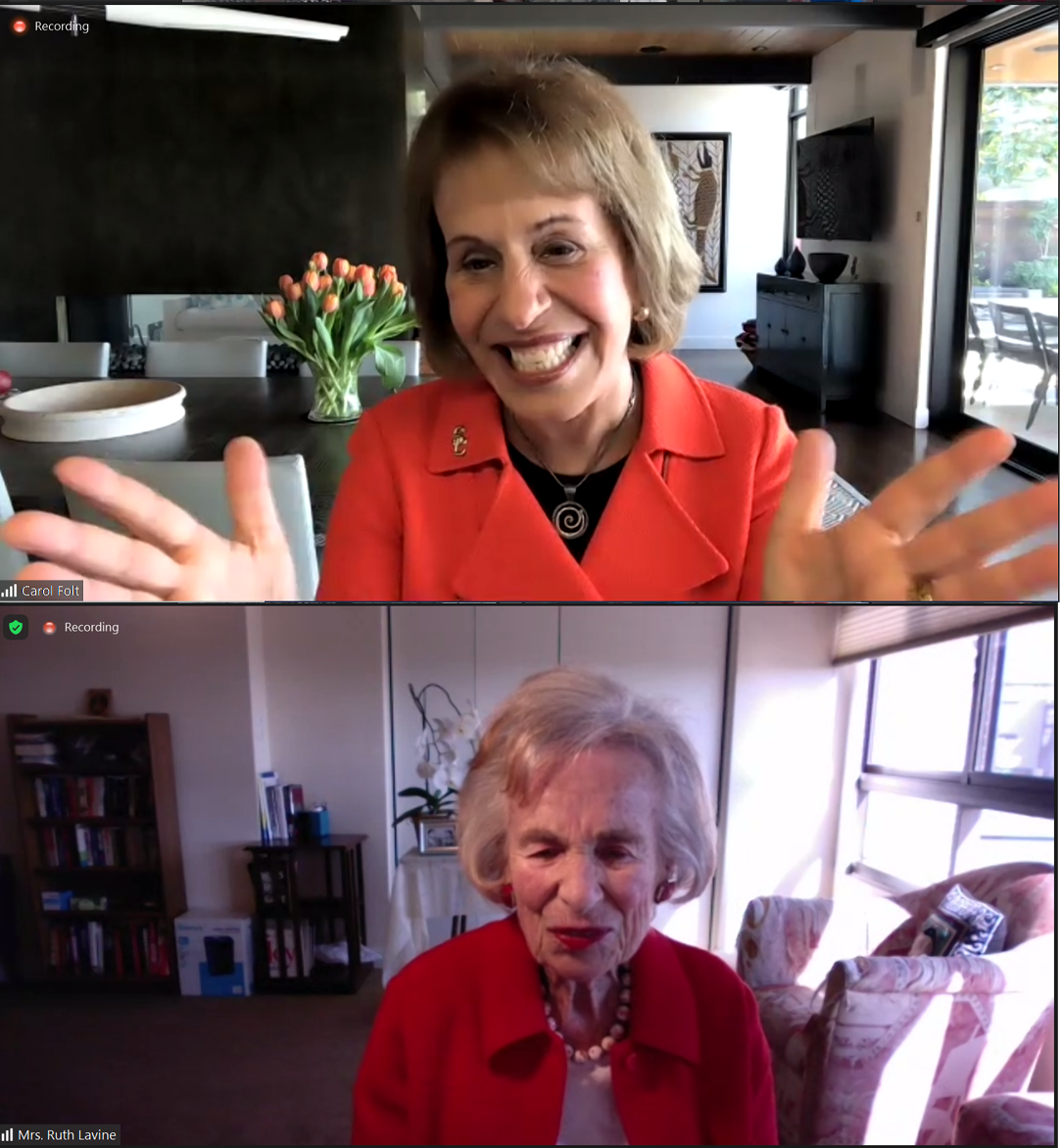 President Carol Folt (above) spoke at Ruth Lavine's (below) 100th birthday celebration on Zoom.
When Ruth Lavine (LLB 1943) spoke at the USC Gould School of Law celebration of her 100th birthday, she led off by praising the organizers for setting up the event on Zoom.
"That's something I will never learn," she laughed.
Technology is not all that has advanced since Lavine began school at USC in 1938. When she entered law school, Lavine was one of only five women in her class. In contrast, the entering JD class of 2023 was almost 60% women.
"I graduated from law school at a time when it was very difficult to find jobs. You didn't dare say that you could type, or you would end up in a secretarial position," Lavine said. "I've been able to see many changes for women in the law. More women in law schools, law firms and the judiciary. It would be nice to think that I've contributed in a modest way to those changes."
The Oct. 28 event was hosted by the Women's Law Association, the Jewish Law Students Association and the Development and Alumni Relations Office. Moderators were 2Ls Samantha Dyar, Erin Joslin, Paul Schuman and Morgan Brock-Smith, from the co-sponsoring student organizations. The event also celebrated the 100th anniversary of women's suffrage, and the 120th anniversary of the Gould school.
Several other pioneering alumni — including Yvonne Brathwaite Burke (JD 1956), a former U.S. Congresswoman and former member of the LA County Board of Supervisors; Alyson Parker (JD 2009), who works for the California Department of Justice; and Shannon Raj Singh (JD 2011), who serves as human rights counsel for Twitter — spoke about their experiences as women in law. President Carol Folt also spoke at the celebration.
"The Gould school has such a terrific history. Since its founding in 1900, the school has been defined by the achievements of so many extraordinary women graduates," Folt said. "It's a very inspiring list, and now we're adding generations and generations of women who are graduating from Gould, building distinguished careers and living lives filled with terrific purpose. Among those of course is Ruth Lavine."
Folt went on to describe some of Lavine's achievements in law, including her time as the president of the Women's Lawyers Association of Los Angeles and her membership in the Chancery Club of Los Angeles, whose members include distinguished lawyers active in professional, civic and philanthropic organizations.
"Her professional life has been marked by values that everybody can admire: dedication, passion and, most of all, integrity," Folt said. "She is still a card carrying member of the California Bar Association. Ruth created an endowed scholarship to honor the memory of her late husband, Superior Court Judge Richard Levine. This scholarship is helping generations of Gould students realize their own dreams."
Watch the event recording: