Addition of South Australian law school boosts USC Gould exchange agreements to seven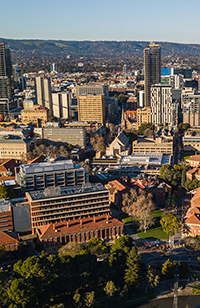 The University of Adelaide campus
The University of Adelaide Law School is the seventh international law school to sign on to an exchange agreement with the USC Gould School of Law, giving students one more prestigious university where they can study abroad.
The South Australian law school joins law schools at the University of Hong Kong, Bocconi University (Italy), University Jean Moulin Lyon (France), Bond University (Australia), Fundação Getúlio Vargas University (Brazil), and O.P. Jindal Global University (India) as partners with USC Gould in the exchange program. According to Director of Graduate and International Programs and Adjunct Assistant Professor of Law Sarah Gruzas, the partnership began taking shape during a 2019 visit by Gruzas to Australia as part of Gould's spring recruitment tour.
"This visit was prompted by an increase in Australian applicants to LLM programs, as measured by the Law School Admission Council, as well as to check in with admitted students for our incoming LLM class," Gruzas says.
A robust exchange program is an added value giving students an opportunity to explore the differences between American law and law in another nation — and USC Gould students reap rewards from classroom contributions by international students on campus.
"There are so many personal and professional benefits of studying abroad, including being able to immerse oneself in a new culture and develop international connections, a wonderful option as the practice of law becomes increasingly global," Gruzas says. "International law students enhance the classroom dialogue, and develop friendships — often lifelong — with our JD and LLM students.
"USC Gould continues to be a leader in recognizing the importance of global learning and exchange."