JD students and alumni talking about the importance and impact of the program.
By Leslie Ridgeway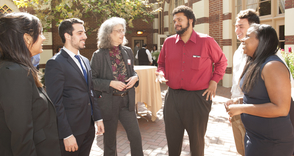 Prof. Elyn Saks (third from left) talks with a past class of student scholars.
For 10 years, the USC Saks Institute for Mental Health Law, Policy, and Ethics has brought together a small class of students as part of its Student Scholars program, advancing research and scholarship on special topics in mental health law. The outcomes include published research, valuable opportunities for collaboration among students of relevant disciplines, and perhaps most importantly, a focus on frequently sidelined subjects in mental health, such as the lingering stigma that follows people impacted by serious mental illness, including many of the students themselves. Stigma weighed on alum and former Student Scholar Sam Brown (JD 2015) when he entered law school. Would his mental health diagnosis affect how he was seen and accepted in the profession? After joining the Student Scholars program, he plucked up the nerve to confront his fears through research, encouraged and informed by fellow Students Scholars and Prof. Elyn Saks, the instructor of the Student Scholar program. "More than anything, the program made me feel safe to write about a sensitive topic," says Brown, now an attorney representing victims of employment discrimination with Hennig, Ruiz & Singh in Los Angeles. "Ultimately, I wrote a paper addressing the harmful effects of mental health inquiries on bar applications, and even included a footnote identifying myself as a consumer.  I was also invited to speak at the law school about my mental illness and had a great experience sharing a forum with Prof. Saks.  Prof. Saks and the program both gave me those opportunities and the courage to make the most of them."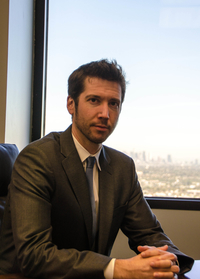 Alumnus Sam Brown (JD '15) wrote a paper about 

the harmful effects of mental health inquiries on bar applications in

 the Students Scholars program.
Brown is one of more than 90 students who have gone through the Student Scholars program, enrolling in the two-semester Law 798, Mental Health Law, Policy, and Ethics class taught by Saks, founder and faculty director of the Saks Institute of Mental Health Law, Policy, and Ethics and Christopher Schnieders, director. The class discusses a different mental health topic each year, ranging from the use of mechanical restraints, to how students cope with mental illness at school, to this year's topic: Mental health and immigration, including asylum. Students identify research areas within those topics and explore them independently with input from Saks and Schnieders. "The goal is to train future leaders in the law field or influence upcoming lawyers and other disciplinary students on ways to decrease stigma and learn to succeed in the face of any kind of mental health challenge," says Schnieders. The class typically includes mostly law students, a psychiatry resident, and PhD students in social work, psychology, philosophy or neuroscience. Through the years, Saks notes an increasing willingness among students to openly speak about the personal impacts of mental illness on their lives, starting during orientation – which in the past was too intimidating for students fearful of being labeled. "It's a really positive experience. The students are fully engaged," she says. "One was public about having OCD, another about their experience with PTSD. In the past, only a few disclosed, but this year, eight of our 10 Student Scholars disclosed. They learn about accommodations they can ask for and the disability services they can get in law school." The prospect of working closely with Saks is an undeniable attraction. Jennifer Wilson (JD 2020) realized she'd found the right alignment with her interests when she heard Saks give a presentation shortly after she began her first year. "Mental health has interested me since high school," she says. "I absolutely admire Prof. Saks. She's incredible. The Student Scholar program was a great environment to be in and the feedback from Chris, Elyn and the students was very supportive. It was great to hear someone as accomplished as Elyn Saks tell you what she thinks of your work." For Monique Holguin, a licensed clinical social worker and third-year PhD student studying in the USC Suzanne Dworak-Peck School of Social Work, the Student Scholars program provided an opportunity to leverage a pilot grant she won from the USC Research Council to study provider burnout into an ongoing research project. "Interviewing providers on interdisciplinary teams, learning from legal and medical scholars among the Student Scholars, and bringing in my own experience, it became a simultaneously rich opportunity to use what I had learned through the mental health law platform and expand on it in the research study," she said. This spring, she gave an oral presentation on the manuscript she completed for the Law 798 class at a conference at the University of York, where she was pleased to find a great deal of interest in her research. Some have gotten creative with their explorations. In 2015, when the topic was media, mental illness and cinema, one Student Scholar, also a graduate student at USC Cinematic Arts, curated an event with the Media Institute for Social Change that featured a documentary and three short films, as well as discussions about responsible storytelling. Students have published 25 to 30 articles, including in USC Gould's
Review of Law and Social Justice
, the
Quinnipac Health Law Journal
and
Memphis Health Law Journal
, Schnieders said. He adds that there's interest in developing a law journal for mental health law, policy and ethics edited by the Student Scholars.
Learn more about the Saks Institute's Student Scholars program.