Working with the PCJP, Soros fellow Kristen Bell will facilitate implementation of SB 260
By Christina Schweighofer
Ask Kristen Bell about her favorite author, and she'll respond with a deep laugh, as though she's about to name someone whose work will seem inferior. But her answer is:"Dostoevski. I like 'The Brothers Karamazov' best. It's very rich, both philosophically and psychologically, and [it's] about the big questions we face: freedom and responsibility, and what we do when things are falling apart."
In Bell's life, things aren't falling apart. Quite the opposite.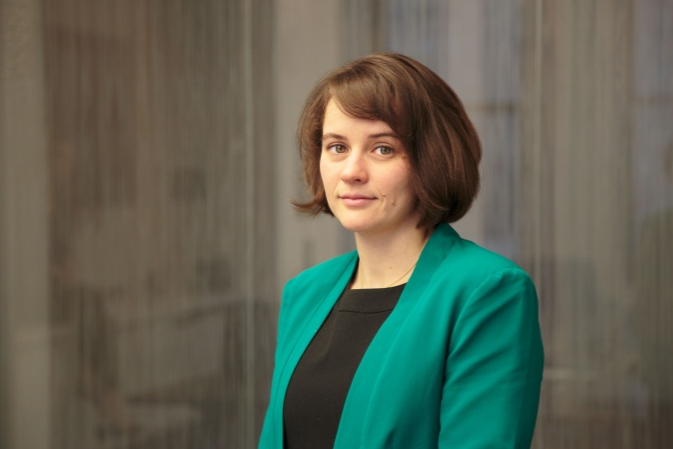 Soros Justice Fellow Kristen Bell
Thanks to a Soros Justice Fellowship awarded to her earlier this year, Bell will spend the next one-and-a-half years at USC Gould School of Law facilitating implementation of SB 260, the so-called hope bill. The California law gives more than 5,000 youthful offenders serving long adult sentences a chance to leave prison after a minimum of between 15 to 25 years if they can prove to a parole board that they no longer present a danger to society. Working with other attorneys towards ensuring that the standards set by the law are followed, Bell will monitor these hearings; she will provide lawyers with resources to aid them in their fight for clients in the parole process; and she will educate prisoners about SB 260 to encourage them to rehabilitate themselves.
Bell will work closely with two attorneys, USC Gould Prof. Heidi Rummel who co-directs the Post-Conviction Justice Project, and Elizabeth Calvin of Human Rights Watch in Los Angeles. As a cosponsor of the bill, the PCJP participates actively in the parole process, with students representing a small sampling of SB 260-eligible inmates. Rummel is excited that The Open Society Foundation that awards the Soros fellowships recognized how important SB 260 will be for California. "To have Kristen working here with us is wonderful," she says.
Bell's last career stop was a clerkship at the Massachusetts Supreme Judicial Court. A Bostoner with a fondness for Dunkin' Donuts Coffee and whiteboards — her office at USC boasts two large ones — she moved to Los Angles because of the fellowship.
"This is exactly what I wanted to be working on," she says, "helping people who don't deserve to be in prison anymore."
A look at Bell's CV shows a longstanding passion for prisoner rehabilitation. In her philosophy dissertation about the use of mercy in the criminal justice system she argued that, especially in the case of youthful offenders who were abused as children, "we as a society were complicit in the chain of events leading up to their serious crimes, and we need to acknowledge that responsibility."
As a volunteer teacher in youth and adult prisons she saw how hungry some offenders are to learn and grow. "They brought dogeared and highlighted books to class," she says, illustrating her students' enthusiasm. And as a law student at Stanford, she participated in the school's Three Strikes Project that taught her how to implement a law like SB 260 that retroactively reduces criminal sentences. With the fellowship, the various strands of Bell's life have come together — like things do on a whiteboard.