News
Summer Externships at the Los Angeles Superior Court
Wednesday, Jan 25, 2012
By, James Bradicich
A summer externship is an invaluable learning experience for law students.
California Superior Court Judge John L. Segal '87 outlined how students can best prepare themselves for a summer externship with the Los Angeles Superior Court at a meeting recently at USC Law and presented by the Office of Public Service.
Through the formal unpaid summer externship program, students gain real world experience assisting with courtroom operations, administration and operational support, legal research and writing, and case management.
Upon arrival, students are immediately immersed into the structured program.
"Once you're in the program, you will be assigned to a judge in the Superior Court," said Segal. "Students have the opportunity to work one on one with the judge."
The externship program is an excellent way for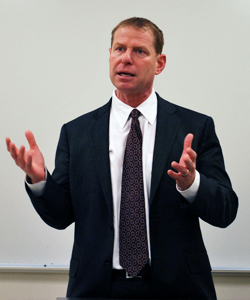 John L. Segal '87
students to compliment their educational experience with notable legal work. Additionally, students can earn up to four units of USC course credit.
"It is an experiential learning experience," said Nicole Heeseman '98, the Superior Court's managing research attorney, who also attended the meeting.
Taking into regard the intense competition for summer internship placement, Segal encouraged law students of all levels too apply to the program.
"I went to law school in the 80's," said Judge Segal. "It was difficult even back then for first years to get a summer job."
Segal noted that the majority of his summer externs yield from USC and are first years.
The externship program recruiters are looking for enthusiasm, interest and a thorough resume; they do not take GPA into consideration when evaluating a candidate.
Externs will take field trips to the Court of Appeals, Mental Health Court and the Los Angeles County Jail.
Recent News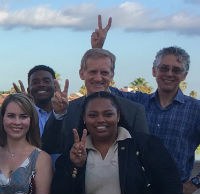 A Memorable 2017
December 20, 2017
With 2018 approaching, we look back at our exceptional year