News
Challenging Detention and Torture
Tuesday, Mar 5, 2013
Center for Constitutional Rights Executive Director Vince Warren speaks out

Story by Kelsey Schreiberg
Photos by Maria Iacobo
Law students got a look at the controversy surrounding the Guantanamo Bay detention camp from an insider filing cases on behalf of the detainees. Vince Warren, former national senior staff attorney with the American Civil Liberties Union (ACLU) and current executive director of the Center for Constitutional Rights (CCR), discussed surrounding legal and political issues. The CCR's social justice institute director Purvi Shah joined Warren for the lunchtime event.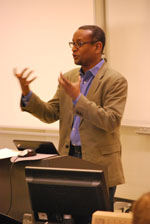 Vince Warren

When the Guantanamo Bay detention camp opened in 2002, the nation was in turmoil: in a post 9/11 world, many Americans were content to keep prisoners in an offshore prison. For the past decade, the detention camp punished prisoners through solitary confinement. However, there has been increasing demand to stop this practice. Some believe the practice violates the Eighth Amendment of the U.S. Constitution, which restricts the severity of punishment federal and state governments may impose on people who have been convicted of a criminal offense.

Warren explained that for most detainees, death is the only way out of Guantanamo, and legal mechanisms have all but dried up. Over 700 men have been detained, and many are held indefinitely without being charged for crimes.

"It has created a legal industry for people who wanted to do Guantanamo work," Warren said.
Warren's legal team is part of the largest criminal legal defense team in U.S. history and has represented hundreds of Guantanamo detainees. The CCR, which defends people against violations of the U.S. Constitution and the Universal Declaration of Human Rights, does not simply take cases they believe are winnable.

"You can't calculate your case based on popular opinion; you need to educate people about how the facts appear on the ground," Warren said.

The CCR is encouraging 'movement lawyering.' In this model, law is paired with other advocacy strategies such as policy, media, and grassroots. Together, the two mediums are more sustainable to support change.

"We learn by practice…the art of lawyering is learned by doing," Shah said.

Students interested in becoming more involved with this legal issue should visit http://ccrjustice.org/ for information on how to volunteer their time.
Recent News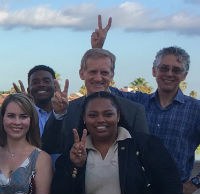 A Memorable 2017
December 20, 2017
With 2018 approaching, we look back at our exceptional year