News
From Politico to Publisher of The Washington Post
Thursday, Jan 5, 2017
Media entrepreneur Fred Ryan '80 reflects on his years at Gould
At the center of The Washington Post's newsroom, a series of monitors stretches across an open, two-floor space displaying real-time traffic statistics of stories on its website. By early afternoon, nearly 5 million unique visitors have reached The Post's website, a substantial gain from prior years.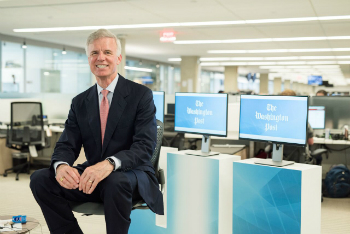 Fred Ryan '80 pictured in The Washington Post newsroom
"It's really quite incredible what we can measure — and measure by the minute, even the second," says Fred Ryan '80, a media entrepreneur, who was named publisher of The Washington Post two years ago after cofounding the national media publication Politico.
Under Ryan's leadership, The Washington Post has undergone a digital transformation with a big payoff — the publication has tripled its web traffic and gained a significant national and international presence.
"The media world is rapidly changing, and I'm proud that The Post is in the forefront of incredible change," Ryan says.
Ryan took the helm of The Washington Post under its new owner, Amazon founder Jeff Bezos. As publisher of The Post, he followed in the footsteps of several generations of the Graham family, including Katharine Graham, who oversaw the famed Watergate coverage that brought down President Richard Nixon.
"I am honored to follow four generations of Graham family leadership and thrilled to work with Jeff Bezos and the incredibly talented team at The Post," Ryan says. Ryan took a circuitous — but important — route to landing the top job at The Washington Post.
In his third year at USC Gould, he worked on Ronald Reagan's presidential campaign, and eventually was hired as one of the youngest senior staffers in Reagan's White House. After nearly eight years in the White House — holding an array of positions and becoming one of Reagan's senior advisers — Ryan worked to help establish the Ronald Reagan Presidential Foundation & Library in Simi Valley, Calif.
"It was truly an honor to work for President Reagan," Ryan says. "I learned and experienced so much in his administration."
Ryan says he has used his law degree in every job he has held.
"Being a lawyer and having a degree from USC gives you a unique perspective on life in Washington. Over my years in Washington, I have watched the process of lawmaking and governing. As a USC law student, I was trained to be rigorous in my analysis and think outside the box. Directly or indirectly, it seems I use my law degree virtually every day."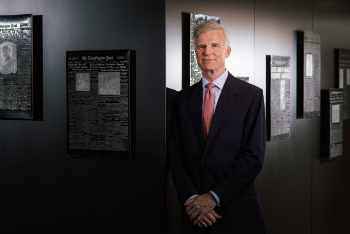 Fred Ryan '80, publisher of The Washington Post
After the Reagan Library opened, Ryan returned to Washington D.C. in 1995, ready for his next challenge. He was tapped to serve as a top executive at Allbritton Communications, which owned and operated television stations, websites, newspapers and a cable news station before its sale to Sinclair Broadcasting in 2014.
It was there that he helped launch Politico, originally distributed to staff on Capitol Hill, and in the White House, as well as to political organizations and lobbyists.
In a short period, Politico's popularity exploded, earning it a national presence and achieving Ryan's goal: Politico became the "ESPN of politics."
Launching Politico prepared him for his biggest role to date — publisher of The Washington Post.
"There are many opportunities and great things on the horizon for journalism," Ryan says. "We are constantly experimenting and trying new things at The Post, making it an extremely exciting time for us."
Moment by moment, the web traffic monitors in The Washington Post's newsroom mirror that excitement —and maybe even feed it.
Photo: Elliott O'Donovan
Update: Fred Ryan joined the USC Board of Trustees on Feb. 1, 2017.
RECENT NEWS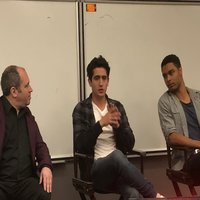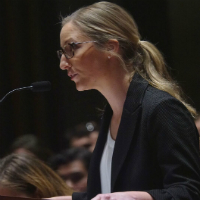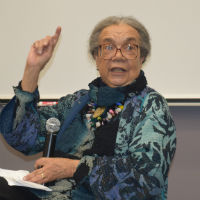 Follow the Need
April 3, 2018
Children's rights pioneer Marian Wright Edelman inspires at USC Gould