Faculty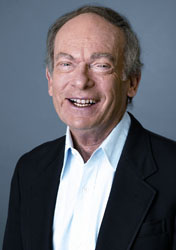 Christopher D. Stone
J. Thomas McCarthy Trustee Chair in Law, Emeritus
Last Updated: Friday, June 27, 2014
Email:
cstone@law.usc.edu
699 Exposition Blvd.

Los Angeles

, CA

90089-0074

USA
Christopher D. Stone is an authority on environmental and global issues, including international environmental law, environmental ethics, and trade and the environment. He taught Property, Globalization, Rights of Groups, and International Environmental Law.
A magna cum laude graduate of Harvard, Professor Stone received a J.D. from Yale Law School. He was Fellow in Law and Economics at the University of Chicago and practiced law at Cravath, Swaine & Moore in New York before joining the USC Law faculty in 1965. He has taught at University of Michigan Law School and Yale Law School . His recent publications include "Common but Differentiated Responsibilities in International Law" (American Journal of International Law, 2004), "The Environment in Wartime: An Overview" in The Environmental Consequences of War: Legal, Economic, and Scientific Perspectives (Cambridge University Press, 2000) and Should Trees Have Standing?: And Other Essays on Law, Morals & the Environment (25th anniversary ed., Oceana, 1996).
Professor Stone has written and researched in a variety of areas, including legal philosophy, white collar and corporate crime, alternate energy policy, climate change, biodiversity, ocean policy, and trade law. He is past Chairman of the Committee on Law and Humanities of the Association of American Law Schools, and has served on or worked under the auspices of a variety of governmental agencies including the President's Commission on Communications Policy, the Energy Research and Development Administration, the National Institute of Mental Health, the National Science Foundation, the Department of Energy, and the United States Sentencing Commission as well as the Canadian Institute for Advanced Research. In preparation for the Rio Earth Summit (1992 UNCED) Conference, Professor Stone served as Rapporteur for the American Bar Association in shaping the ABA's Resolutions on International Law of the Environment. He served as an advisor to the Foundation for International Environmental Law and Development (London), and the Center for International Environmental Law (Washington D.C. )
Books
Should Trees have Standing? And Other Essays on Law, Morals and the Environment (Oceana Publications, 1996)
The Gnat is Older than Man: Global Environment and Human Agenda, (Princeton U. Press, 1993); (paperback 1995)
Earth and Other Ethics, Harper & Row, New York (1975); Colophon Books (1976)
Where the Law Ends: The Social Control of Corporate Behavior, Harper & Row, New York (1975); Colophon Books (1976)
Should Trees Have Standing?--Toward Legal Rights for Natural Objects, William Kaufmann, San Francisco (1974);Revised Edition, Avon Books, New York (1975); Second revised edition, Tioga Books, (1988). [German Translation with Epilogue: i>Umvelt vor Gericht: Die Eigenrechte der Natur, Trickster Verlag, Munich (1987; rev'd ed. 1992)]
Law, Language & Ethics (with William R. Bishin), Foundation Press, Mineola (1972).
Articles and Book Chapters
"Is Environmentalism Dead?," 38 Environmental Law 19 (2008). - (Hein)
"Ethics and International Environmental Law," Handbook for International Environmental Law (Dan Bodansky, Jutta Brunnée and Ellen Hey, eds., (Oxford U. Press 2007).
"Common but Differentiated Responsibilities in International Law," 98 Am. J. Int'l Law 276 (2004). - (Hein)
"Do Morals Matter?: The Influence of Ethics on Courts and Congress in Shaping U.S. Environmental Policies," 37 U.C. Davis L. Rev. 13 (2003) and (simultaneously) 27 Environs 13 (Fall 2003). - (Hein)
"Is There a Precautionary Principle?," 31 Environmental Law Reporter 10790 (2001).
"The Environment in Wartime: An Overview" in Jay Austin and Carl Bruch, eds. The Environmental Consequences of War: Legal Economic and Scientific Perspectives. (Cambridge U. Press 2000).
"Whaling and its Critics," R. Friedheim, ed. Toward a Sustainable Whaling Regime, (U. of Washington Press, 2000).
"Agriculture and the Environment" in A.H. Benjamin and J.C.M. Sicoli, eds. Agricultura e Meio Ambiente (Imprensa Oficial, Sao Paulo 2000).
"Land Use and Biodiversity," 27 Ecology Law Quarterly 967 2001. (Symposium: "Environment 2000: New Issues for a New Century.")
"Agriculture and the Environment: Challenges for the New Millennium," 5 Revista De Direito Ambiental (outubro-dezembro) 9 (2000).
"Can the Oceans be Harbored?: A Four Step Plan for the 21st Century," 9 Review of European Community and International Environmental Law 9 37 (1999).
"Biological Assets in Law and Economics" in L.D. Guruswamy and J. A McNeely, eds. Protection of Biodiversity: Converging Strategies (Duke University Press 1998).
"The Maladies in Global Fisheries: Do Trade Laws Hold Some Remedies?" in Final Report, Japan-United States Collaboration on Trade and the Environment (New Haven, 1998).
"The Crisis in Global Fisheries: Can Trade Laws Provide a Cure?," 24 Environmental Conservation 97 (1997).
"Too Many Fishing Boats, Too Few Fish: Can Trade Laws Trim Subsidies and Restore the Balance in Global Fishing?," 24 Ecology Law Quarterly 505 (1997). - (Hein)
FACULTY IN THE NEWS
Los Angeles Times
April 26, 2017
Re: Edward Kleinbard
Edward Kleinbard was cited about the limited economic benefits for Americans when tax breaks encourage companies to repatriate foreign income. After the tax holiday, U.S. corporations even stepped up their sequestering of profits abroad, figuring that sooner or later a new administration would offer them yet another break — as Trump is proposing. That hoard of what Kleinbard calls "stateless income" now tops $2 trillion.
RECENT SCHOLARSHIP
Hannah Garry
February, 2017
Hannah Garry moderated "Humanity in War: An International Humanitarian Law Workshop," USC Gould School of Law, Los Angeles, CA.
Gillian Hadfield
February, 2017
"The Problem Of Social Order: What Should We Count As Law?" Law and Social Inquiry 42 (2017): 16.
David B. Cruz
February, 2017
David B. Cruz spoke on "Equal Protection? Current Issues of Sexual Orientation and Gender Identity Discrimination" on a panel on "Challenges and Controversies in Constitutional Law," 2017 Central District of California Judicial Conference, La Quinta, CA.