Faculty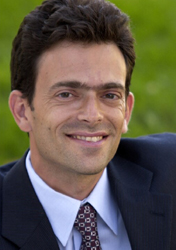 Jonathan Barnett is director of the law school's Media, Entertainment and Technology Law Program. Barnett specializes in intellectual property, contracts, antitrust, and corporate law. Barnett has published in the Harvard Law Review, Yale Law Journal, Journal of Legal Studies, Review of Law & Economics, Journal of Corporation Law and other scholarly journals.
He joined USC Law in fall 2006 and was a visiting professor at New York University School of Law in fall 2010. Prior to academia, Barnett practiced corporate law as a senior associate at Cleary Gottlieb Steen & Hamilton in New York, specializing in private equity and mergers and acquisitions transactions. He was also a visiting assistant professor at Fordham University School of Law in New York. A magna cum laude graduate of University of Pennsylvania, Barnett received a MPhil from Cambridge University and a JD from Yale Law School.
Articles and Book Chapters
Works in Progress
The Cost of Free: Commodification, Bundling and Concentration. - (SSRN)
Patent Tigers: The New Geography of Global Innovation.
- (SSRN)
Revisiting Labor Mobility in Innovation Markets (with Ted Sichelman). - (SSRN)
Other Publications
"Does the Supreme Court Understand the Innovation Economy?" (with Ted Sichelman), Forbes, July 13, 2017. - (www)
"An Economic Argument Against Mandatory Patent Exhaustion" (with Ted Sichelman), Patently-O, March 19, 2017. - (www)
"Amicus Brief of 44 Law, Economics and Business Professors in Support of Respondent in Impression Products, Inc. v. Lexmark International, Inc., Supreme Court of the United States" (Filed Feb. 23, 2017) (co-lead author, with Ted Sichelman).
- (SSRN)
FACULTY IN THE NEWS
The Washington Post
February 14, 2018
Re: Orin Kerr
Orin Kerr had comments cited about a possible payment President Donald Trump's lawyer made to an adult-film star to remain silent about a sexual relationship with Trump. "All Cohen says is that he used his personal funds to 'facilitate a payment of $130,000,'" Kerr writes. "To 'facilitate', the dictionary tells us, means to assist with or to make something easier. Given that, I would think that the most literal reading of Cohen's statement is just that he used his own funds to arrange the payment." MSNBC also cited the comments.
RECENT SCHOLARSHIP
Jonathan Barnett
December, 2017
"The Costs of Free: Commoditization, Bundling and Concentration," Journal of Institutional Economics.
Jonathan Barnett
December, 2017
Jonathan Barnett participated in a panel discussion on "Supreme Court Patent Cases: Oil States and SAS Industries", Patent Disputes Forum South, Beverly Hills, CA.
Edward Kleinbard
December, 2017
Edward Kleinbard wrote an op-ed, "Senators Picked Americans' Pockets Via Degraded Tax Policy Process," posted to The Hill on December 04, 2017.