U.S. Supreme Court Preview, Sept. 20
Tuesday, September 7, 2010
Noted Constitutional Law scholars Kathleen Sullivan of Stanford, John Eastman of Chapman and Rebecca Brown of USC will examine upcoming cases

USC Law is presenting the third annual "U.S. Supreme Court: A Preview," featuring distinguished legal scholars Kathleen Sullivan of Stanford Law School, John Eastman of Chapman Law School and Rebecca Brown of USC Gould School of Law.
The program is co-sponsored by USC Law and the student chapters of the American Constitution Society and Federalist Society. The symposium, moderated by USC Law Professor Elizabeth Garrett, will take place on Monday, Sept. 20, at 5:30 p.m., with a reception beginning at 4:30 p.m. Two free MCLE credits will be offered.
The panelists will discuss and debate the upcoming U.S. Supreme Court Term, which begins Oct. 4. They will look at the dynamics of the Court, the appointment of Justice Elena Kagan and the Court's future.
Sullivan, Eastman and Brown also will examine several high-profile cases scheduled for the 2010 Term, which will include prison overcrowding and states' rights, access to justice, freedom of speech and religion, and business matters.
"We are extremely fortunate to have two such outstanding Supreme Court advocates on our panel this year, including one who has herself been on the 'short list' for the Supreme Court," said Brown, Newton Professor of Constitutional Law, who is organizing the event. "We will look at the issues coming up on the Court and the many factors that could influence the Court as it begins the new Term."
Kathleen Sullivan, a partner at Quinn Emanuel Urquhart & Sullivan in New York City and a Stanford Law professor, has argued a variety of cases before appeals courts and the U.S. Supreme Court. An author of the nation's leading casebook in constitutional law, she has published articles on federalism, religion, speech, equality, and constitutional theory. From 1999 to 2004, Sullivan served as the eleventh dean of Stanford Law School and the first woman dean of any school at Stanford.
John Eastman, a leading expert on constitutional law, was the dean of Chapman University School of Law until January 2010. He is the director of the Center for Constitutional Jurisprudence, a public interest law firm affiliated with the Claremont Institute that he founded in 1999. He served as a law clerk for U.S. Supreme Court Justice Clarence Thomas and for Judge J. Michael Luttig at the U.S. Court of Appeals for the Fourth Circuit.
Rebecca Brown is a constitutional theorist whose scholarship focuses on judicial review and its relationship to individual liberty under the U.S. Constitution. Brown clerked for U.S. Supreme Court Justice Thurgood Marshall and U.S. Court of Appeals Chief Judge Spottswood W. Robinson III. She also served as an attorney advisor in the Justice Department's Office of Legal Counsel.
Elizabeth Garrett, a professor of law, political science and public policy, is a leading authority on the legislative process, direct democracy, the federal budget process, the study of democratic institutions, statutory interpretation and tax policy. She clerked for U.S. Supreme Court Justice Thurgood Marshall and Judge Stephen Williams on the Court of Appeals for the D.C. Circuit. Garrett served as legislative director, legal counsel and legislative assistant for tax and budget issues for U.S. Senator David L. Boren.
USC Gould School of Law, a State Bar of California-approved MCLE provider, certifies that this activity qualifies for a minimum continuing legal education credit in the amount of 2 hours.
To RSVP, please email events@law.usc.edu or call 213-740-3841.

RECENT NEWS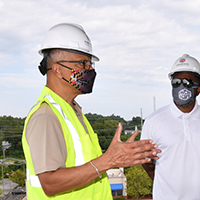 Continuum of Care
November 24, 2020
Boyd Rutherford, JD 1990, focuses on state health issues as Lieutenant Governor of Maryland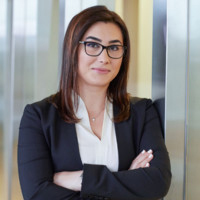 Paying it forward
November 24, 2020
Karine Akopchikyan, JD 2015, VP of Gould's Alumni Association, speaks to the importance of building and keeping relation...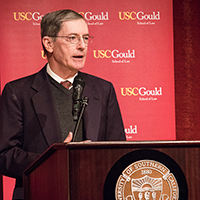 University honors Gould faculty
November 24, 2020
Ron Garet receives Faculty Lifetime Achievement Award, while Tom Griffith and Pauline Aranas named emeriti faculty