Hale Moot Court Honors Program debuts new website

USC Gould School of Law
Tuesday, September 21, 2010
New moot court website provides information, exposure

--By Sheila Grady

For the members of USC Law's Hale Moot Court Honors Program, the start of a new school year presented the perfect opportunity to debut the program's website.

Since its inception in 1948, the program has provided students an arena in which they can cultivate their written and oral appellate advocacy skills. Based on the strength of the briefs they write in their Legal Writing and Research class and the oral arguments they make during the qualifying rounds at the end of their first year, 40 1L students are invited to participate during their second year in the Hale Moot Court Competition. The event is presided over by judges from state and federal courts, practicing attorneys, faculty members, and 3L students who make up the program's Executive Board.
A cornerstone of the 2L experience, the program regularly has a high volume of participants.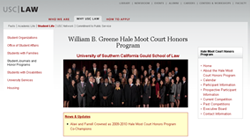 The new Hale Moot Court homepage

"Last year, almost the entire first-year class chose to participate in the moot court qualifying rounds so that they would be eligible to participate in this year's competition," said faculty advisor Professor Rebecca Lonergan.

Yet, prior to this term, the program did not have a website available, a fact the Executive Board sought to change.

"Our students are part of the 'electronic generation' and I thought it would be useful for them to have access to information about our program available on the web," said Lonergan.

Appointed to the position of Advocacy Vice Chair, Jaysen Chung '11 was tasked with creating the program's website.

"I worked with Professor Lonergan, two other students on the executive board--Cristyn Chadwick and Megan Braziel--and the technology team at USC Law with Shaun Lynn to get the website together," he said.

The website will offer up-to-date information about moot court events to current and prospective participants, as well as the legal community at large: information Chung would have liked to access during his time in the program. "As a former 1L student, I would have been very excited to be able to look at the current year's competition and progress of the competition, which starts in the fall and ends mid-spring when the champion is chosen after the final round," he said.
While the content on the website will be a necessity for students actively participating in the moot court competitions, it will also be a valuable resource for promoting USC Law's unique program.

"Our main goals in creating the website were to provide participants with easy access to necessary information about the program and to let students who are considering applying to USC know that we have a great moot court program, including both an internal competition and a national team that competes in intercollegiate competitions," said Lonergan.
Both Lonergan and Chung believe the content of the website will be indicative of the caliber of students involved.

"Hale Moot Court Honors Program members are generally very passionate about the program," said Chung. "Many often regard it as one of their most memorable experiences at USC Law."
Read More
RECENT NEWS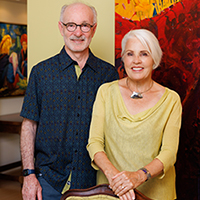 Shaped by education
January 23, 2023
Opportunity for future students motivates John (JD 1979) and Alaine Weiss to include USC Gould in their estate plans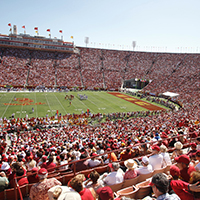 From torts to sports
January 20, 2023
Alums Richard Rosenblatt, Ted Russell team up on Autograph, a new venture bringing Web3 to entertainment and sports