Medical Marijuana in California

USC Gould School of Law
Wednesday, April 4, 2012

By, James Bradicich

Two attorneys involved in California's medical marijuana legal conflicts visited USC Law recently to discuss state and federal policy contradictions in California. The American Civil Liberties Union and the Government Law Organization sponsored the event.
The topic of discussion was the highly publicized case of Charlie Lynch, who owned and managed a medical marijuana dispensary in Morro Bay, Calif. Despite following all necessary steps to legally open and run his own business, Lynch was sentenced by the Drug Enforcement Administration (DEA) to one year and one day in federal prison on federal drug trafficking charges in 2007.

Guest panelists Los Angeles County Public Defender and Lynch's attorney Guy Iverson and Orange County District Attorney Jeffrey Schunk discussed the case. Iverson said that upon the dispensary's opening on April 1, 2006, Lynch obtained his business license, paid taxes and followed the Compassionate Use Act, making sure all customers had verified prescriptions from doctors.

"[Lynch's business license] was approved by the city attorney, his dispensary was inspected by the chief of police and the Morro Bay mayor was even present at the dispensary's ribbon cutting ceremony," said Iverson.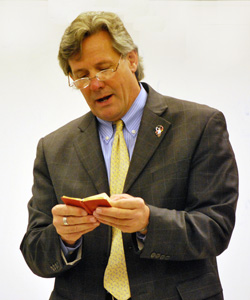 Los Angeles County Public Defender Guy
Iverson quoting the Constitution
The dispensary operated for almost one year without any major problems or complaints. In what Iverson said was "an attempt to send a message," the local sheriff and DEA agents raided the dispensary and Lynch's home on March 29, 2007. Lynch was not arrested and reopened the dispensary on April 7 with the approval of the city of Morro Bay.
A week after reopening, the DEA called Lynch's landlord and threatened him with forfeiture of his property unless he evicted the dispensary from the building. On May 16, 2007, the dispensary closed permanently and on July 17, Lynch was arrested at his home and charged with federal marijuana distribution.

The controversy was that the DEA told Lynch it was up to the local counties and governments to decide if the dispensary could be opened, but when the local government gave Lynch the approval, the DEA arrested Lynch and closed down, as Iverson called it, "probably the cleanest medical marijuana dispensary in California records."

Iverson explained how entrapment by estoppel: when a government agent says something is okay when in fact it might not be, was Lynch's only defense in Federal Court. However, it was hard for Iverson to make an argument in court after Federal Justice Wu prohibited any reference to the term "medicine," which Iverson said made his team unable to run any medical marijuana defense.

To supplement his defense, Iverson referenced U.S. Supreme Court Justice Sandra Day O'Connor's worded dissent in Gonzales V. Raich: Implications for Public Health Policy, that the Majority decision meant federal powers intruded on state matters.

"One of federalism's chief virtues is that it promotes innovation by allowing for the possibility a single courageous state may, if its citizens choose, serve as a laboratory and try novel and social economic experiments without risk to the rest of the country," according to the dissent.

Iverson said that the state should be less concerned with medical marijuana dispensaries opening and more concerned with serious, life threatening issues facing society.

"The problem in the federalism issue today is, at the time Charlie was sentenced, [Deputy Attorney General David W. Ogden] had issued a memo [in 2008] at the U.S. attorney general's office basically saying to the local U.S. attorneys, 'hey, if you have somebody complying with state law in a medical marijuana jurisdiction, that's a low priority for federal prosecution,'" said Iverson.

Following Odgen's memo, Iverson said marijuana's jurisdictional future is outlined by a 2011 memo from Deputy Attorney General James Cole that says the government would be going after all drug traffickers, including those who are complying with state law to manufacture, possess and distribute marijuana.

"Persons who are in the business of cultivating,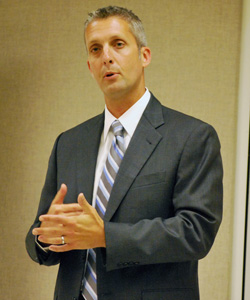 Orange County District Attorney Jeffrey Schunk
selling or distributing marijuana, and those who knowingly facilitate such activities, are in violation of the Controlled Substances Act, regardless of state law," Cole's memo stated. "Consistent with resource constraints and the discretion you may exercise in your district, such persons are subject to federal enforcement action, including potential prosecution."
Iverson said the solution to get the federal government out of California is to reschedule marijuana's rank from a Schedule I Controlled Substance to a Schedule II Controlled Substance. Schedule II Controlled Substances include cocaine, methamphetamine and opium.

Schunk offered students a valuable viewpoint to better prepare themselves to deal with heated subject matters such a marijuana policy when their legal career commences.

"If you're going to become an attorney, you're going to take on different subject matters," Schunk said. "Make sure you know it better than the people you're going up against in trial because you don't have time to learn it."

RECENT NEWS