Women making partner: The balancing act
Wednesday, April 3, 2013
Women making partner: The balancing act
Partnership, parenthood, professionalism and personal choices were the topics discussed by the three panelists at the Women's Law Association's (WLA) discussion on women partners in private practice. Although managing each of those areas in careers and personal lives can be a challenge, the speakers assured students that success as a partner comes from the ability to find the right balance.
Gwyn Quillen '88, partner at Bingham McCutchen, Whitney Roy '00, partner at Sheppard Mullin and Monica Shilling, Georgetown Law '95 and partner at Proskauer Rose said that it was important for law students to do what appeals to them and the rest would fall into place. They also said that making partner commands a lot of time and effort; an integral part of success on the job begins with the ability to self-regulate.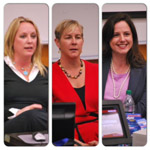 Shilling, Quillen and Roy
shared their experiences
as partners in their law firms.

"If you're getting too much work or not getting enough, you have to say so," Shilling said. "I did 3,000 hours in my first years because I always said yes."
Roy agreed that as associates, students needed to know the importance of being honest about their ability to handle the workload.
"You have to be an advocate for yourself," Roy said.
Paige Smith '15 asked the panelists if they believed in the concept of "having it all." Instead, they suggested that it is not about having it all but about having what you value the most.
"Everything is a compromise," Shilling said. "You make different choices and it's important to be okay with those choices."
Quillen, who has five children and seven grandchildren, said that she had her first child while in school. Although she said it was difficult juggling being a mother and student, she said it was a choice that she made.
"Every door you open closes another," Quillen said. "It's hard to have it all but you can have the things important to you."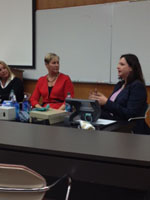 Whitney Roy '00 (r.) shares
about balancing her family
time with her career.

Roy added that instead of society putting so much pressure on women for wanting to balance their professional and personal careers, she would rather experience a professional climate where women didn't have to "be apologetic about it."
The Women's Law Association members cited statistics of the number of women who make partner being around 20 percent. They asked the panelists if that percentage was associated with the idea that women want to balance a family and career, but the panel put them at ease.
"Don't worry about numbers," Roy said. "If you want it, go for it; many firms will support that."
To climb the legal ladder, panelists suggested the benefits of having a mentor to provide that extra push.
"You need a person advocating for you," Shilling said. "You want the person who doesn't just tell you you're doing right; you need someone who isn't afraid to tell you when you're wrong and helps you improve."
Quillen said she believed mentorship was about more than just receiving advice; mentorship was about building a mutual relationship and maintaining it responsibly. Roy told students that if they were willing to provide their mentors with valuable help, they would be able to get ahead in their careers.
"Don't just come to them with problems," Quillen said. "Come to them with solutions."
To get hired for associate positions, the panelists left students with tips on how to be an impressive candidate. Besides impeccable writing skills and responsiveness, there were a few character qualities they believed would make students stand out in their careers.
"Come in trying to make the associate's life easier," Shilling said. "Communicate well and inspire confidence."
Colloquialisms in the interview were the deal-breaker for Quillen, who shared that she experienced quite a few interviews with candidates who had less-than-professional conversational skills.
"Leave 'like' at the door," Quillen said. "I like to see sufficient energy and the ability to articulate well; place yourselves in the shoes of professionals."
Those may be big shoes to fill for students at this point in their careers, but the panel shared enough wisdom to help them grow professionally and attain the confidence necessary to balance the responsibilities associated with one day becoming partner at a law firm.
Rochelle Emert '14 said their insight helped her feel more at ease about starting her career as an attorney.
"I for one am inspired that I can have a successful career and fulfilling family life," Emert said. "The panelists had very different family situations yet all have extremely successful careers."
RECENT NEWS