USC's Post-Conviction Justice Project Welcomes Home Longtime Client

USC Gould School of Law
Friday, November 14, 2014
Hilda Riggs, a 50-year-old victim of spousal battering, released after two decades in prison

-By Gilien Silsby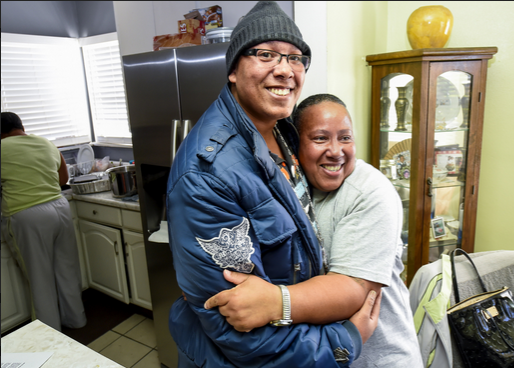 Hilda Riggs reunites with her son
Students, alumni and professors with USC's Post Conviction Justice Project welcomed home longtime client Hilda Riggs, a 50-year-old victim of spousal abuse, who served two decades in prison for a murder committed by her batterer.
Ms. Riggs was embraced by her mother and her two children – whom she had not seen since the 1990s. Her son was just 11 years old and her daughter three days old, born in prison, when she began serving her sentence.
Ms. Riggs was convicted of first-degree murder and sentenced to 25-years to life in prison for accompanying her husband, Billy Ray Riggs, while he kidnapped and later killed a stranded motorist in Riverside County.
The PCJP has long argued that Ms. Riggs' conviction should be set aside and a new trial ordered so that she could introduce expert testimony showing the psychological effect of the years of violent domestic abuse she endured at the hands Billy Ray Riggs. She was denied a new trial, but last month, was found suitable for parole. She was released from prison on November 6.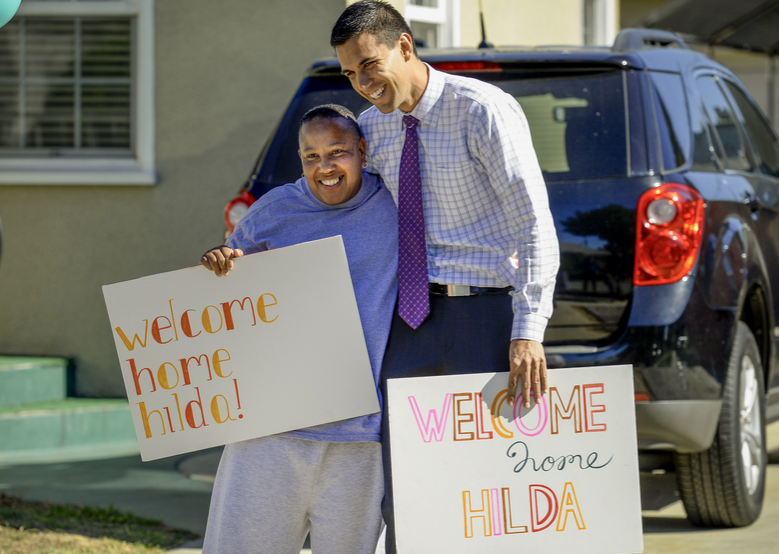 Hilda Riggs is welcomed by USC Gould alum, Michael Reynolds, who worked on her case pro bono as an attorney at O'Melveny & Myers
The day of her release, Ms. Riggs celebrated with her family and current and former USC law students at her mother's home in Compton.
"I can't tell you how wonderful it is to be home with my family," Ms. Riggs said. "I have a lot of catching up to do."
Ms. Riggs was 18 years old and a single mother when she moved to Texas with Billy Ray Riggs - twice her senior and the paternal grandfather of her son - because she said she believed he would provide a complete family for her and her son. Instead, he isolated and controlled them, subjecting her to severe physical and emotional abuse.
"The evidence is overwhelming – we know that Mr. Riggs regularly beat her with baseball bats and barbels, strangled her until she lost consciousness, and threatened her by shoving a pistol in her mouth and pulling the trigger on an empty chamber," said Heidi Rummel, co-director of USC Gould School of Law's Post-Conviction Justice Project, which represented Ms. Riggs with attorneys at O'Melveny & Myers LLP.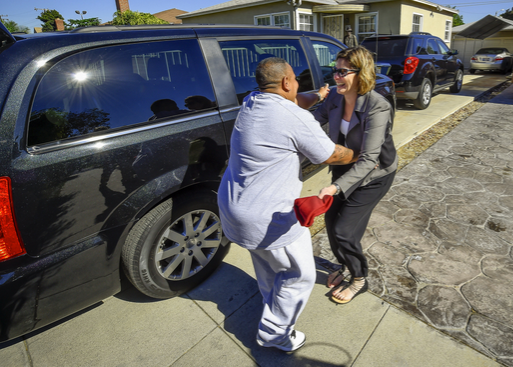 PCJP co-director Heidi Rummel greets Riggs with a hug
Ms. Riggs pleaded guilty to first-degree murder to avoid a capital prosecution – not realizing that she had a potential defense based on battered woman syndrome, Rummel said. Every expert who has examined her – including the District Attorney's own expert who testified at Billy Riggs' trial – has agreed that Ms. Riggs was in fear for her life and did not voluntarily participate in the crimes committed by Billy Ray Riggs.
"Ms. Riggs testified for the prosecution in its successful capital case against Billy Ray Riggs," said Rummel. "She served as the prosecution's only eyewitness at his trial, and the prosecution relied on Ms. Riggs' account of her abuse, testimony from four other women who had been physically and sexually abused by Billy Ray Riggs, and expert testimony on battered woman syndrome to secure his death sentence."
The California Supreme Court, in affirming Billy Ray Riggs' convictions, held that expert testimony about the brutality he inflicted on Hilda Riggs was "highly relevant" to the jury's decision: It bolstered Ms. Riggs's credibility as a witness against Billy Ray Riggs and explained why she failed to prevent or report his fatal attack on Jamie Bowie, whose car broke down in an orchard near Indio.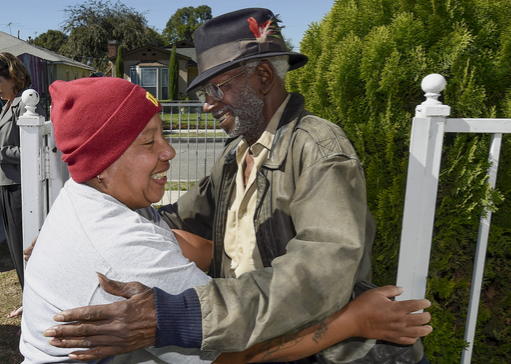 Riggs is welcomed by her step-father
Despite the Riverside District Attorney's office promise to recommend early parole in return for her testimony and a positive record of rehabilitation in prison, the District Attorney's office opposed her release at every parole hearing.
"The Board of Parole hearings finally recognized that Ms. Riggs is not a danger to the community and is eager to become a positive influence in the lives of her children and other victims of abuse," Rummel said.
On the day of her release, Ms. Riggs' said she was overwhelmed by the support of her family and current and former PCJP students, some who worked on her case even after law school.
"They never gave up on me," Ms. Riggs said. "That has meant the world to me. Now I'm looking most forward to is getting to know my children and helping us heal together."
RECENT NEWS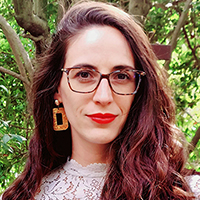 Her dream job
July 25, 2021
Background as prosecutor informs Prof. Marcela Prieto's scholarship and teaching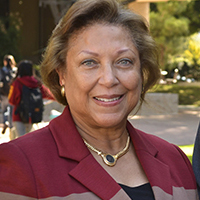 Service is in her DNA
July 25, 2021
Aulana Peters (JD 1973) continues to open the way for the next generation