Judges Speak About 'Diversity on the Bench'

USC Gould School of Law
Friday, April 10, 2015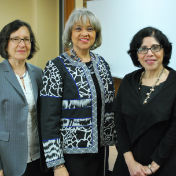 Judges Orozco, Tillmon and Villar recently discussed their paths to the bench with students from USC Gould.
Los Angeles Superior Court judges discuss their legal careers with students
-By Jared Servantez
Three judges from the Los Angeles County Superior Court spoke with students at USC Gould School of Law recently about their unique paths to the bench as women of color, and discussed the importance of diversity amongst judicial officers.
"If you're a woman, if you're a person of color, if you're LGBT, your background and your work will be evaluated more harshly, more differently, and you will have to try harder," said Judge Yolanda Orozco. "It is a sad reality, but it is."
Although Judges Orozco, Bobbi Tillmon and Mary Lou Villar all agreed that the long, difficult process of becoming a judge can be even more difficult for minorities, they told students not to be discouraged.
Nearly every minority judge can tell stories of obstacles they've faced, Tillmon said, but they can also tell how they used those challenges as motivation to succeed.
"It is still a challenge for women and people of color," Tillmon said. "It doesn't mean give up, it means be strong, understand it, and don't let anyone turn you away from what you want to do."
Orozco told the students that for the most part, the situation is improving for minorities in judicial offices. She said discrimination is not so overt anymore, but it is still there, often in assumptions or judgments that might not necessarily be conscious or malicious.
"I can't count the number of times, especially in federal courts, that I've been assumed to be either the interpreter or the court reporter," Orozco said.
Despite those difficulties, the judges all agreed that the need for diversity on the bench is a vital aspect of the court. As Villar described, a diverse bench bolsters people's "trust in the fairness and justice of the system."
"The courts serve a very diverse community, and of course we're all interested in having a system of justice that people believe in," Orozco added. "And what better way than by having people that look like them, sound like them, maybe have the same religious background, ethnic background, or sexual orientation as them."
The judges also answered students' questions and spoke candidly about their early careers and time in law school, offering their advice and guidance.
Tillmon, herself a USC Law graduate in 1977, urged students to find mentors they could trust. She said she tried to do just that when she got her start in family law, but found difficulty identifying with peers as a black woman in the legal community, which led her to join the Black Women Lawyers Association of Los Angeles.
"It was a time when most of the family law practitioners were male," Tillmon said. "There were very few women, and even fewer people of color who were choosing to primarily concentrate in family law. It was hard to find mentors because quite frankly, there weren't any that looked like me."
Villar added that since women and people of color often face even more obstacles than the average law student, it is especially important for them to identify mentors and develop a support network.
"It's important for women to surround themselves with a support system, be it a fellow law student or a family member or mentor, because we do have a more difficult time," Villar said. "You need someone you can pick up the phone with and say, 'Guess what happened to me today,' because it never goes away."
Read More
RECENT NEWS